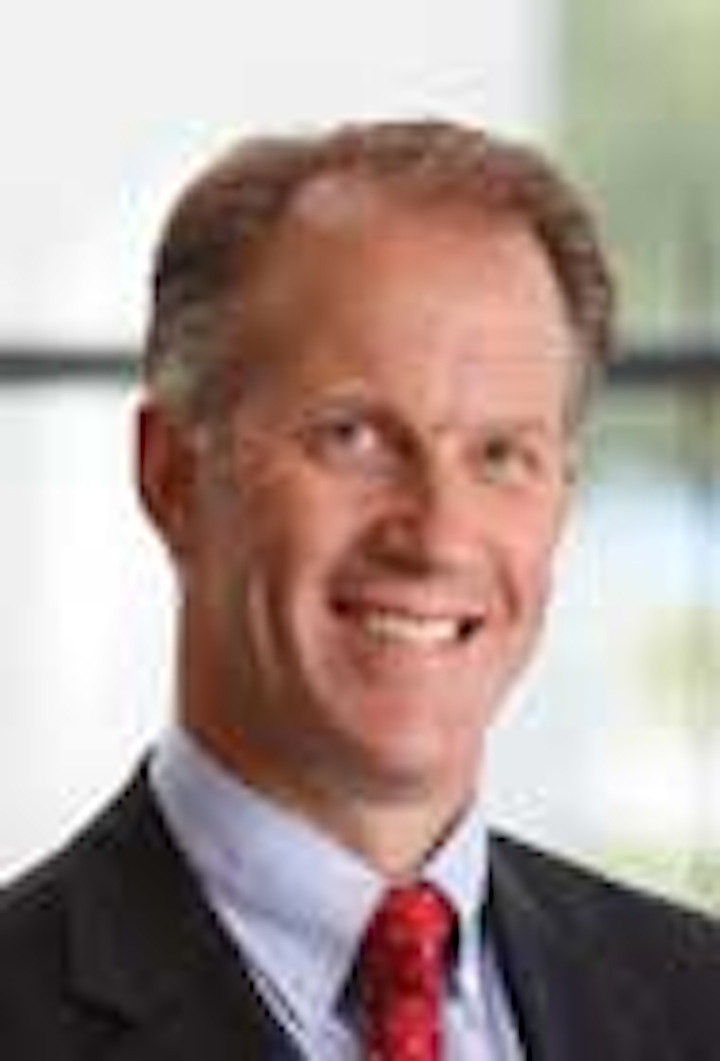 The 2014-2015 board of directors for the Society of Exploration Geophysicists are: incoming PresidentChris Liner, President-elect John Bradford, Rob Stewart as first vice president, Eve Sprunt as second vice president, Alison Small as treasurer, Evert Slob as editor, Don Steeples as past president, Mike Graul as chair of the council, and Maurice Nessim, Xianhuai Zhu, Edith Miller, Christine Krohn, Gustavo Carstens, and Guillaume Cambois as directors at large.
DONG Energy has electedThomas Thune Andersen as chairman of the board of directors.
Patrick T. Mulva, vice president and controller of Exxon Mobil Corp., has retired after more than 38 years of service. The company's board of directors has elected David S. Rosenthal as vice president and controller and Jeffrey J. Woodbury as vice president of investor relations and secretary.
Rocksource has appointedTerje Arnesen as CEO.
CGG has cooptedJean-Yves Gilet as a member of the board of directors.
Royal Dutch Shell plc has appointedHarry Brekelmans as projects and technology director.
GDF SUEZ E&P UK Ltd. has appointedRuud Zoon as managing director. He replaces Jean-Claude Perdigues, who has moved to the head office in Paris to take up the position of head of new assets development.
Zoon
Nigerian PresidentGoodluck Jonathan has appointed Joseph Dawha as group managing director of the Nigeria National Petroleum Corp. (NNPC). The president also has appointed Anthony Muoneke as managing director, Nigerian Petroleum Development Co. (NPDC); Aisha Abdurrahman as group executive director, Commercial and Investment, NNPC; and Attahir Yusuf as group executive director, Business Development, NNPC.
Fisher Offshore has promotedJack Davidson to managing director.
Nigel Robinson has joined Houlder as director of Offshore Projects & Engineering.
Robinson
AziPac Ltd. has appointedFrank Inouye as managing director.
National Oilwell Varco has announcedDwight W. Rettig, executive vice president, general counsel and secretary, plans to retire effective Oct. 1, 2014. The company has chosen Craig L. Weinstock as his successor.
Thomas J. Moore has joined Mayer Brown's Houston office as a partner in the Corporate & Securities and Oil & Gas practices.
Moore
Oil & Gas UK has appointedAdrian Rose as contractor vice chairman.
Survivex has appointedAndrew Green as CEO. He succeeds George Green, who has been appointed as non-executive director.
Angus Cooper has joined Modus Seabed Intervention Ltd. as AUV development manager.
Anadarko Petroleum Corp. has electedJoseph W. Gorder as an independent director and a member of the board's Compensation and Benefits Committee.
Circulation Solutions has appointedJerry Beeson as CEO.
Beeson
W&O has electedTammy Emerson as vice president of programs for the Jacksonville Propeller Club.
Fabrizio Barbieri has resigned from Saipem's board of directors.
Guardian Global Technologies has hiredJohn McGarth as global vice president of Sales and Marketing in its Houston office. In the UK office, the company has promoted Dr. Jonathan Gore to director of engineering and James Flood to director of operations and quality.
Sarah Standlee has joined Exova as corrosion engineer in its Houston laboratory.
Enermech has appointedDave McLeod as regional director for its Middle East and Caspian business.
Chris Gorman has been appointed Geoforce's business manager for the UK.
Petrofac Training Services has hiredPedro Vergel as vice president of Western Hemisphere.
Proserv has promotedPaul Douglas to vice president operations, and Bruce Stuart has joined the company as vice president sales and business development for Europe and West Africa.
Faroe Petroleum has appointedJorunn Saetre as an independent non-executive director.
Kevin J. Clarke and Steven K. Gendal have been appointed to Niko Resources Ltd.'s board of directors.
Wood Group Intetech has appointedColin Smith to lead the expansion of its operations across the Americas.
Process Systems International Ltd. has appointedDarren Cowley as sales director.
Industry Technology Facilitator has appointedJohn Wishart as chairman.
Edward McHale has joined Atlas Copco Rental as vice president--fleet.
STATS Group has appointed Martin Wilson as director of Intervention Services andDr. Mark Burton as technical director of Intervention Services.
Cubility has appointedGunnar Hviding as chairman and William James Wright as vice chairman of the board of directors.
Wild Well Control Inc. has hiredWayne Stennes as managing director and Christian Haustead as area manager. They will be based in Kuala Lumpur, Malaysia.
Terry Mienie has joined Audubon as vice president, offshore business line.
Karen Seath has joined Decom North Sea as general manager.
Integrated Drilling Equipment Holdings Corp. has appointedMartin Paulk as senior vice president of sales, marketing, and strategic implementation.
Paul McEnaney has joined Suretank as director of engineering.
Jill Rivette has joined C & C Technologies Inc.'s geotechnical division as a senior geotechnical engineer.
Company News
Noble Corp. has completed the spin-off of all of the outstanding shares of Paragon Offshore plc, which owns most of Noble's standard specification drilling business. As a result, Noble and Paragon are now two separate, publicly traded companies.
Artificial Lift Co. has changed its name to AccessESP to stress its electric submersible pump conveyance technologies.
Landmark Software and Services, a Halliburton business line, has acquired Neftex Petroleum Consultants Ltd., a UK-based company specializing in sequence stratigraphy-based products and consulting for subsurface risk reduction.
ASCO has opened its new $110-million marine supply base in Darwin, Australia.
Lloyd's Register has launched its new rules for offshore units in one document following an in-depth consultation with industry. It signals a move by the classification and certification society to modernize the way in which rules and its guidance notes are presented to industry – and importantly how they are used by designers and operators of offshore units. The new rule set sees the amalgamation of its rules for mobile offshore units and the rules for floating offshore installations at a fixed location.
Check-6 has deployed three new Well Control Competency Assurance Training Systems and curriculum to the Bob L. Herd Department of Petroleum Engineering at Texas Tech University. They will be installed in the Chevron Well Control Simulation Lab at the new Terry Fuller Petroleum Engineering Research Building.
J2 Subsea, an Acteon company, has opened a new facility in New Iberia, Louisiana, to make its range of ROV tools more readily available for subsea operations in the Gulf of Mexico. This facility, which includes a new hydraulic workshop for tool preparation, servicing, and support, will provide torque tools, analyzers, Webtool cutters, intensifiers, grinders, work packs, jetters, and cleaners to ROV and diving companies in North America.
Semco Maritime JSC has teamed with PetroVietnam Marine Shipyard (PV Shipyard) to perform rig repairs, refurbishments, and upgrades in Vietnam. Vung Tau Rig Services will target local and international rig operators and owners in Southeast Asia.
Tracerco has commissioned a new high-tech laboratory in Edmonton, Alberta, Canada, to enhance its reservoir technologies offering across Canada. The new laboratory will be equipped with analytical equipment capable of ultra-high precision detection and quantification of its intelligent tracer molecules in production fluid samples. The facility will analyze more than 1,000 samples per month locally and aims to improve turnaround times to customers.
American Equity Underwriters Inc. (AEU) has presented Delmar Systems Inc. with the 2013 Offshore Safety Award at the annual AEU conference in San Diego. This annual award is presented to a company that demonstrated outstanding safety performance based on the number and severity of accidents. Delmar had no lost time or OSHA recordable cases in 2013.
Pulse Structural Monitoring Inc., an Acteon company, has opened a new, purpose-built facility in Katy, Texas.
Aker Solutions has agreed to lease a new office complex in Aberdeen for 20 years as part of an expansion in the UK. The facility is under development and will consist of three interconnected buildings in the Aberdeen International Business Park on Dyce Drive. It is expected to be ready for occupation in 2Q 2015.
Teekay Offshore Partners has completed its acquisition of Logitel Offshore Holdings, a floating accommodation provider.
Oilgen has established a co-working agreement with US-based, Expert Energy Solutions LLC to share knowledge and resources in the field of enhanced oil recovery. The association, integrating the complementary skills of the two companies, will offer clients a full range of specialist services including EOR screening, evaluation, and implementation; field health checks, evaluations, and numerical simulation of petroleum reservoirs and reserves; and acquisition and divestiture projects with strong technical input.
Element Materials Technology has opened Element Houston, a flagship oil and gas materials technology center in Houston. The facility will offer fracture mechanics and engineering critical assessment, as well as NDT and corrosion testing across a range of metal alloys, thermoplastics, composites, and elastomers.
Aquatic Asia Pacific Pte Ltd. has relocated its regional headquarters. The new office suite is part of the existing operations base on the east coast of Singapore, where all Asia-based Aquatic equipment is stored and mobilized.
Ashland Water Technologies has changed its name to Solenis.
Williamson-Dickie Mfg. Co. has acquired North East Rig Out Ltd., an Aberdeen, UK-based workwear manufacturer.
Pareto JGO Shipbrokers has acquired Derrick Offshore.
Southwest Oilfield Products has entered into a definitive agreement to sell significant portions of its Well Servicing Equipment Division to Big Red Engineering LLC.
Geoforce Inc. has established its first European presence in Aberdeen, UK.
Servi Group has announced plans to open a new production facility in Houston. The company has historically provided hydraulic solutions and systems to the Norwegian offshore industry, but with this move has expanded its presence in the American market. The Houston site will not only offer power and motion control systems, but also expand the company's portfolio by producing hydraulic accumulators.
TAM International has opened a new sales office in Denver.
International Well Control Forum (IWCF) has commissioned Oilennium Ltd., a Petrofac Training Services company, to produce an online course to explain the life cycle of a well, with primary emphasis on well control. The course is being designed to raise awareness of well control among those working and those considering a career in the global oil and gas industry. IWCF plans to make it available free-of-charge on its website as part of this drive.
Wood Group Intetech has developed new software for analyzing global well component reliability data. The iQRA system, based on the ISO-14224 standard, is designed to offer operators insight to assist selection of well and oil field components. It gives users the ability to benchmark their reliability figures against a global dataset and extract safety critical element failure statistics and mean-time-to-failure data.
EnQuest has achieved a safety milestone after recording a total of 11 years without a lost time incident (LTI) across three of its North Sea producing assets. The Heather drilling team achieved eight years without an LTI, and during this period the company completed its return to drilling (R2D2) project, which led to the start-up of drilling on the platform for the first time since 2006. The R2D2 project is part of a redevelopment program that will extend the life of the Heather platform, which has twice faced decommissioning in the past, to around 2030. On its Northern Producer floating production facility, two years without an LTI has been achieved while successful drilling has ensured the Don fields have continued to underpin the company's growth. Operations on the Thistle platform have been LTI-free for a year, during which period platform drilling followed by a major construction phase of the Thistle Life Extension program, were carried out.
Blueback Reservoir and Cegal have announced plans to merge in order to combine and expand their offerings and to provide petrotechnical solutions for the oil and gas industry. Following the merger, they will continue to provide efficient work processes within oil and gas software development, deployment, and operation in addition to cloud infrastructure.
Asset integrity management specialistXPD8 Solutions has secured more than £2.25 million ($3.7 million) in combined contract wins for work in the North Sea and Malaysia.Over a period of 12 months, the company will develop the work management system, which includes asset register, maintenance program, and population and analysis of "spares" data for a major operator on the UK continental shelf. In the Asia/Pacific region, the Aberdeen-based firm's risk mitigation department will provide quality assurance and control services on a three-year contract with a two-year extension option.
Correction
The 2014 World survey of stimulation vessels in the June issue ofOffshore carries incomplete data under the "Total operating pump capability (frac pumps)."
The total horsepower figures available by vessel can be found online at the following link:
http://www.offshore-mag.com/ content/dam/offshore/print-articles/ volume-74/06/stim-vessels.pdf