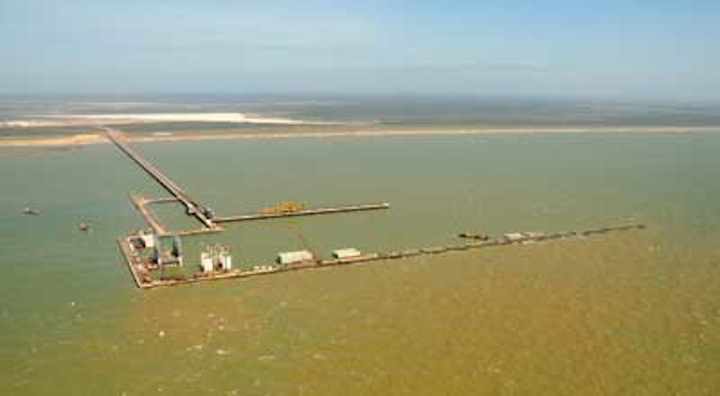 Displaying 2/2 Page 1, 2
View Article as Single page
In partnership with RioNave from Rio de Janeiro's Caju port, Embradoc 1 will have a 7,000-metric ton lifting capacity and be able to cater for 120 m (394 ft) long and 35 m (115 ft) beam vessels.
Embradoc's Augustin Downes said: "The offshore market is a demanding environment. Petrobras has over 350 offshore support vessels operating in the market and that number will reach over 750 by 2020 to support the oil production ramp up.
"We are developing cost-efficient drydocking solutions strategically located along the Brazilian coast to support shipowners in reducing downtime and protecting their margins. Ships operating for Petrobras have very few days, if any in some cases, to perform maintenance, so location of repair facilities and availability are keys for shipowners."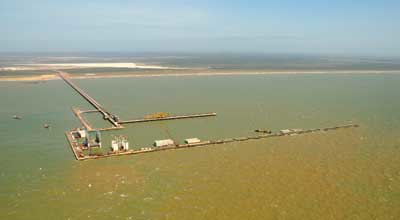 The Açu port is 260 km (162 mi) from Rio de Janeiro. (Photo courtesy Prumo Logistica)
With an increasing number of foreign-owned and operated ships in Brazilian waters without local technical teams, CharterSafe is another initiative that looks likely to bolster the sector by reducing risk exposure. "When these ships have issues in Brazil the port agents who do not necessarily have the technical expertise for a fast response, are heavily relied upon, and during that time the vessel will be put off-hire," explained director Michael Estevez. Covering the full 7,000 km (4,350 mi) of the country's coastline, the company already has secured contracts with COSCO and US owners.
The development of Brazil's ports was also in the spotlight as Prumo Logistica's multi-billion-dollar Açu development enters the final phase of construction before its 17 km (11 mi) of 23-m (75-ft) deep wharfs go into operation. Capable of handling very large crude carriers (VLCCs), the port is 260 km (162 mi) from Rio and near Brazil's most productive fields, the oil from which currently goes through nearby Macaé. In response to the competition, Macaé is planning to further consolidate its position as Brazil's petroleum capital (through which 80% of the country's oil is transported), with the construction of a new technology park, set to markedly increase Petrobras' research and development capacity.
Another much-discussed move set to boost Petrobras' ongoing efficiency drive is the shift toward managed pressure drilling (MPD), which is hoped will dramatically increase the viability of troublesome deepwater wells beset by delays and increasing costs. The geological formations and high pressures of the Lula field were proving problematic for Petrobras, and following several years of development, the largely onshore practice of MPD was favored as a solution to the severe fluid circulation loss and safety issues emerging through conventional drilling. While expensive, Petrobras is likely to look at rolling out MPD on 16 of its rigs by mid-2016 as a long-term time-saving and cost-cutting exercise.
As for the rest of Brazil, the Sergipe-Alagoas basin was again touted as an exciting new frontier following a string of light oil discoveries. Petrobras' regional geophysicist Claudio Valdetaro Madeira said the average API in the region is 40°, "although some areas are as low as 38° and others as high as 44° and across various accumulations." The oil lies considerably closer to shore in shallower waters, and although exploration is ongoing, there is enough buzz about the region to suggest that early estimates of 500 MMbbl to 1.5 Bbbl could be on the conservative side. The momentum also has led to speculation that the region will be included in Brazil's 13th bid round, tentatively slated for the first half of 2015.