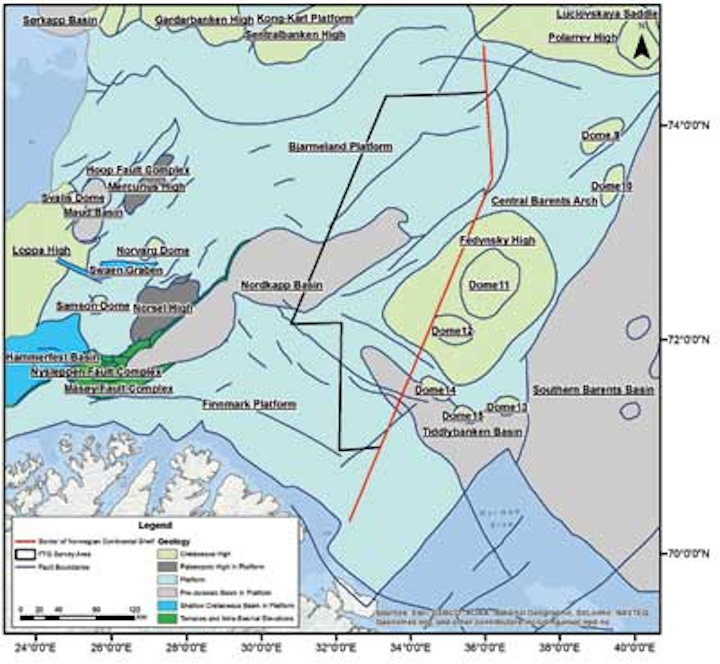 Displaying 2/2 Page 1, 2
View Article as Single page
Secondly, FTG data is flexible and can complement seismic data. FTG data is not only a means of enhancing and understanding existing seismic data, but also in helping to shape, design, and optimize future seismic surveys. FTG is useful to interpolate between sparse 2D seismic lines or between areas of 3D seismic, helping interpreters to make improved decisions on fault linkages and to construct accurate structural models.
Multi-client FTG data does not expire and can be re-interpreted when there is additional information available from new seismic and/or well data.
There are still some basins that are opening to oil and gas exploration for the first time, and frontier exploration is an application for multi-client FTG. There are also numerous under-explored basins, which are known but have only been explored with conventional gravity and magnetics and with perhaps only sparse seismic. In these areas the hydrocarbon systems have not been appraised fully, and FTG can be a crucial pre- and post-seismic application to help operators direct exploration activities toward the most prospective areas.
Barents Sea survey
In the southeast Barents Sea, ARKeX initiated a multi-client FTG survey in late 2013 to coincide with the 23rd Licensing Round. The survey, while postponed during the winter due to weather conditions, recently restarted, and full deliverables were scheduled for delivery by August.
In all cases, ARKeX uses its XFIELD interpretation software package to build 2D/2.5D density, velocity, and susceptibility models of the subsurface in conjunction with available seismic interpretations. This enables interpreters to combine geological and geophysical data to make geologically feasible interpretations based on all available information within one 3D visualization space. In the case of the southeast Barents Sea, the flanks of the salt domes and inversion structures are of particular interest.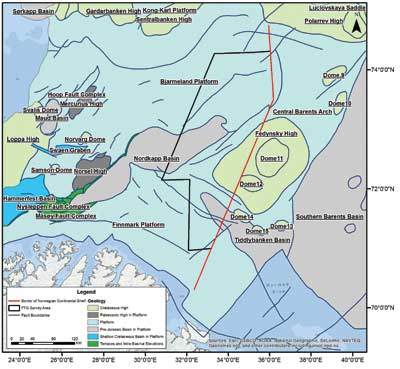 FTG survey area in the Barents Sea.
Northeast Greenland
ARKeX, in partnership with ION Geophysical Corp., is also behind the world's largest offshore 3D multi-client airborne FTG survey spanning 50,000 sq km (19.305 sq mi).
With reserve estimates of 8.5 Bboe, 80.4 tcf (2.28 tcm) of gas, and 8.5 Bbbl of natural gas liquids, the offshore northeast Greenland region area is very attractive to E&P companies.
The integration with ION's 2D seismic data improved understanding of fault trends, basement composition and salt geometries, as well as providing constraints to the model-building process. In this case, FTG has proven to be technically feasible and has provided a new and expanded vision for understanding the geological architecture of the northeast Greenland continental margin sedimentary basins.
Offshore Gabon
Offshore Africa is also a suitable for multi-client FTG surveys. One example is Gabon, West Africa, where ARKeX carried out a FTG survey on behalf of CGGVeritas over 9,000 sq km (3,475 sq mi) of the Zone Sud offshore area. Here the blocks were virtually unexplored due to the large and complex salt sheets that hid the prospective geology below.
The area was considered ideal for a multi-client FTG survey because of the high density contrast between salt and surrounding Madiela limestones and dolomites, FTG offered the resolution required to image shallow salt structures with confidence.
A series of 2D seismic lines were iteratively interpreted by integrating the acquired FTG data with existing seismic interpretations, and well data with the FTG data also supporting the accurate appraisal of the 3D Shallow Earth Model (SEM). The FTG survey has led to 11 seismic lines being selected for reprocessing by operators. Depth migration and initial 2D density/velocity models have also been built using the multi-client FTG data.