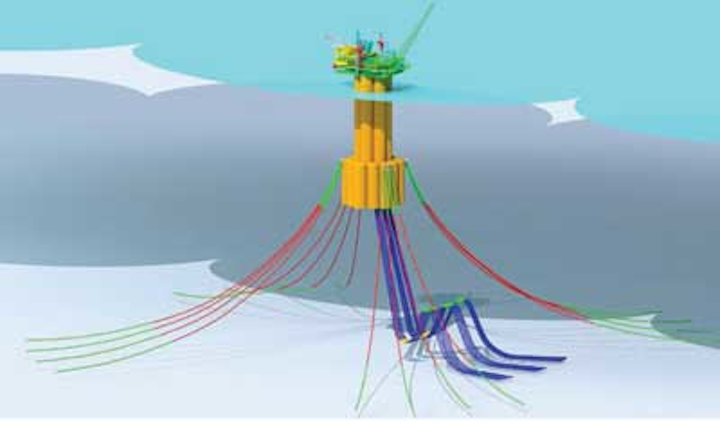 Displaying 2/2 Page 1, 2
View Article as Single page
Concrete has also proved popular in Russia as it allows a high level of local content to be realized, for both manpower and materials supply. Fabrication can be done locally. For Sakhalin, Kvaerner set up its own yard near Nahodka, north of Vladivostok, and trained several thousand workers with no previous experience. It also helped develop ancillary companies engaged in activities such as pipework and welding. Russian content for the two projects totaled 92% for manpower and 97% for purchased materials. High safety levels were also achieved, with no lost-time injuries recorded during the Sakhalin I project's 8 million man-hours.
If the CONDRILL concept is to prove successful, further steps are required. The oil companies would not normally own and operate one of these units – nor for that matter would Kvaerner, which sees its role as designing and building the platform and assisting with its installation and relocation. Ownership and operation would therefore fall to a drilling contractor, which would probably want a guaranteed multi-year contract before committing to the investment. This in turn might require cooperation with the oil company clients.
With Rosneft/ExxonMobil's recently announced discovery in the Kara Sea, the CONDRILL is likely to become reality sooner rather than later. However, the ban on technology exports to Russia's Arctic exploration and production introduced by the US and EU as part of their sanctions against Russia over events in Ukraine may delay progress. Norway, although not a member of the EU, is party to the sanctions. By the time the first unit is ready to be built, it is hoped the sanctions will have been lifted. In the meantime, Knudsen says the company is in regular touch with the Norwegian authorities to ensure that its activities in Russia comply with the law.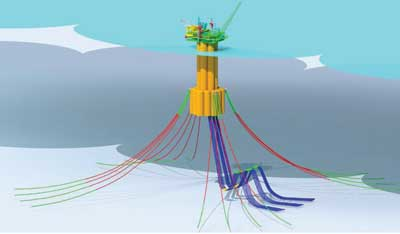 The CONDEEP Deep Floater: Kvaerner's production solution for deep, ice-prone waters.
CONDEEP Deep Floater
Meanwhile, Kvaerner also sees a role for its concrete technology in providing a production solution for fields in deep Arctic waters, such as the Flemish Pass off Canada's east coast, where Statoil and Husky made the significant Bay du Nord discovery last year.
Kvaerner has supplied two concrete-hulled floaters operating in the Norwegian sector, the Heidrun TLP and the Troll B semisubmersible platform. Neither has storage, although this feature was included in the first version of the CONDEEP Deep Floater which was developed (but not selected) for Eni's Goliat development in the Norwegian Barents Sea.
As its name suggests, the CONDEEP Deep Floater is based on the CONDEEP concept of cylindrical concrete columns and cells, comprising a central cluster of seven columns around the base which are arranged 12 smaller cells capped with spherical domes. The cells are used either for oil storage, providing capacity of 1.4 MMbbl, or for water ballast and buoyancy. The storage cells are under-pressured so that in the event of a rupture, the oil will not leak out.
The water depth in the Flemish Pass is 1,100 m (3,609 ft), compared to 380 m (1,247 ft) for Goliat. The design therefore has a deeper draft than the earlier version to make it more stable, Knudsen says. The risers, which are deployed through the central columns, are thus only exposed to the open sea where they exit the base of the platform at a depth of 100 m (328 ft), well out of reach of icebergs.
At the bottom of the hull the overall diameter is greater than that of the upper part. This, combined with a bilge keel arrangement, results in good stability characteristics – motions are very small during normal operations and moderate in 100-year weather conditions.
The hull, which can support a topsides with an operating weight of 40,000 metric tons (44,092 tons), is made of high-strength concrete which is iceberg resistant. It is moored by 16 to 18 chain-wire-chain lines attached to suction anchors. Solutions are under review for a disconnection system for the moorings and the risers in the event that approaching icebergs force the platform to move, as has happened with some FPSOs in Newfoundland & Labrador's Iceberg Alley.
Statoil and its partners have shown interest in the concept. "It's on their radar and we're optimistic that as they start to plan the development of the field they will include this as one of their options," Knudsen says. But with four more wells planned on its Flemish Pass licenses, Statoil has a further phase of drilling to complete before it starts focusing fully on development.