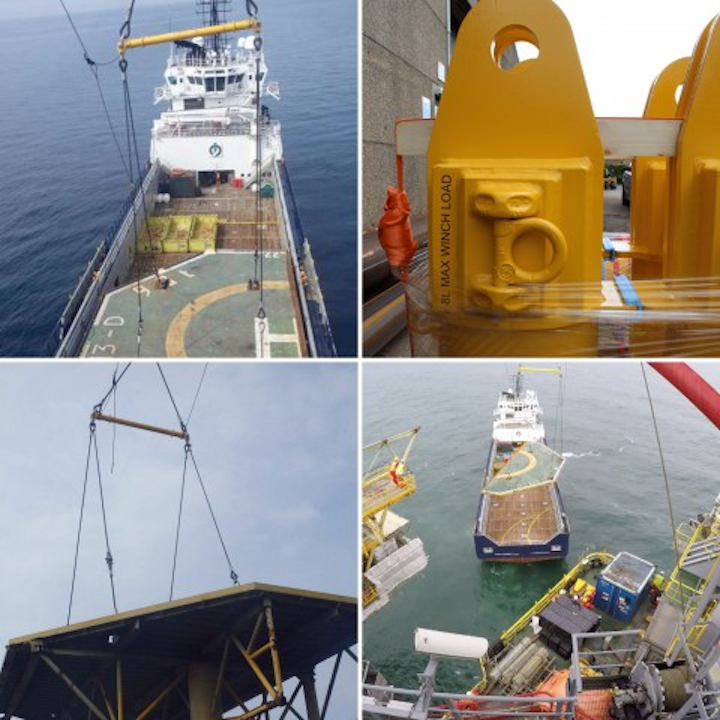 Offshore staff
ABERDEEN, UK – Certex (UK) has deployed two modified spreader beams supplied by Modulift to lift two (non-identical) halves of a helipad onto a vessel from a Dutch North Sea gas platform, 113 km (70 mi) from the Danish coast.
This involved designing a below-the-hook solution for loading the helipad using a 300-ton capacity crane aboard a barge.
The heavier piece of the pad weighed 89 tons, with the smaller piece less than half the weight at 35 tons; it was hexagonal in shape and measured 44 sq m (473 sq ft) when assembled. Centrex removed the smaller piece first, also lifting the spreader beam and rigging.
It applied a MOD 110H beam at 6 m (19 ft) for the heavier section and a MOD 110 at 6.5 m (21 ft) for the other, with different rigging equipment for each spreader beam.
Above the MOD 110H was a two-leg, 7-m (23-ft) long sling made from 90-mm dia. wire rope, while beneath the beam were two two-leg, 16-m (52-ft) long slings made from 64-mm dia. wire rope. Above the MOD 110, a two-leg, were an 8-m (26-ft) long, 64-mm sling combined with a pair of two-leg, 16-m long, 56-mm slings, all at angle of 30°.
A Certex (UK) spokesman said: "Pad-eyes were required on the side of the end units so they could be connected to winches on the barge crane to control maneuvering of the helideck during positioning into place. We provided calculations in advance of the project so Modulift could weld the modifications accordingly."
The platform remains operational, but personnel will now access it using marine transport.
08/01/2017