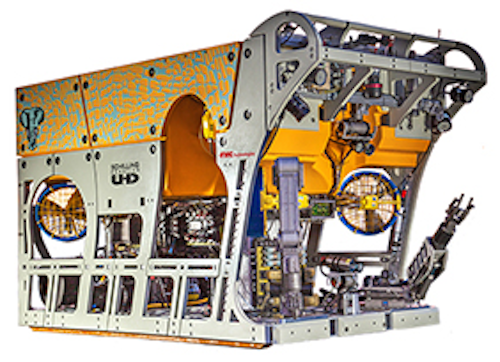 Offshore staff
HOUSTON– Schilling Robotics is unveiling the UHD III ROV at the 2014 Offshore Technology Conference. The UHD III meets API 53 standards for BOP intervention with RAM closure in less than 45 seconds.
The features include:
• Hydraulic power to 250-hp; Auxiliary power to 150-hp
• Optimizes work performance with automatic power efficiency management
• More space for tools and instruments
• Increases ROV pilot efficiency through intuitive ROV control interface, automated navigation, and positioning systems
• Customer configurable, modular control system simplifies tooling integration
• Dedicated propulsion and tooling hydraulic circuits that optimize ROV and tooling performance
• 60 minutes or less rapid maintenance design.
The company is exhibiting at booth 1401.