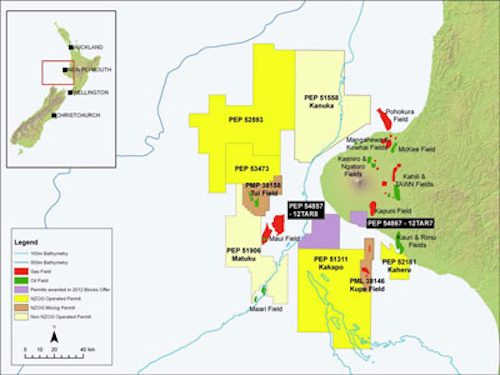 Offshore staff
WELLINGTON, New Zealand – New Zealand Oil and Gas (NZOG) has won a new exploration permit offshore Taranaki.
The permit is for 100% operated interest in block 12TAR8 off New Zealand's southern coast. The concession covers about 525 sq km (203 sq mi) and is north of NZOG'sKakapo prospect in PEP 51311.
No wells have been drilled in the new permit. The block is claimed to be within the same source kitchen for the Maui and Maari oil and gas fields.
During the next two years a 400-km (248-mi) 2D seismic survey will be acquired, with a well to be drilled within five years.
Elsewhere, NZOG has farmed in to three offshore Taranaki permits, including the Matuku prospect where operator OMV has secured a semisubmersible to drill in 3Q 2013.
Additionally, NZOG has farmed out itsKaheru prospect, and confirmed an intention to drill Kakapo.
1/30/2013