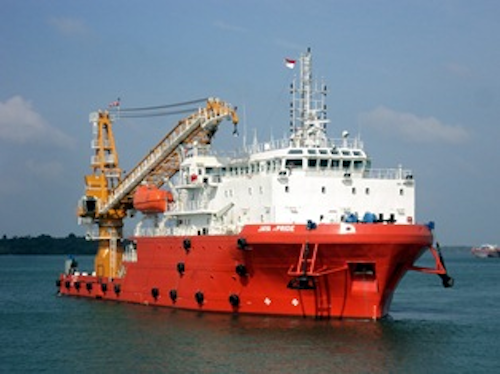 Offshore staff
SINGAPORE –Jaya Holdings Ltd has delivered the multi-purpose offshore support vessel Jaya Prideto a long-term charter with Belait Offshore in the South China Sea.
The 78-m (256-ft) long vessel can accommodate 148 passengers and crew, and has a 40 ton capacity at 40 m (131 ft) reach lattice boom crane.Jaya Pride's main Caterpillar engines deliver over 5,150 bhp supported by two bow thrusters and two stern thrusters from Kawasaki. The vessel has additional Volvo Penta generators and 650 sq m (6,997 sq ft) of clear deck capacity.
The vessel is fitted with both four point mooring and a Kongsberg dynamic positioning system. In addition to two DGPS reference systems, the vessel has a Kongsberg high precision acoustic positioning (HiPAP) system for precision station-keeping and ROV work.
George Horsington, president-Business Development for Jaya, said the company expects to deliver a similar but larger workboat from its Batam yard in 2014.
2/7/2013