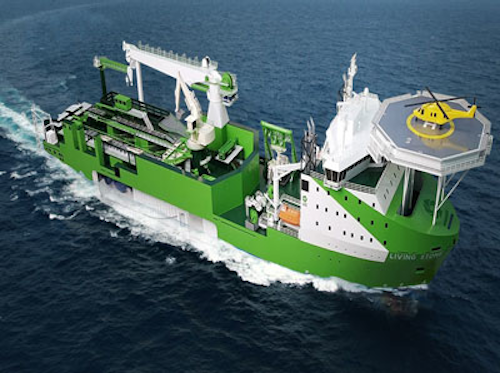 Offshore staff
BREDA, the Netherlands– DONG Energy has awarded Tideway BV a design and build cable installation contract for the world's largest offshore wind farm, Hornsea Project One.
Tideway will deploy DEME's newest DP-3 vesselLiving Stone for this project. The subsea cable-laying vessel is currently being built by the Spanish shipyard LaNaval near Bilbao, Spain. Delivery is scheduled for April 2017.
The installation scope of work for includes cable-laying, pre-trenching, backfilling, pre-sweeping, route preparation, and rock placement of three high voltage subsea power cables from the shore to three different offshore substation platforms, as well as the installation of two interlink cables. The power cables will be pulled ashore near Horseshoe Point immediately south of the Humber Estuary.
Due to the length of the three subsea power cables (134 km/83.3 mi, 140 km/87 mi, and 152 km/94.4 mi), DONG Energy has to install a reactive compensation platform between the three substations and the shore. The interlink cables are 13 km and 14 km (8.1 mi and 8.7 mi).
The offshore project is expected to start in 2017 with the engineering route survey and the last export cable should be laid and protected by mid-2019.
The Hornsea Project One offshore wind farm will be capable of powering well more than 1 million UK homes, off the Yorkshire Coast. Covering approximately 407 sq km (157 sq mi) and providing a capacity of 1.2 gigawatts, this will be the firstoffshore wind farm to exceed 1 GW in capacity.
Duncan Clark, senior program director for DONG Energy's Hornsea Project One, said: "We are pleased to be able to call on the experience of Tideway for this vital cable installation and pre-trenching work. This activity will take us another step towards the construction of the world's largest offshore wind farm."
Hugo Bouvy and Lucas Bols, both directors of Tideway, stated: "We are delighted to be expanding our relationship with DONG Energy from the offshore oil and gas market to the key growth area of offshore wind. This is a major contract, for which the highly innovative, modular cable/umbilical handling system positioned on board our state-of-the-art new cable installation vesselLiving Stone was the basis.
"The award is a testament to the confidence DONG Energy has in the capability of our dedicated engineering team and their novel solutions. Uniquely,Living Stone has a 10,000-metric ton cable capacity divided over two turntables arranged below deck, which meets the project's specific challenges, helping DONG Energy to bring down the risk and cost of this huge offshore wind development. We look forward to a successful campaign."
06/13/2016
Share your news withOffshoreat news@offshore-mag.com