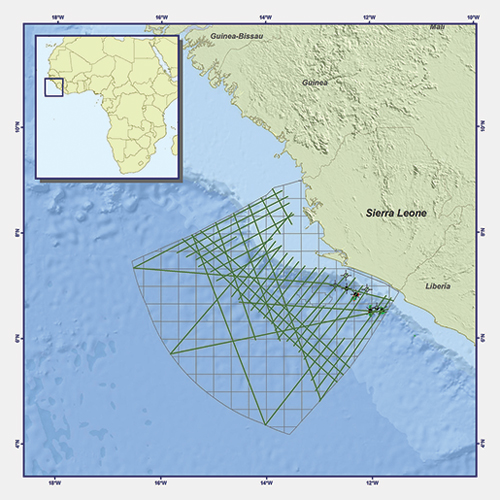 North America
BHP has committed $256 million for further drilling later this year and studies on the deepwater Trion oilfield offshore Mexico. Results from the recent 2DEL appraisal well reduced uncertainties but another well will be needed to firm up volumes ahead of a potential development.
◆ ◆ ◆
Excelerate Energy and Equinor Energy have completed what is claimed to be the first ship-to-ship transfer of LNG offshore the Bahamas. This involved the floating storage and regasification unit Exemplar and the LNG carrier Arctic Voyager while both were moored at Equinor's South Riding Point storage and transshipment terminal.
Caribbean Sea/South America
Brazil, Guyana, and Mexico will continue to lead the way this year in terms of high-impact exploration drilling, according to Wood Mackenzie. The stand-out program will likely be on the Petrobras-operated Peroba prospect in the presalt Santos basin off Brazil, where volumes could exceed 5 Bboe. The consultant also highlighted Tullow Oil's upcoming well on the 200-MMboe Jethro structure well on the Orinduik block off Guyana.
◆ ◆ ◆
BP has commissioned McDermott International to construct and install a new gas compression platform at the Cassia complex in the Columbus basin, 35 mi (57 km) southeast of Trinidad. McDermott will fabricate the 8,928-ton (8,100-metric ton) topsides and the bridge that will link the structure to the existing Cassia B platform at its yard in Altamira, Mexico. Trinidad Offshore Fabrication Co. will provide the 3,747-ton (3,400-metric ton) jacket, to be installed in 223 ft (68 m) of water. The new Cassia C facility's three turbine-driven compressors will receive 1.2 bcf/d through new piping across the bridge connection, returning the compressed gas to Cassia B for export.
◆ ◆ ◆
ExxonMobil and its partners have continued their run of successes in Guyana's offshore Stabroek block. Wells on the Tilapia and Haimara prospects delivered respectively oil and gas-condensate, with Tilapia-1 representing the fourth commercial oil find in the Turbot area. ExxonMobil now sees potential for at least five FPSOs on the block by 2025, producing more than 750,000 b/d combined.
◆ ◆ ◆
Petrobras has started operations at the FPSO P-67 in the Lula Norte area, the ninth production platform on the BM-S-11 block in the presalt Santos basin. The location is 161 mi (260 km) from the Rio de Janeiro state coast in 6,988 ft (2,130 m) water depth. Up to 150,000 b/d of oil from nine production wells will be offloaded to shuttle tankers, with associated gas sent through the existing presalt subsea pipeline network. By year-end, Petrobras expects output from all the facilities on the Lula field to have reached 1 MMb/d.
In the same basin, but closer to the coast, the company has contacted TechnipFMC to supply the rigid pipeline/riser network for the presalt Mero-1 field development in 6,890 ft (2,100 m) water depth, also installing the flexible risers and flowlines, steel tube umbilicals and other subsea equipment. MODEC, which is constructing the field's FPSO Guanabara MV31, has subcontracted Estaleiros do Brasil to fabricate and assemble the topsides process modules at the EBR shipyard in São José do Norte. The vessel is designed to process up to 180,000 b/d of oil and 12 MMcm/d of gas.
West Africa
GeoPartners is collaborating with Sierra Leone's Petroleum Directorate on a new 5,592-mi (9,000-km) 2D seismic survey to be acquired over the country's entire offshore area. The resultant data will be made available to bidders for the country's 4th Offshore Petroleum Licensing Round which is due to launch later this year.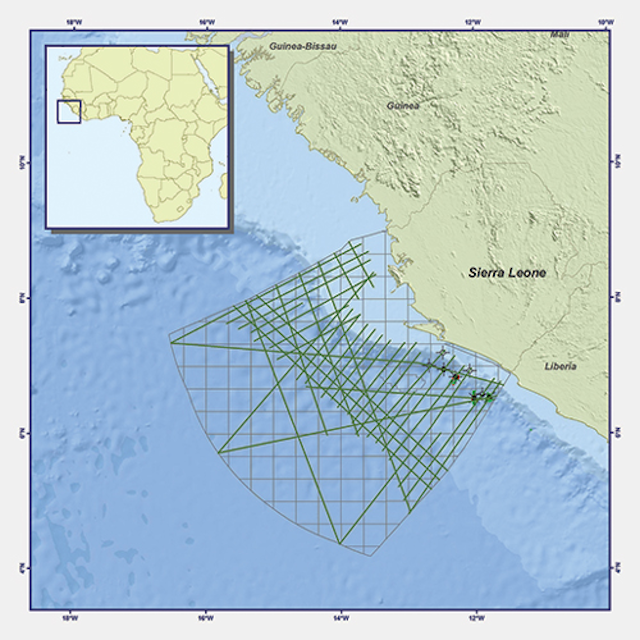 Coverage to be provided by this year's 2D seismic survey offshore Sierra Leone. (Courtesy GeoPartners)
◆ ◆ ◆
Results from the latest well on the Pecan field offshore Ghana and supplementary analysis point to discovered resources of 450-550 MMboe across the Deepwater Tano Cape Three Points block. Pending the outcome of two further planned appraisal wells, operator Aker Energy sees scope to increase the range to 600-1,000 MMboe, with other targets on the block potentially included in an area-wide development. Water depth at the Pecan-4A well location was 8,750 ft (2,667 m).
The FPSO Kwame Nkrumah has successfully been rotated to a new heading of 205° at the Jubilee field offshore Ghana. Operator Tullow Oil commissioned a remediation program after detecting issues with the turret bearing system. Next year, a new catenary anchor leg mooring buoy is due to be put in place for offtake of the vessel's produced oil.
◆ ◆ ◆
Nigeria's government has renewed the license for the offshore OML 113 concession by a further 20 years. Operator MX Oil is looking to step up production from the Aje field by drilling new wells in the Cenonamian and Turonian intervals, eventually lifting output to 20,000 b/d of oil and 100 MMcf/d of gas.
◆ ◆ ◆
Seadrill and an affiliate of Angolan state oil company Sonangol have formed a new venture named Sonadrill. This will operate four drillships with a focus on opportunities offshore Ghana. Sonangol will contribute two new ultra-deepwater 7th generation vessels, Libongos and Quenguela, both under construction at DSME in South Korea. Seadrill will manage and operate all four drillships, initially over a five-year term.
◆ ◆ ◆
Total has proven potentially large volumes of gas-condensate in the Brulpadda prospect off the southern coast of South Africa. The well, drilled by the semisub Deepsea Stavanger on block 11B/12B in the Outeniqua basin, encountered hydrocarbons in two separate intervals. It was the French major's second attempt to drill, having had to abandon its first shot in 2014 due to poor weather.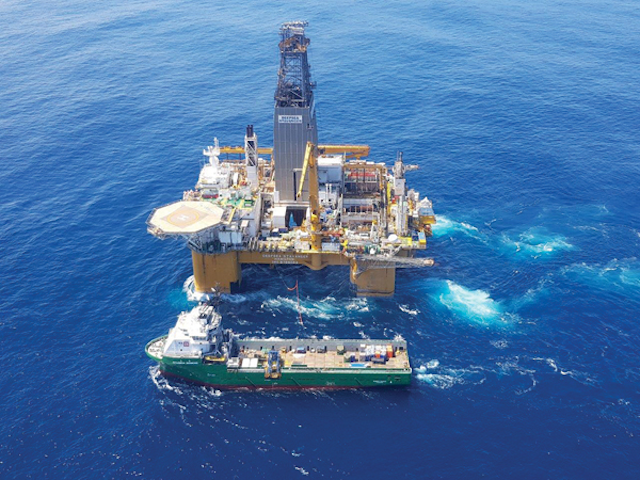 The Deepsea Stavanger drilled the Brulpadda-1 well in the Outeniqua basin off South Africa. (Courtesy Total)
The company and its partners plan to follow up with a 3D seismic survey and four more exploratory wells on the license. Brulpadda, thought to hold up to 1 Bboe, may have a ready market at PetroSA's Mossel Bay onshore gas-liquids plant, 112 mi (180 km) to the northwest.
Mediterranean Sea
BP has started gas production from the Fayoum and Giza fields in the West Nile Delta (WND concession). Development involved drilling eight wells and installing associated subsea infrastructure and pipelines, with combined output from the two fields eventually set to reach 700 MMcf/d. Four fields are now onstream in WND, with the fifth – Raven – to follow later this year. Total peak output will be 1.4 bcf/d, all contracted to Egypt's domestic market.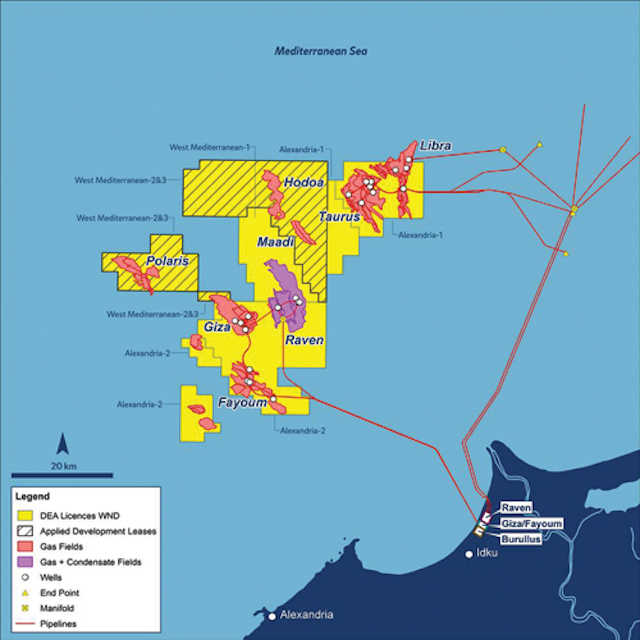 Location of the Fayoum and Giza fields in the West Nile Delta concession. (Courtesy DEA Deutsche Erdoel)
◆ ◆ ◆
Tunisia's Directorate General of Hydrocarbons has agreed to renew Panoro Energy's Sfax Offshore exploration permit. The Norwegian company and partner ETAP are working on a program of drilling and testing of the offshore Salloum West-1 well, investigating a fault compartment updip of British Gas' 1992 Salloum oil discovery. If successful, Salloum could be developed fasttrack through nearby infrastructure.
◆ ◆ ◆
Egyptian General Petroleum Corp. has reportedly awarded exploration rights to three promising concessions in the Mediterranean Sea to various consortia under Egypt's 2018 Bid Round. ExxonMobil, BP, IEOC (Eni), Total, Shell, and Petronas secured block 3 – North East El Amreyia and have agreed to drill two wells. BG (Shell) and Petronas were awarded block 4 – North Sidi Gaber and have pledged to acquire 579 sq mi (1,500 sq km) of 3D seismic and to drill one well. The same duo picked up block 6 – North El Fanar, where the program includes an 869-sq mi (2,250-sq km) seismic survey.
Eastern Europe
Black Sea Oil & Gas and its partners have decided to proceed with the $400-million Midia gas project in the Romanian sector of the Black Sea. They plan five production wells – four surface wells at the Ana field and one subsea well at the Doina field – with production from Doina heading through an 11-mi (18-km) subsea pipeline to a new unmanned production platform at Ana. From there, a new 78-mi (126-km) pipeline will transport the gas to a new 1 bcm/yr onshore treatment plant in Corbu, Constanta county, for onward delivery through the Romanian grid. GSP Offshore will construct, install and commission all the facilities.
The same contractor has been working for Turkish gas distributor BOTAS drilling subsea storage wells and supervising construction of two fixed offshore platforms under Phase III of the Marmara natural gas storage extension project. These facilities should increase storage capacity from the present 2.84 bcm to 4.3 bcm.
East Africa
Anadarko Petroleum and its partners in Area 1 offshore Mozambique have signed separate long-term agreements to supply LNG converted from the deepwater Golfinho/Atum gas fields to India's Bharat Gas Resources, Shell International Trading Middle East, and Tokyo Gas/Centrica. The total volume contracted could reach up to 5.6 MM metric tons/yr (6.17 MM tons). The partners plan to initially construct two LNG trains onshore Mozambique with an annual capacity of 12.88 MM metric tons (14.2 MM tons). A final investment decision on the project should follow by mid-year.