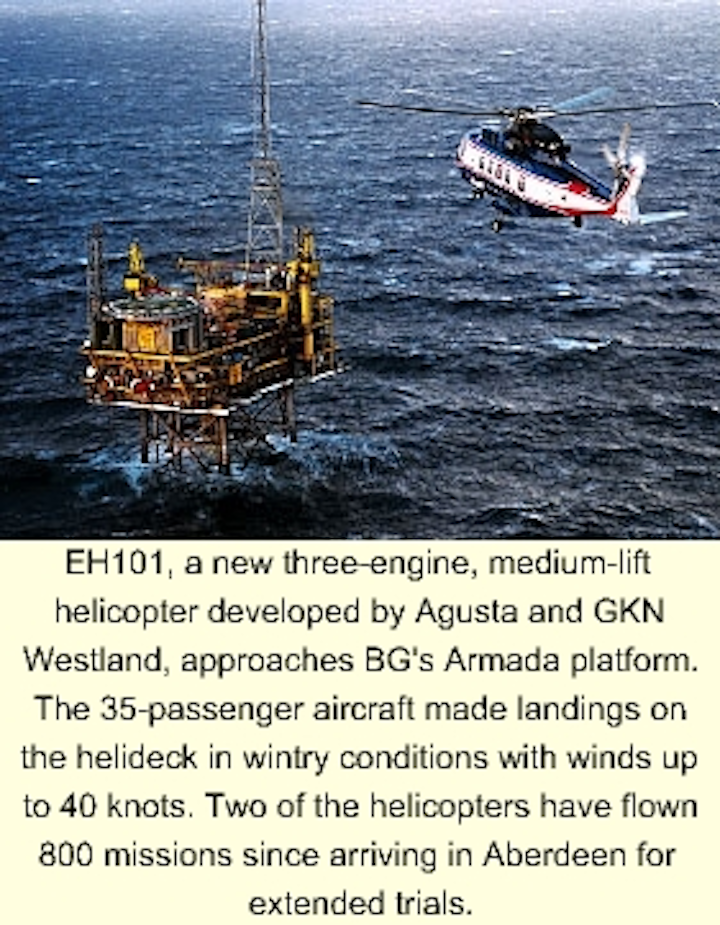 Dormant UK sector hits construction
UK fabrication yards keep predicting their imminent demise. This time, it seems to be for real.
Lewis Offshore, a jacket specialist on the West Scottish island of Stornoway, has just gone into receivership. At its peak, it employed up to 1,000.
Kvaerner's Teesside facility in northeast England - one of Europe's largest - has been mothballed following completion of the topsides for the Triton FPSO. Also, Kvaerner has closed its Agotnes site in Norway.
Barmac, the Halliburton/J Ray McDermott joint venture, is cutting staff levels at its two yards in northern Scotland from 3,700 to 400, following delivery of a platform and manifold for Elf and Texaco, respectively.
Barmac Managing Director, Don Wright, commented: "We are all facing a UK market which has fallen steadily from an average requirement of 10 million man hours during 1996-98... and which experts are predicting will be in the region of 4 million in 2000." Wright foresaw some prospects in platform decommissioning, but this is hardly a sunrise industry.
All yards have noted the latest North Sea forecast from Mackay Consultants based in Inverness. This confirms just one new UKCS gas field start in 2001 - Hawkins - but no new oilfields that year. However, Mackay's appendix does detail 34 UK fields under consideration for development, many of which could go forward once post-merger malaise has dissipated.
Platform prospects include Shell's Goldeneye, Phillips' Jade and Kate, and a Conoco gas find in Southern North Sea block 49/17. Mackay estimates expenditure for the North Sea at £17.1 billion in 2001, down from £23.4 billion in 1998.
BP Amoco severs gas super-highway
When the Bacton-Zeebrugge undersea gas pipeline was switched on late in 1998, it was heralded as a new gateway for Europe. BP Amoco, however, already wants out, as it seeks to divest its non-Alaskan Arco-owned properties. Up for sale are most of Arco's interests in the southern gas basin, including the Thames area fields plus associated stakes in the Thames, Hewett, and Caister-Murdoch export lines to eastern England. Trent/Tyne and the Eagles system are exempted. Wintershall, another big player in North Sea gas, plans to exit the UKCS altogether - it aims to conclude a sales package this spring.
BP Amoco is more focused to the south and west. It has just been granted a new production licence in an offshore block next to the Wytch Farm onshore/offshore oilfield on the Dorset coast. BP Amoco and its partners Kerr-McGee, Premier Oil, and Talisman plan extended reach exploration from the Goathorn peninsula into this block, using Deutag's T47 land rig which has set numerous ER records over the years on Wytch Farm.
Another location compatible with the BP Amoco mindset is the Atlantic Frontier. Here the Atlantic Margin Metocean Project, led by Fugro-GEOS, is undertaking a year-long study of the meteorological and oceanographic conditions in anticipation of an upsurge in deepwater drilling. Current and temperature readings are being taken west of Ireland and in Faroese waters.
The aim of the subsequent modeling effort is to improve prediction of environmental conditions in this area. Well-specific criteria should be available from January 2001.
Esso spreads its net around Balder
Esso's Balder FPSO came onstream this summer in the Norwegian North Sea, many months behind schedule. However, Esso is confident that a second development in this area could be completed in 2002. It has budgeted around $1 billion to exploit nine separate oil accumulations holding an estimated 280 million bbl in block 25/8.
The proposed platform would have facilities to drill wells up to around 8.5 km away, but there would also be two subsea production centers, with some of the subsea wells tied back to the Balder vessel. In theory, this could allow production to kick off in 2001.
Statoil is modifying its Norne FPSO off mid-Norway to allow gas exports of up to 1.5 bcm/yr from the field. Following a planned shutdown in April, gas will head through a new pipeline feeding into the
Yet another gas export line has been proposed by Stamgass. This one would carry supplies from a potential gas-fired power station at Skojn eastwards overland Norway and Sweden to the town of Sunsdvall, then subsea through the Gulf of Bothnia to Kristinestad in western Finland. Finnish gas demands are expected to rise by up to 4.2 bcm a year by 2010.
Halfdan waved through, Trym still pending
Maersk's DKr 1.5 billion scheme to develop its 70 million bbl Halfdan discovery has been approved by the Danish Energy Agency. Plans call for a 5,300-ton wellhead platform plus a 5,000-ton process deck structure. The discovery was made last year following appraisal of the Dan Field in the Danish North Sea.
A much earlier gas discovery on the Danish/Norwegian median line is Trym, a Mid-Jurassic sandstone reservoir containing around 115 bcf. Statoil is trying to sell its 20% stake to Denmark's DONG (Shell and the Norwegian state hold the balance). In theory, it could be developed subsea through the Harald East processing facilities in the Danish sector. However, this would require agreement between the two countries covering issues such as jurisdiction and taxation. Norway's authorities recently barred Gaz de France (GdF) from taking a stake in the Visund project. DONG is a similar entity to GdF, but its case may be more answerable, being Scandinavian.
In the Dutch sector, Elf Petroland has started production from its new L4PN platform. This is the first stage in the development of several new gasfields situated north of block L4a. Peak flow of 2.5 mcm/d should be attained this summer. Gas is evacuated via Elf's L4A and L7 facilities into the Noordgastransport trunkline.