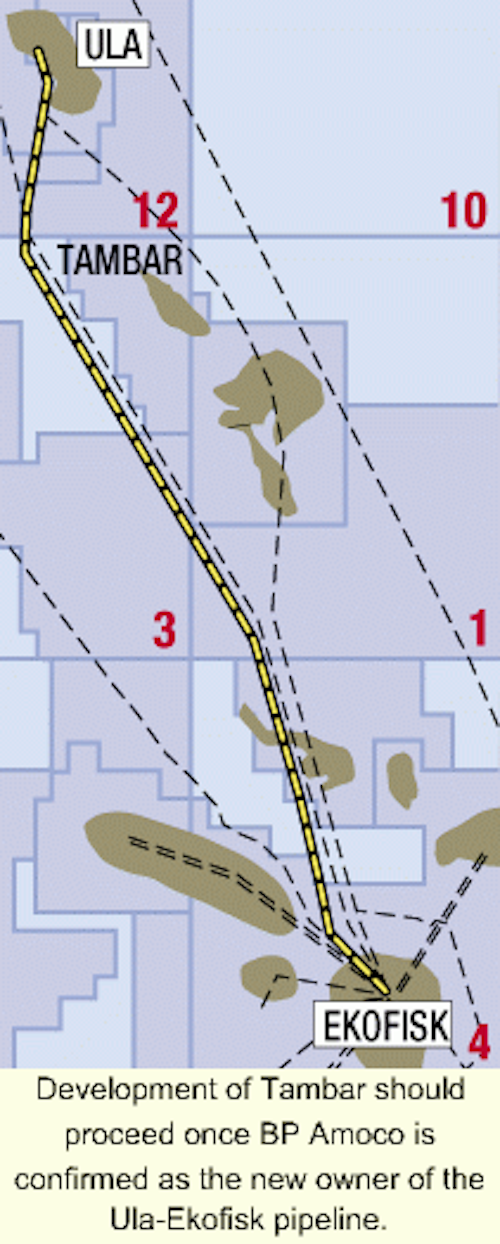 Norwegian heavyweights respond to 16th round
Fourteen oil companies submitted bids for 39 of the 49 blocks offered in Norway's 16th licensing round. Awards are due to be issued in mid-April. Applicants included all the established players, plus Germany's RWE-DEA. Oil Minister Marit Arnstad declared satisfaction at the turnout, but the Norwegian Oil Industry Association (OLF) said that the new licenses should carry improved conditions for companies operating in Norway. Major gas discoveries are anticipated on the new acreage. More should therefore be done, OLF suggested, to extend opportunities for using gas in Norway as well as overseas.
The government hopes the new awards, which include some frontier regions off mid-Norway, will provide new impetus to exploration drilling activity. Whether or not the successful bidders forge ahead quickly with their campaigns, Norway is still likely to lag the UK this year in the North Sea drilling league, according to a forecast from Arthur Andersen Petroleum Services. The group estimates a healthier picture for the sector overall, following the 28-year low for new North Sea starts in 1999. It forecasts 84-101 exploraton and appraisal wells this year.
That is still nowhere near the buoyant levels of the mid-1990s, however. In readiness, drilling groups Smedvig and Maersk Contractors have opted to collaborate to reduce their operating costs in the Norwegian sector, in terms of purchasing and services procurement, sharing of technical and operational expertise. But pooling of their two fleets has not, so far, been mooted.
Statoil's current campaign includes a development well on Sygna that will include one of its longest-ever horizontal sections. Statoil also announced last year it managed to cut incidents relating to drill pipe or casing stuck downhole by 40%. This saved it around 88 days of operational time, equivalent to NKr 110 million.
Subsea activity dominates UKCS
Despite the rapid deceleration in UK North Sea field development, combined oil and gas output hit new highs last year, according to the Royal Bank of Scotland. Oil production averaged 2.62 million b/d, up 3.2% on 1998, while the daily average for gas was 9.42 MMcf, a 12% increase. However, these levels will not be sustained if the exploration/development slowdown persists, the bank warns.
London-based UK field analyst Britboss sees potential for several new gas field developments based around platforms. These are BG's 250 bcf Apollo/Minerva fields in the southern North Sea and Burlington's 290 bcf Calder in the Irish Sea. Both schemes could roll ahead in time for a production start next year. Prospective subsea developments identified by Britboss are:
West Heather and the North Terrace, two oil pools relatively close to the DNO-operated Heather platform (which needs new production to stave off abandonment)
Zeta, a small oilfield discovered by Talisman in 1998 in its central North Sea stronghold. This could be routed to Agip's Balmoral semisubmersible FPU 8 km to the north
Perth, a 45-75 million bbl field within reach of the Scott or Tartan platforms. Operator Amerada Hess has reportedly asked contractors to submit new ideas for a subsea tieback involving up to four wells.
Also in the UK sector, Lasmo has ceded its controlling interest in the producing Trees block fields to ambitious Aberdeen-based independent, Venture Petroleum (its first North Sea project as an operator). And utility Eastern Natural Gas (Offshore) has attain ed similar status by taking the reins at the Johnston gas field, formerly operated by BHP.
Corrib linked to Irish trunkline
Premier Transco, a joint venture between BG International and Key Span, is planning a new 170-km gas transmission pipeline overland in Ireland between Belfast and Dublin. Demand for gas both in the Republic and Northern Ireland is forecast to rise steadily over the next 25 years. The new IR£ 120 million line would be an extension of the submarine link in the Irish Sea that ships gas south from Scotland to Belfast.
With Ireland's only current producing fields - Marathon's Kinsale south of Cork - set to deplete in the next few years, Premier Transco is talking openly of feeding in supplies from Enterprise's major Corrib discovery off western Ireland, where a development plan is expected to be confirmed shortly.
In the Norwegian North Sea, BP Amoco is awaiting government approval for its agreed acquisition of Statoil's Ulapipe system. The 71-km, 20-in. Ula line pipes oil and NGLs from the Ula and Gyda fields to the Ekosfisk center. BP Amoco, which operates both fields, has for some time wanted to tie in the undeveloped Tambar too, but has been deterred by the $5/bbl tariff for using this line, thought to be the highest on the Norwegian CS. Assuming the transaction is cleared, BP Amoco can set to work not only on Tambar, but also on possible upgrades to Ula and Gyda as well as re-evaluating some other satellites. The Ula line currently operates at less than half its 250,000 b/d capacity.
Statoil takes stock of redundant 2/4-S
Ekofisk's 2/4-S riser platform topsides will be dismantled and removed next year - the first Statoil-operated installation to be decommissioned. Heerema Marine Contractors and Umoe Olje og Gas will manage the exercise, which embraces three modules, a flare boom, two bridges, and other smaller equipment. The jacket will be left in place. Statoil also aims to recycle up to 98% of the materials onshore.
2/4-S used to be the transit point for gas heading through the Statpipe trunkline from northern Norwegian North Sea fields, but the platform was abandoned in 1998 when the new Ekofisk loop line was installed (this now links Statpipe directly to the Norpipe trunkline from Ekofisk to Emden in Germany). On the median line with the UK, decommissioning options are also under review for the Elf-operated Frigg Field, where gas/condensate production is expected to wind down in 2002. There are five platforms in the Frigg complex, which has been in production since 1977. A cessation plan should be submitted to the Norwegian and UK authorities this October.