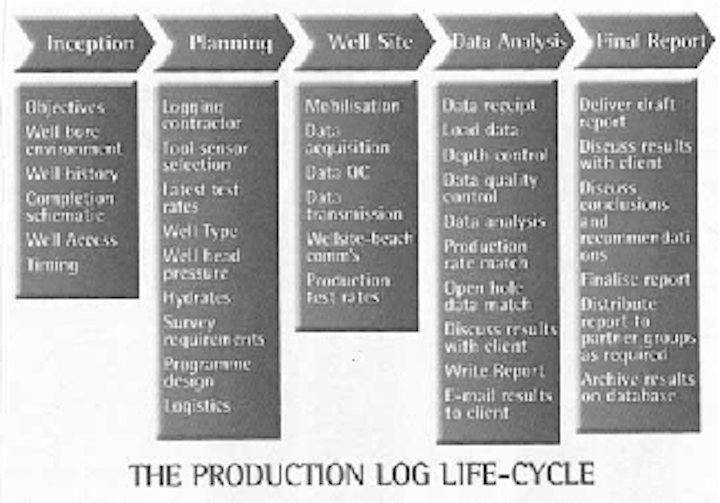 Data analysis
The Expro Group recently created a Data Analysis Centre in Aberdeen. The center provides liaison with the client at the outset of the project to determine the objectives and ultimate purpose of the data-gathering campaing. All aspects of the well such as location, well bore environment, wellhead pressure and production history are taken into consideration.
Hardbanding
Arnco Technology Trust, Ltd. introduces their newest and most effective hardbanding, ARNCO 100XT. It's crack-free feature is the most signi-ficant. ARNCO 100XT has one of the lowest casing wear factors ever achieved in the Maurer Engineering casing wear tests, while at the same time achieving an open-hole wear resistance comparable to that of sintered fine particle or spherical tungsten carbide.
Norway facility
Oilfield services provider Expro North Sea Ltd. opened a new workshop facility in Bergen, Norway, to service clients operating in the Norwegian sector of the North Sea. The facility, located at CCB/Ågotnes, was built to maintain and prepare the Expro Group's subsea safety systems, and is supported by local customer service and technical support personnel.
Pipeline package
Total Pipeline Integrity, a service created by PII, allows an operator to access a customized pipeline requirement package from one organization, instead of many. The service is cost effective and decreases failures or large repair/ rehabilitation bills.
Rotary control valve
Dresser Valve Division offers a low noise rotary control valve package. The standard assembly includes the patented trim design packaged in a Grove B-5 Ball valve with LedeenRegistered actuation and MasoneilanRegistered instrumentation. Known as T-BallRegistered, the new product combines, uniquely, effective low noise/anti-cavitation capabilities with high turndown ratios (up to 300:1) and non-clogging performance.
The valve is designed for severe service applications in gas and steam pipelines, and combines high capacity benefits of a standard ball valve with the noise and vibration reduction features of a globe-style control valve.
Flow indicators
Papailias FIS/HP and FIF/HP Sight Flow Indicators offer inline on-the-spot viewing of a pipeline's contents. Units may be configured with flapper, drip tube, or rotating flow indicators and are rated at HP3-300 PSIG (20.7 Barg) or HP6-600 PSIG (41.4 Barg). Full ANSI pressure class 300 and 600 ratings are available. Special materials for construction are available if requested.
Combustion control
RJM Corporation has published comprehensive fuel-specific product kits on its innovative engineered combustion and NOx control solutions. As the first company to develop low NOx burner add-on components, RJM Corporation's combustion tech-nologies enable existing burners to meet federal and state mandated emissions compliance standards at approximately one-third the cost of replacement burners.
Skimmer accessories
The Oil Skimmer Division of the Abanaki Corporation recently added the Solar PetroXtractorRegistered to their popular line of Petro-XtractorRegistered well oil skimmer accessories. The new solar powered skimmer allows remediation from existing wells as small as 2-inches in diameter in areas too remote to receive elec-tricity or pneumatic power.
Flow meter
FloCat introduces the WA40 series positive displacement flow meter used to measure volumetric flow of medium and high viscosity fluids. This rugged flow meter is simple to use and install. There is no need for additional straight run piping upstream or downstream of the flow meter. The WA40 series represents affordable, accurate pos-itive displacement flow metering at its best.
Diagnostics
FWMurphy and Power Ignition Controls Ltd. formed SN Controls L.L.C. The user-friendly, 16-bit microprocessor-based controller is the heart of the system and is designed for accurate timing control, diagnostics, prognostics, and commun-ications. The ignition controller can be easily programmed from the front display/keypad. All operations, diagnostic and programming data can be viewed from the display or communicated to a PLC.
Nitrogen generation
Generon, a member of Messer's Advanced Gas Systems division, has introduced a new, compact, lightweight unit, the GENERONRegistered HPMB 6500 Series, that provides on-site nitrogen generation for offshore oil and gas drilling operations. The unit's exceptionally small footprint and ultra-lightweight aluminum casing make it ideal for the limited space requirements of offshore platform applications, where it is currently being used for continuous and intermittent pipeline purging and other applications.
Fiber Optic Sensor System
CiDRA Corporation introduces a fiber optic sensor system, the Optical Fiber In-Well 3C/4D Seismic Imaging and Monitoring System, for permanently installed time-lapse borehole seismic applications. Multi-component, multi-channel systems are currently being designed for reliable operation in HT/HP downhole environments. The system is intrinsically safe and uses hydrophone and multi-component accelerometers. According to preliminary testing, the system performs better than conventional electromechanical devices.