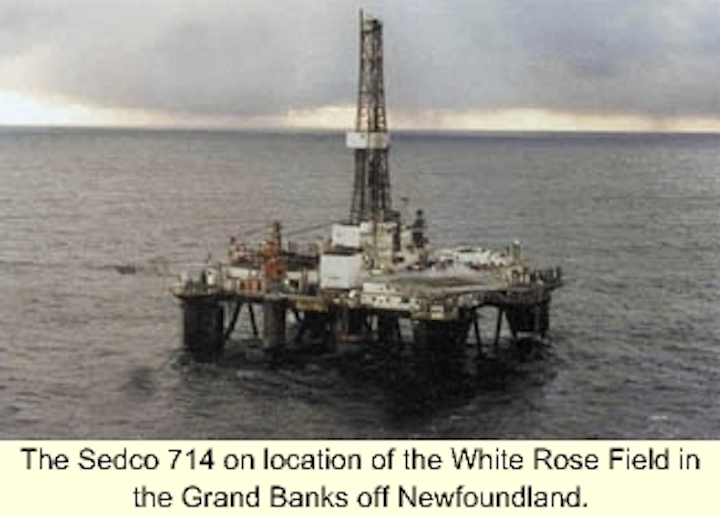 Hibernia will always be the benchmark on what all Canadian oil developments will be compared, and for Husky and PetroCanada, this may end up being a curse. The companies are trying to make progress with the newest field off Newfoundland's sector of the Grand Banks - White Rose - and running into difficulties. White Rose is the third development project off Newfoundland.
The White Rose Significant Discovery Area (SDA) is located in the Jeanne d'Arc Basin in the Grand Banks about 350 km east of Newfoundland. The field was discovered in 1988 by Husky with the E-09 well. The two producers have estimated reserves of 250-275 million bbl of oil, and the single largest discovered gas resource on the Grand Banks, with 2.1 Tcf of gas and 77 million bbl of natural gas liquids.
Field profile
The whole of the White Rose area consists of two fields: the South White Rose oil field and the North White Rose gas field. Husky, as operator of the project with a 72.5% interest, and PetroCanada with 27.5%, plan on initially developing the South White Rose Field which covers an area of approximately 40 sq km, while conducting feasibility studies on North White Rose.
Additionally, following a 1999 3D seismic survey by PGS using the company's Ramform Explorer, Husky drilled three successful delineation wells as part of a three-well program, L-08, A-17, and N-30, and identified separate accumulations from the North and South fields in the northern and western areas of the SDA. The wells indicated that these areas contain potential recoverable oil reserves between 60 and 125 million bbl. The companies have said that if additional evaluation of these areas determines that economically recoverable reserves exist, then they will be tied into the White Rose oilfield development infrastructure.
The companies are now in the process of further delineation. By year-end, they plan to complete one to two additional delineation wells to confirm the commercial viability of the South White Rose oil field and begin development planning.
Development
White Rose has been a success almost since inception. The White Rose SDA ranks fourth in the Jeanne d'Arc Basin for discovered oil reserves, behind Hibernia, Terra Nova, and Hebron, and first in discovered gas reserves. When Husky announced plans to develop White Rose making it the third major field off Newfoundland to come onstream, cheers went up across Canada. But when the company announced how it was going to develop the field, the cheers were not as forthcoming.
In late 1999, Husky awarded Kvaerner SNC-Lavalin Offshore (KSLO) a contract for a development concept screening study. KSLO evaluated eight different systems according to a comprehensive evaluation system, incorporating assessments of feasibility, flexibility, deliverability, economic attributes, and Canada-Newfoundland benefits. Following the recommendation by KSLO, Husky announced in March that it had selected a steel FPSO as the preferred production facility concept for the proposed White Rose oilfield development project.
The FPSO will be an ice-strengthened vessel supporting a topsides process plant with oil production capacity of 100,000 b/d and oil storage capacity of around 800,000 bbl. The FPSO will be producing on average of 75,000-100,000 b/d of oil from several subsea wells.
Husky is presently preparing a Development Application (DA) to submit to the Canada-Newfoundland Offshore Petroleum Board (CNOPB) by the third or fourth quarter. The company is also working with the various regulatory agencies, business associations and other stakeholders to identify potential issues. One issue has already surfaced.
FPSO versus GBS
Since the announcement to use an FPSO, like that of Terra Nova, Husky has been under fire from local lobbying and political groups. The reason being that the locals favor a gravity base structure (GBS) like that of the Newfoundland benchmark Hibernia.
Spearheading the fight is Andy Wells, St. John's Mayor and leader of the newly established lobby group Friends of Gas Onshore (FOGO). Wells has already received the backing of the powerful North Atlantic Pipeline Partners (NAPP), a long-standing group focused on developing a Grand Banks gas gathering and export system.
Wells claims that Husky's reasoning behind an FPSO is that the company wants to pump oil as fast as possible, at the lowest cost, and without regard to any long-term commitment to Newfoundland. Wells and FOGO believe that a GBS is more applicable in that it will act as a gas-gathering hub in the area, making gas available for export to other markets.
Husky CEO Jamie Blair countered this argument by saying that the KSLO study determined that a GBS would cost in excess of $2.5 billion, $700 million more than an FPSO. Furthermore, delivery of a GBS would take 35 months longer than an FPSO. "The concrete GBS is simply not viable for a field of this size," he said.
Second study
But, NAPP countered again by conducting its own study for a GBS for White Rose with Aker. Following this study, NAPP Chief Executive Tom Tatham gave a presentation to the St. John's Board of Trade and said that NAPP believes it can deliver the owners a GBS built in Newfoundland on a basis that will improve on the cost of developing the field. This will be achieved by renting space on the GBS hub.
A third group - the Newfoundland Ocean Industries Association (NOIA) - has become involved in the dispute. In a statement on the White Rose issue, President and CEO of the NOIA, Leslie Galway, said that it applauds Husky for its openness throughout the project. Galway said that, "momentum is vital to sustaining a vibrant oil and gas industry in Newfoundland and Labrador.
"Debate should not be allowed to delay the development of White Rose South. NOIA believes the development of White Rose South must be determined on its own merit, through an established regulatory process. NOIA supports and will contribute to the due process. Husky Oil will present its development application to the CNOPB and a hearing will be set to review this application."
However, the real reasoning behind the dispute appears to be construction employment. Hibernia GBS construction employed 4,000 workers, including 600 electrical workers, whereas an FPSO would only require less than half the main workforce, and only about 300 electrical workers.
The DA has yet to be submitted to the CONPB. Once submitted, several hearings will be held. Husky said that pending DA approval and the confirmation of commercial viability through depletion planning, and contracting and engineering programs, project sanction could occur in early 2001, with projected first oil production in the year 2003-2004. But Blair added that rejection of the FPSO could put White Rose "on ice."