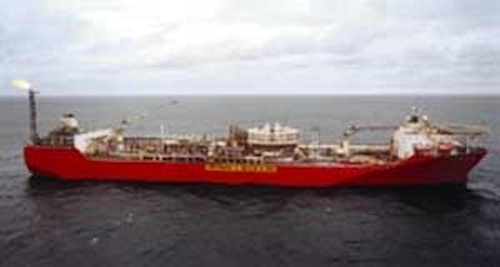 Norsk Agip may have opened up a new oil province, following its unexpected exploration success in the Barents Sea. Well 7/22/7-1, drilled by the semisub Transocean Arctic to a total depth of 1,500 meters, found oil in Jurassic sandstone. Preliminary reserve estimates are 150-250 million bbl, according to the Norwegian Petroleum Directorate. The location, in 380 meters water depth, is 85 km north of Hammerfest on Norway's northern coast.
Wells in the Barents Sea are a rare event, but this was the second in a series being drilled by the rig for three operators. Its previous effort, for Norsk Hydro, was dry. The rig has now moved on to the Troms III area to drill another wildcat for Norsk Agip, before wrapping up the program with a well for Statoil. Just 50 km to the northwest, in similar water depths, is Statoil's old gas discovery Snohvit, currently under re-evaluation by ABB for a subsea development with onshore LNG conversion. Snohvit also has a thin oil zone, although this reportedly does not figure in the proposed project.
Statoil has also spudded its first wildcat in the Nordland VI exploration province in the Norwegian Sea, southwest of Rost in the Lofoten Islands. This area was only opened for oil exploration in 1994, due to concerns over fishing and the local seabird population. Well 6710/10-1, performed by the drillship West Navion, was due to be completed early in November.
Elsewhere in the North Sea, Norsk Hydro has discovered oil and gas in two separate formations with the same well, close to its Brage production complex. However, results are thought to have been below expectations. And in the UK Central sector, Talisman reports another minor extended reach success, this time from the elderly Clyde platform. The find, named North Leven, tested 12,080b/d of 39-degree API crude, and is already producing through the Clyde facilities.
Leadon, Chestnut boost FPSO fleet
Kerr-McGee also announced two new discoveries, but in the context of a new multi-field, FPSO-based development in the UK North Sea. Birse and Glassel are two small oilfields situated five miles from Leadon, which is the cornerstone of the development. All lie in blocks 9/14a and 9/14b, and are owned 100% by Kerr-McGee. Leadon, itself only discovered early this year, has been valued upwards following a rapid sequence of appraisal well successes - the latest estimate is 120-170 million bbl for the Greater Leadon area, with further untapped exploration potential.
The FPSO, ordered from Mitsui in Tokyo, is an Aframax hull once earmarked as a potential drillship. Swan Hunter in Tyneside, northern England, will handle topsides construction (the same yard that delivered the revamped pipelayer Solitaire), with Brown & Root in Aberdeen responsible for detailed engineering. The floater will be named the Kerr-McGee Global Producer III, and should be on station by end-2002, handling 50,000 b/d of crude at peak. Development costs are put at $600-700 million, making this the biggest new UK project for some time.
High oil prices have also persuaded Premier Oil to book Brovig's production vessel Crystal Ocean for a 100-day test on the small Chestnut Field in UK block 22/2a. The semisubmersible Drillstar was due to spud a horizontal appraisal well on the field this month. Depending on the outcome, permanent production could ensue from Q3 2001, which would be enhanced by the addition of a water injector. Brovig would invest $42 million in both production phases, in exchange receiving a net profit interest of 20%, rising to 35%. That translates as a day-rate for the vessel of $60,000-80,000, according to the prevailing oil price.
Ranger Oil has applied for UK government approval to develop Kyle in Central block 24/2c via two wells at separate drill centers, tied back 17 km to Shell's Curlew FPSO via an umbilical and a flowline. Conoco's Ramform Banff vessel was the originally targeted host, but this had to be taken off station in September for modifications in northern Germany following continuing stability problems.
GFU to export gas to Grane
Norway's Gas Negotiating Committee (GFU) has agreed to sell 11 bcm of gas for injection into the heavy oil Grane reservoir in the Norwegian North Sea, currently under development by Norsk Hydro. Deliveries are due to start in April 2004, coincident with the field's planned production start. A further 7 bcm would be required at a later date to prolong throughput from this 704 million bbl field.
Gas from Statoil's Troll Field has been piped to Hydro's Oseberg for injection purposes since 1991, but this is the first such arrangement on the Norwegian shelf brokered by GFU. Source fields for the gas have yet to be determined - Byggeve, Skirne and Vale (all undeveloped) are possible candidates, as all lie close to Hydro's Heimdal platform which will be used to process the gas before it is sent via a new line to Grane 50 km to the southwest.
Norway has also moved a step closer to increasing its gas exports to Poland through the proposed Baltic Pipe gas link between that country and Denmark. A study agreement has been signed by Statoil, Danish Oil and Natural Gas (DONG) and the Polish Oil and Gas Company (POGC). This could lead to a new spur line being laid to Denmark from an existing tee on the submarine Europipe gas trunkline where it intersects the Danish sector. Currently, Norwegian gas moves to Poland via Germany's overland transmission system.
A new, expanded sales agreement with POGC could be in place by year-end, leading to the Baltic Pipe being operational by October 1 2003. DONG estimates investments for this project of DKr2.5 - 3.5 billion, depending on the Baltic Pipe's capacity. DONG and POGC are also negotiating to bring in European energy companies as co-owners.
BP reaffirms UK commitment
BP plans to cut its North Sea platform operating costs by switching to power direct from the UK mainland. Most UKC installations currently rely for their power on a mix of offshore gas and onboard diesel turbines. BP wants to replace these machines with combined cycle gas turbines which would offer double the thermal efficiency, at 50%, combined with subsea high voltage cables importing electricity from power stations on the mainland. It is also considering a similar scheme for its new Valhall water injection platform in the Norwegian sector. BP believes this approach could free for sale 600 MMcf/d of gas which is currently devoted to platform needs, in turn cutting carbon emissions offshore by up to 7 million tons per year.
The company has also announced some hefty investment plans for core production and new development areas on the UK shelf. These include:
Boosting oil recovery from the Forties Field complex by 62-70% (around 336 million extra bbl);
Confirmation of a $500 million scheme to pipe gas from the Foinaven, Schiehallion and Loyal fields west of Shetland through a new 20-in. line to Sullom Voe, Shetland, for injection into the declining Magnus oilfield;
A possible $700 million development of the HP/HT Rhum gasfield in UK block 3/29a. A further $750 million for the long-delayed Clair oilfield development west of Shetland, currently under study by Mustang for a steel platform. Construction could start in 2002.