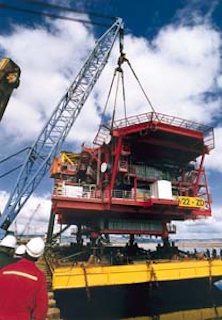 The Ganymede platform came in under budget, a result of increasing cost consciousness.
Two major evaluations - one to examine the results of industry efforts to cut exploration and development costs off Northwest Europe, and the other to take a closer look at non-North Sea opportunities - will be presented at the Offshore Europe '95 conference in Aberdeen, Scotland.
In recent years, the petroleum industry in Europe experienced a deep recession brought about by inability to reconcile historically high costs with declining production from maturing fields. Industry leaders, aided by UK and Norwegian governments, formed two groups (CRINE in the UK and NORSOK in Norway) to examine the problems and find ways to remedy them. The effort worked, and the efforts of these two groups will be evaluated at Offshore Europe '95.
Alliances and partnerships: Project committees formed by operators and contractors, and between competitive contractors and service companies, found 20-40% savings on projects
Technology: Such achievements as 3D seismic, extended-reach drilling, minimal platforms, fast-track development, and platform demanning have had a very big impact on exploration and development costs.
OE '95 program
Against this backdrop, Offshore Europe '95 has developed a program that provides a pulse check on the condition of the various economic measures and technical developments that are impacting European industry.
Keynote session: The theme of the conference and title of the keynote session, Securing the Future, has many facets that envelope extending the life of a large number of mature fields as well as finding and producing reserves from entirely new theaters.
CRINE forum:Lead by Dr. Chris Fay will be an open forum on the achievements of CRINE and a discussion of new areas to exploit in further lowering offshore costs.
Drilling I: Horizontal trees, rental top drives, formation pressures, slot use optimization, a minimal drilling unit, and the reduction of drillstring failures.
Frontier Exploration: Northeast Atlantic prospectivity, Foinaven versus Clair, Brittania development strategy, a new appraisal of the Viking area, and exploitation of satellite oil pools.
Competitiveness in the North Sea: This session will focus on the business and operating environment. Speakers will include senior government representatives from the UK, Norway and the EEC.
Drilling II: Changes to UK regulations for drilling and workovers, J-block drilling operations, geological steering through marginal prospects, high-pressure, high-temperature drilling and completion, and the pursuit of deep gas with horizontal wells.
Development and Abandonment I: Challenges to Liverpool Bay development, the development of the Captain and Erskine Fields, UK abandonment policy, the decommissioning of Heather Field, and the energy and environment impacts of abandonment.
Drilling's Role in the Future: An open forum presentation will focus on coping with changes, such as rigs, contractor/client relationships, and new technologies.
Contracting Strategies: A comparison of US, Mideast, and UK alliance perspectives on risk and reward contracting, re-engineering alliances and partnerships, and the theory and practices of partnering and alliances.
Development and Abandonment II: Marginal field development with leased facilities, the two-phase development of Hudson, lessons from Petrobras' use of FPSOs, fast-tracking developments, Harding Field development, and managing late field life.
Health & Safety: Cullen Report plus five years, workforce involvement, E & P Forum guidelines, safety research, marginal field lessons, and specific offshore safety cases.
Topside Facilities:Rationalizing Leman Field facilities, Emerald operating experiences, material failures, duplex stainless failures, fouling reduction in centrigal compressors, and steam/water separation.
Well Intervention I: Coiled tubing extended reach technology, well tractors, coiled tubing deployment, V-fields sand production, snubbing units, and Ekofisk perforations.
Partnering and Alliances: A panel discussion on the new order of contractual relationships, and what impact it is having on each sector.
Novel production Methods: Multi-lateral completions in Prudhoe Bay, horizontal well completions, removing mineral deposits, acid blends, gas hydrate inhibitors, and downhole swab valves in under-balanced completions.
Well intervention II: The use of monohull vessels, Liverpool Bay development, water shutoff, coiled tubing formation stimulation, and scale inhibition chemistry.
Vision 2020: Panel discussion will explore operator and service sector perspectives of the European petroleum industry in the year 2020.
Environment Issues:Norway's resources database, Liverpool Bay management, nearshore seismic, drill cuttings disposal, and production chemicals design.
Reservoir Management: Captain's extended well tests, Hudson's phased development, the Forties Field 20 years later, multilateral well production, and total system modeling.
Copyright 1995 Offshore. All Rights Reserved.