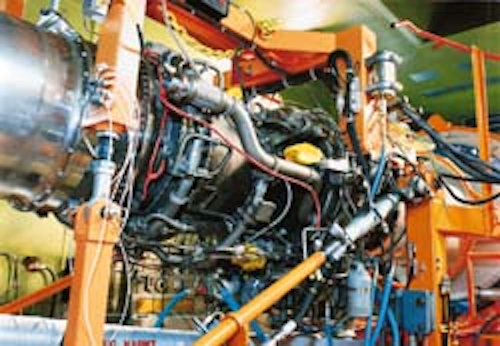 LEO order for Alfa Laval
Volvo-Penta's GE-approved test cell for LM1600 turbines.
LEO is a compact, lightweight centrifugal separation system for dehydration of crude oil or de-oiling of produced water, with a capacity of 100cu m/hr or multiples thereof. Following the receipt of two orders from Maersk Oil & Gas for the LEO system to treat produced water at the Tyra Field in the Danish sector of the North Sea, Alfa Laval Oifield has recently won a further order from Argentina for dehydration of crude oil.
It was placed after careful pilot testing on site, where a range of crude characteristics were fed into the separation system. Results were extremely encouraging, with the unit achieving plant specification on the medium to heavy crude by single pass separation and without using a water wash.
FPSO lifting challenge
Latest offshore application of Alimak's rack and pinion technology is a lift system for an FPSO vessel. Over 500 Alimak lifts are at work on production platforms worldwide (Alimak has supplied this market since 1974). However, the FPSO lift demands were different: it has to operate in the vessel's 13deg pitch and 24.5deg roll.
The solution was to incorporate a guide rail on the opposite side of the car to the lift mast. This feature, along with the rack and pinion drive, ensures that the lift can operate at any angle caused by the rolling of the vessel.
Stainless steel fittings
Avesta Sheffield is a major supplier of stainless steel with a turnover of $2.3 billion, and production facilities in Sweden, the UK and USA. Its product range covers stainless steel sheet, plate, tube, pipe, fittings, flanges and welding consumables. The company offers a wide range of special grades including duplex and super austenitic steels.
Major deliveries last year included the Hibernia platform in Newfoundland, Sleipner Vest in Norway and, in co-operation with Sandvik, to Elf's N'Kossa project. Deliveries to the Vigdis project in Norway will begin this year.
Marine engineering and dynamic analysis
Dynomar is an independent, privately owned engineering consultancy. The company offers highly qualified services within fluid mechanics, dynamics and marine technology. These are typically:
Marine engineering: design and analysis of structure, mooring, motions, risers and stability.
Dynamic design, analysis and measurements of vibrating structures.
Aero and hydrodynamic analysis of internal and external flow of viscous fluids.
Advanced hardware and software for dynamic analysis has been used in deepwater projects such as the Voering Plateau (Norway), Nigeria, and West Shetland.
Water treatment services
ECT Offshore Service addresses all types of problems connected with treatment of drinking, waste and cooling water. Its engineers are well versed in national and international law and recommendations relating to bacteriological control and chemical composition of water.
For drinking water treatment, the company can design and install systems and equipment for rehardening, to make the water less corrosive; chlorine dosing, to prevent bacteriological growth; and disinfection, using UV light equipment.
Welding for demanding applications
Wiith over 90 years' experience, the Esab Group is a world leader in welding. Since the first all-welded ship was built in 1919, the global shipbuilding and offshore sectors have been the largest and most demanding users of the company's products. Equipment used by the offshore sector includes:
Submerged arc welding automats.
Hand-welding machines in offshore versions.
Electrodes, MIG/MAG wires, flux-cored wires, and TIG rods.
Machines for gas, plasma and laser cutting.
Specialized equipment such as chain-making plants, narrow-gap welding machines, and orbital TIG welding heads.
Stainless steel markers for Troll
For the Troll Gas plant in Kollsnes, Norway, ABB Offshore Technology chose the Fleximark stainless steel marking system for electrical, telecom and instrument cables - in total, 240,000 markers. These were produced ready-made in Fleximark's Malmo facilities, directly from extracts from datafiles from the client's CAD system. The datafiles are then transmitted to Fleximark by modem. Markers are produced, controled, sorted and packed in a minimum of time: normally 5-10,000 markers per week are supplied.
Floating production vessel design
GVA Consultants specializes in design and engineering of ships and offshore floaters. It has an extensive background in floating production vessels. Amongst these is the purpose-designed FPV GVA 4500 Petrobras XVIII, onstream since June last year. GVA has also been part of an integrated team with Norsk Hydro and Norwegian Rig Consultants engaged in the basic design of a GVA 5000E floater type for the Njord development in Norway. Other areas of expertise include conversions, monohulls and turrets.
High performance diesel engines
Hedemora Diesel designs and makes compact and sturdy diesel engines. Its products have successfully undergone 35deg inclination tests and also satisfy all other DnV requirements for offshore installations. The prechamber design makes it possible to meet TA-Luft requirements regarding NOx in exhaust gases. The company distributes a comprehensive engine selection varying in output from 20kW to 15,000kW. New to its range is a Niigata lightweight, high performance diesel engine with maximum continuous output of 1,670-5,650kW per unit.
High pressure waterfog system
Kure Shipping has changed its name to Sea-Kure-Ty AB, to make its knowledge of security clear to the market. Each Ultra Fog project is tailor made for the customer; the system is also in accordance with SOLAS regulations. Ultra Fog also has a very efficient detector release.
The system keeps undergoing development. One of its main users is the world's leading ferry owner Stena Line.
Cable and pipe penetrations
Lycab specializes in fire, explosion and pressure-proof cable and pipe penetrations for use in high risk environments. The MCT Brattberg pre-lubricated system is now the main product following its introduction last year. Users report facilitated installation and disassembling as the insert blocks no longer have to be lubricated manually.
RPGH and LCS penetrations, designed for and mainly used on submarines and tested for pressure up to 100 bar, are now also used on subsea installations.
HIP manufacturing techniques
Powdermet Sweden has won major contracts from the offshore industry in recent years. The company operates the largest hot isostatic pressing (HIP) production facility in the world. Applications are mainly directed to pressure vessel codes, primarily in high strength stainless steel such as ferritic 12% Cr, 6Mo austenitic, ferritic/ austenitic duplex grades.
Following further developments at Powdermet in capsule fabrication, near net shape has been reached using the HIP technique. In some cases the required machining of the HIP'ed components is reduced to prepare weld bevels and/or sealing faces. Necessary welding is in some cases limited to a third of that required using conventional methods.
Anchor chaindevelopments
Ramnas Ankarkatting manufactures and supplies stud link and studless anchor chains up to 6 1/2in. diameter under a QA system conforming to ISO 9001 approved, certified and audited by ABS, API and DnV. Developments include `asymmetrical' stud design combined with controled stud expansion after proof loading; improved robotized horizontal downhand stud welding; microprocessors for improved control and continuous recording of heat treatment and flash butt welds; computerized recording of proof-loads and dimensions, automatic calculations of load extensions and E-modulus; RAMFOR connectors and anchor shackles. Also recent approvals from DnV for studless chain 6in. dia. NVK3-RIG/NVK4-RIG and 6 3/16 in. dia. NVK4-RIG.
Heavy forgings
Scana is an industrial group with four business divisions: Offshore Technology, Steelworks, Foundry and Forge; Valves and Controls; and Marine Equipment. Scana Bjorneborg, Scana Booforge and Scana Staal comprise the leading center in northern Europe for heavy open die forgings and special foundries in all steel grades.
The group supplies tailor made products to the oil and gas industry. Products include heavy forgings for tethers and risers, connectors, stress joint risers, tether connection assemblies, spool pieces and valve blocks, BOPs and manifolds and high alloyed castings for valves, pumps, flanges, fittings and structural castings.
Chain-maker acquired by Scana group
Norway's Scana Industrier has acquired 100% of the shares in Ljusne-Werken, which manufactures and supplies chains globally to the offshore oil and gas and marine markets. Ljusne is noted for the advanced heat treatment processes it employs in production.
The new owner is taking on extra staff to boost Ljusne sales worldwide. Heat treatment activities will be integrated into Scana Varmebehandlingsteknik, which will open a new facility in Ljusne serving local customers.
For more information contact Anders Berg, Scana Ljusne: tel +46 270 65080 or fax +46 270 65330.
Liquid transference couplings
Todo designs and makes self-sealing couplings for transfer of liquids, mostly petrochemical products. With 20 years' experience, a wide range of sizes (from 3/4in. to 6in.) and a large variety of materials/sealing materials, the company offers tailor-made solutions and flexibility. In 1992 Todo introduced its self-sealing Todo-matic coupling in 6in. size specially designed for the offshore market. Available in aluminum, gunmetal or stainless steel, it meets the tough demands of the market. Other Todo-matic sizes (2 1/2in. and 4in.) are also used successfully offshore, mostly on supply vessels.
Marine engines experience
Volvo Penta has been supplying engines for commercial boats for more than 80 years and has a unique expertise when it comes to marine engines, different types of installation and, not least, service and maintenance. Features of the product range are reliability, efficiency and good economy.
Volvo Penta Marine Commercial is a powerful organisation with representatives in more than 120 countries. As part of the Volvo Group it has access to impressive resources, particularly as regards research and development on the engines of the future.
Copyright 1995 Offshore. All Rights Reserved.