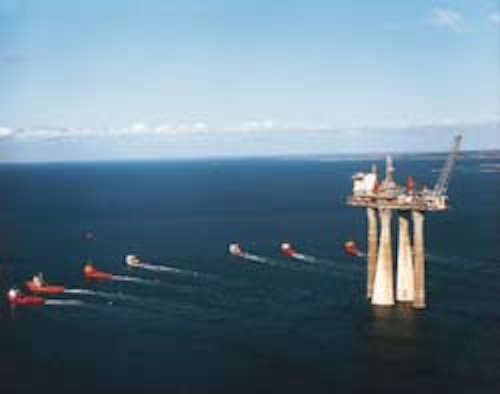 Mid-Norway, West of Shetland action stimulates other plays;
North Sea mini-boom hinging on attractive license terms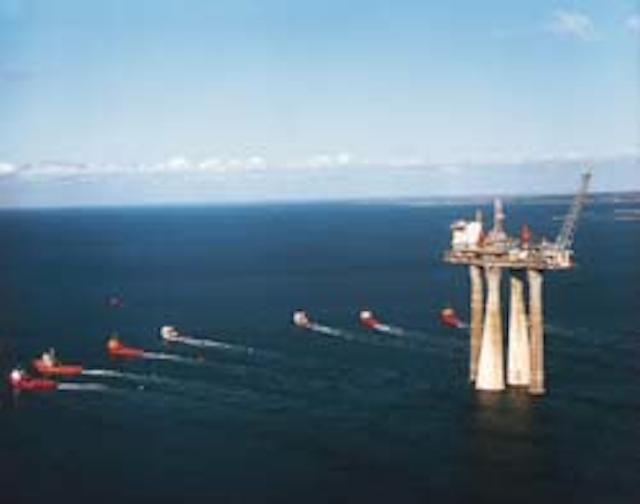 Troll A platform towout.
One thing leads to another. BP found oil west of the Shetland Islands, and Saga and Statoil did likewise off Mid-Norway. Now a bunch of companies are lining up to drill regions that for years have lain virtually rig-free.
Mini-onslaughts are set to hit Denmark and the Irish Sea, too, following Amerada Hess's upgrade of an old discovery and Marathon's gas strike off West Wales. The Central North Sea is the scene of big new gas-condensate (Britannia) and high temperature/high pressure (Elgin) projects, and the UK Southern Gas Basin is being bombarded by fast-track gas developments. Only Netherlands, the Barents Sea, and Germany are off the exploration map currently.
But even here the picture may change if attractive new license terms can be produced. Two years ago, when the UK government abolished tax relief on new field exploration, the word Britain was virtually unspeakable for oil companies. They reined in exploration programs. Some threatened to withdraw altogether.
Exploration upbeat
Then came a collective change of heart. The same companies suddenly decided in 1994 polls that Britain was one of the most attractive oil regimes in the world. Exploration drilling on the UK shelf has since bucked up.
The same thing appears to be happening in Norway. At ONS Stavanger last year, delegates called for major changes to state interference in licenses to prevent Norway from becoming a backwater for exploration. The state introduced minor changes. As a result, the operators got on with their field assessments and found more reserves near giant fields like Troll, Brage, and Snorre. Drilling has recovered, and there is no shortage of interest in the latest Norwegian licensing round.
Time will tell whether the current mood of over-exuberance shifts back to sounding of the death knell for Northwest Europe's oil and gas future. Predictions of oil price stability suggest not, although a few more duster wells west of the Shetlands, as has happened recently, could silence the optimists.
Development prospects
As the Grampian Regional Council points out in its latest report on Oil and Gas Prospects, there have been nearly as many conferences on the deepwater Atlantic Frontier Province this past year as wells drilled. Some consultants see the potential for 11 new developments with a combined reserves volume of 4 billion bbl. Spending between now and 2010 is estimated at nearly $15.6 billion.
Other analysts put the prospects as high as 8 billion bbl, but plenty more drilling will be needed in the region to back this claim, says Grampian. As yet, no oil has been produced except under test, mostly by BP. However, technology is playing its part. Geco Prakla is employing 4D seismic on the Foinaven Field via hydrophone cables buried in the seabed above the reservoir. This system will provide continuous seismic monitoring of the reservoir's fluid characteristics, aiding long-term recovery planning.
In the UK's 16th licensing round, 26 West of Shetland blocks were awarded. But interest was high, too, in other emerging areas such as the English Channel and Cardigan Bay West. And a new enclave of activity may emerge now that Marathon has been awarded one of the Isle of Man's first exploration licenses.
Prospectors in the more thoroughly explored UK sections of the North Sea have given up hope of astounding discoveries. Instead, they are intent on grouping together clusters of oil and gas reservoirs via a combination of platforms and subsea wells.
This is happening in the case of British Gas's Armada complex, and the BP/Shell Eastern Trough Area Project (ETAP) fields in the central North Sea, and BP's Villages Fields in the Southern Gas Basin. Completion or expansion of pipeline networks in these regions is making these type of developments feasible.
In the Southern Gas Basin, smaller platforms are being introduced with decks designed to maximize use of existing infrastructure and to extract additional gas economically. Amoco led the way this year with the monotower concept for its Davy and Bessemer platforms and the pancake deck for the Indefatigable Field area.
The success of pioneers in floating production in the UK such as Kerr-McGee and Amerada Hess has inspired a wave of new ship-shaped developments. The largest structural strains on these vessels will be in the rough waters west of the Shetlands. BP has just commissioned its second floater here for the Schiehallion project.
Norwegian operators, to date, have warmed less to ships (Statoil's Norne project excepted), preferring semisubmersible designs for new developments such as Njord and Troll Oil. However, a ship is being proposed for the Aasgard development in Haltenbanken relating to the Smorbukk and Midgard Fields.
Two centerpieces of Norwegian platform technology are about to be put to the test. Coming onstream shortly is Heidrun, employing the world's largest concrete TLP, followed by Troll Gas which features the world's tallest concrete platform. Whether similar sized structures will be needed in the future will depend on the next drilling wave in the years to come in the Moere and Voering basins. Saga may have the next candidate. The operator's 6406/2-1 well in Mid-Norway appears to have uncovered an oil and gas find at least as big as Aasgard.
Currently Geco Prakla is shooting 3D seismic over 1,500 sq km of Mid-Norway. More surveys and exploration wells are likely next year onwards, with licences due to be awarded shortly for this region. But there are also 80 small, discovered oilfields (30 million bbl each) waiting to be developed in the Norwegian North Sea. Advances in long reach wells and standardization of subsea technology are likely to spur more marginal developments.
Denmark and The Netherlands also launched new licensing rounds last year. Relaxation of financial terms renewed interest in Denmark, leading to nine new license awards and the prospect of increased exploration. The Dutch government improved its terms too, with the State now having to pay its share of exploration and development work on new licenses.
But operators want the rules applied retroactively to earlier round licenses, too. According to Dutch association Nogepa, there are 125 undeveloped discoveries sitting idle on the Dutch shelf, but economics are a no-no under the present fiscal circumstances.
Copyright 1995 Offshore. All Rights Reserved.