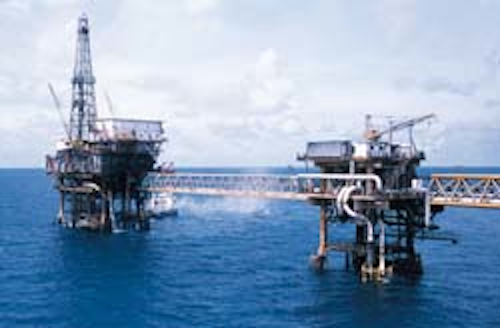 Prospect of more private sector participation in Mexico's petroleum sector growing
Dev George
Managing Editor - International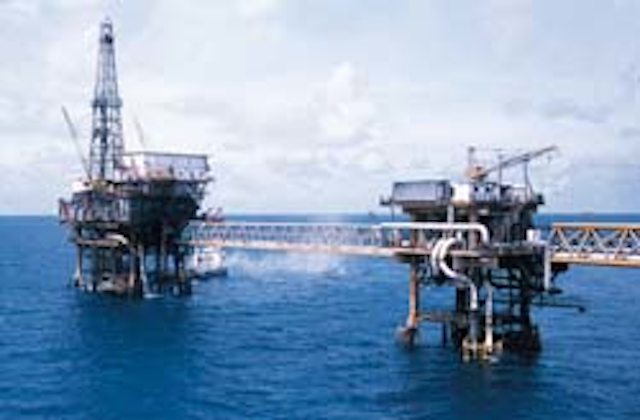 Abkatun Field's 360 MMcf/d gas compression platform in Campeche.
It appears that the election campaign rhetoric of Mexico's new President Ernesto Zedillo may prove to have been more than eloquent oratory. In the days following his elevation to the Presidency, he has demonstrated that he intends to effect considerable change in Mexico's energy sector, particularly its petroleum industry.
Like other PRI presidents before him, Zedillo, an economist, promised reform at his inauguration December 1st, an elimination of dishonesty in government, economic prosperity, and a truly democratic Mexico. But this time it very well could be that some of those promises will be kept.
The obstacles to achieving those goals are formidable, however. Within his own ruling PRI party, there is vicious competition for power which witnessed the assassination of the PRI's presidential candidate Luis Colosio and the party's number two officer Jose Francisco Ruiz. And to this struggle is added the angry demands of the opposition party PRD for a voice in the government. Beyond the capital, on the fringes of Mexico's oil province, the Zapatista National Liberation Army is waging a guerrilla war, and the impoverished people of the oil-producing areas of the country are demanding industry jobs and a share of the oil wealth.
Zedillo, however, appears unflappable and confident he can make a difference. Almost immediately after becoming president, he appointed a cabinet composed mostly of distinguished individuals with records in economic reform rather than party hacks rewarded with positions of prestige or power. Luis Tellez was chosen as Zedillo's chief of staff, Carlos Ruiz Sacristan was selected for director general of Pemex, and Esteban Moctezuma interior minister. At least one political repayment was also made with the selection of PRI president Ignacio Pichardo as minister of energy, mines, and state industry.
Pichardo's position, a traditional cabinet appointment that may not interest him for long, will likely be reduced with the breakup of the ministry, leaving only energy under his purview, since an administration reform bill is also being sent to Congress. Mines will fall to another ministry, with the fate of state industry - electricity, the railroads, and oil and gas (Pemex) first on Tellez's list for determination.
More important than the division of Pichardo's ministry is the structure and role that Tellez and Sacristan will assign to Pemex. Tellez, one of the most incisive thinkers on Zedillo's team, holds a doctorate from Massachusetts Institute of Technology and has held high positions in the Mexican Ministry of Finance. He was one of the authors of the 1988-94 privatization program conducted by former president Carlos Salinas. Sacristan, likewise, comes from the Ministry of Finance, where he, too, was instrumental in developing and carrying out the Salinas privatization effort that is credited with transforming much of the Mexican economy. Educated at Northwestern Illinois University in international finance and marketing, and a close associate of Finance Minister Pedro Aspe, he is highly regarded by foreign investors.
The team would be foolish to attempt privatization of Pemex any time soon, with the political implications the oil industry carries as an integral part of Mexican patrimony. But if Zedillo can fulfill only a fraction of his promise to reform the economy, redistribute the land, and bring the blessings of a modern Mexico to the impoverished masses in the southern sector of the country, perhaps, in a few years, Pemex can be privatized. Until then, Tellez and Sacristan will have to contend themselves with making the state oil company more efficient - no small task.
Sacristan has already indicated he believes severing the financial controls from the Ministry of Finance - an unproductive fiscal regime that forced Pemex to pay $106 billion in taxes since 1988, a cap on spending left over from the 1970-80s, and even salary levels for Pemex employees - will permit more spending on exploration and development and provide merit raises for employees who deserve them.
Sacristan's predecessor Adrian Lajous oversaw the reorganization of Pemex through partition, 50% reduction in personnel, and reduction of operational costs by almost 40%, but he opposed foreign investment in the Mexican oil and gas industry, despite its inability to achieve self-sufficiency and increase its hard currency earnings from oil and gas export.
Following the PRI party line, he opposes foreign investment not for historical or political reasons, but "for economic reasons. We have a situation in offshore Mexico," he said at a recent Harvard Business School seminar, "in which we're facing very low risk and very low cost reserves. In fact, with the backlog of authorized locations we have, the risk management is of less importance than in many other places in the world."
For these reasons, he maintained, development of Mexico's offshore reserves is more economical by the state-owned company.
Nevertheless, Pemex is slowly moving into deep water and more difficult locations in Campeche Sound and will have to devise some way of acquiring the technology and financing to continue that move - a necessity, since the country has a dire domestic need for energy.
Only a fraction of Mexico's enormous Campeche Sound reserves have been tapped to date, despite the official growth in offshore production to a current 2 million b/d. This is simply because Pemex doesn't have the funds to launch a prospect-wide program of exploration or development of the fields and structures known to harbor huge reservoirs of hydrocarbons.
Until now, there has been a slight opening to foreign service and supply, as Pemex's non-core activities were divested and deintegrated, and outsourcing became more established. As a consequence, some turnkey offshore exploration and development drilling and maintenance contracts have been successfully let to private and foreign companies, resulting in further reductions in cost and shortened completion cycles.
In 1993, some 56 wells were drilled offshore, an increase of 26% over the previous year, and 1994 is expected to have achieved an equal number of drillings. Only five fields were developed during 1993, but this included the four-platform, 25-well Caan Field. Triton Turnkey was the only fully foreign drilling contractor working in Mexico. During 1995, at least nine turnkey wells are expected to be drilled in Campeche, and it is likely other foreign drilling contractors will be brought in. Mexico's estimated proven reserves are 44.439 billion bbl oil, 6.79 billion bbl condensate, 70 tcf gas.
Copyright 1995 Offshore. All Rights Reserved.