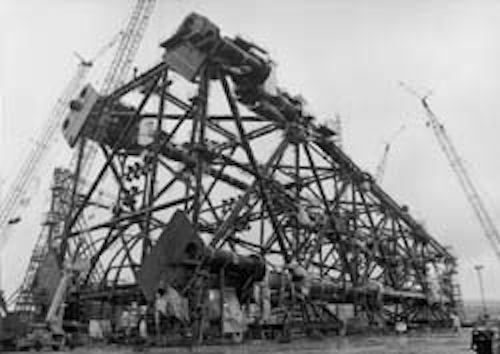 Oil and gas production continues to fall, major offshore structures go unprobed, and no prospect for change in 1995
Dev George
Managing Editor - International
Essentially, nothing has happened in European Russia's aquatory for more than a year. Despite the Barents Sea's huge potential reserves, despite the distinct possibility of major discoveries in the Kara and Laptev Seas, and despite the on-again, off-again Sakhalin development dilemma, the Russians just can't seem to get their act together sufficiently to put into motion the exploration and development program the country badly needs.
Certainly, the rapid fall in Russian oil production has slowed somewhat - now at 12% decline, with output at 6.19 million b/d. Gas production has tapered off to an annual drop of just 2%, with production at 57.75 bcf/d.
All of this means the country's onshore fields are continuing to produce, despite the need for replacement and repair. But much of that production is being channeled into exports - 1.9 million b/d, up 12% - to earn hard currency, rather than meet domestic demand, which is growing rapidly.
Perhaps because of the enormous investment in time and capital, the much touted Schtockmanovskoye Field and associated fields off Russia's northwest coast and Sakhalin projects off its far eastern coast have been put on ice.
Instead, the focus appears to have shifted to warmer climes, to the Russian coast of the Caspian and to formative projects in the former Soviet Caspian states. This may well be due to Russian fear of militant Islam crossing the Iranian frontiers and gaining a foothole in the poor, mostly muslim Caspian states and becoming a threat on Russia's southern border.
In reacting to this, Russia has become ubiquitous in the region, from militarily preventing a secession of Checheniya to imposing a pro-Russian regime in Georgia. It has jockeyed for participation in development programs, and has been injecting itself into the political, economic, and industrial affairs of both its southern semi-autonomous republics and the former Soviet Caspian states.
Rather than focus on development of the enormous reserves in the arctic offshore, the Yeltsin administration appears intent on bullying its way into power positions all around the Caspian Sea, including participation in the more advanced consortia and their negotiations for the development, transport, and marketing of the petroleum production of former Soviet states it terms the near abroad.
Proclaiming the Caspian Sea an inland lake in 1994, the Russians announced the necessity of their participation in all international petroleum-related negotiations in the area.
Azerbaijan: Russia has imposed a shaky truce between the Azeris and Armenians and is trying to establish a permanent military presence, they finagled partnership in the Azeri-Chiraq-Guneshli project for the Russian wunderkind, Lukoil.
Kazakhstan: Russia has guaranteed their participation in regional oil production by getting the Caspian Pipeline Consortium to route its crude oil pipeline from the environs of the Tengiz Field through Russian territory to a new loading facility on the Black Sea. Tengiz developer Chevron, however, has had no part of it, so far.
Turkmenistan: Russia is vying with Turkey and Iran for influence, Russia is providing both technical and social aid in exchange for predominance in government decisions regarding trade and the route of gas pipelines.
Dagastan: Russian presence is provided in the exploration and development of the vast Inchke-More Field and associated offshore area by Roscaspneft, a Lukoil-Rosneft-Krasnie Barrikadi JV in association with JPK Expro and the state oil company, Dagneft.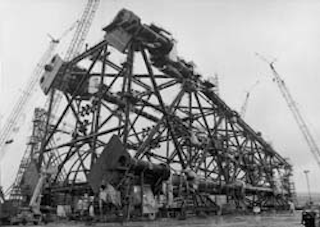 Jacket under construction at Baku, Azerbaijan.
The Russian Arctic
Barents Sea promotion has faded. Currently, there is little activity there, perhaps two rigs at work, more likely just the one on Schtockmanovskoye. Rosshelf simply isn't up to the task of dodging icebergs and bringing the field's 141 tcf of gas onstream from the 1,000 ft water depths.
Originally, production was predicted for 2001, but realistic forecasts put it more at 2007-10. Other Barents Sea fields such as Arkticheskaya and Dudlovskoya and the other giant gasfield, the Kara Sea's 282 tcf Rusanovskaya, are even further away.
Far away Sakhalin fares no better. Although awards of Okhotsk Sea concessions to a welt of oil companies have long been completed, nothing substantial is occurring there due to lease-holder dissembling and Russian bureaucratic ossification. Not to be deterred by lack of action, Sakhalin IV offerings has been extended to mid-July.
The Russian arctic provinces will most likely become the world's major oil and gas venue of the mid-21st Century, but the country's approximate 550 billion bbl of estimated offshore oil and 250-300 tcf of offshore gas continue to go wanting these days because of Russian ineptitude and the continuing power struggle between the Presidency and the Duma (parliament).
Copyright 1995 Offshore. All Rights Reserved.