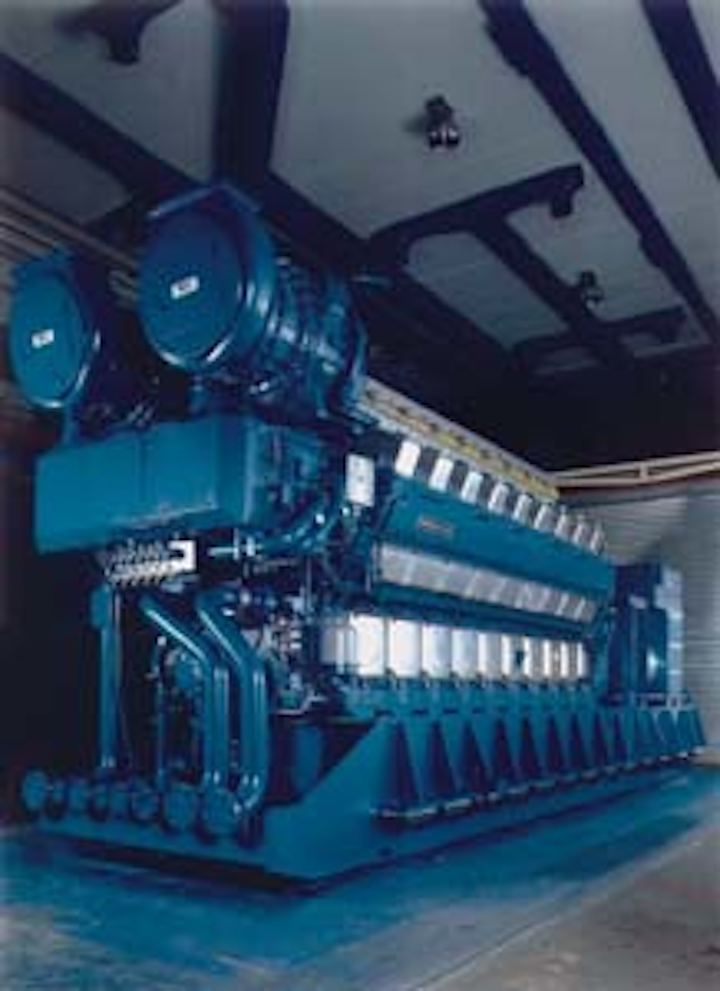 Wartsila Diesel is supplying four new 18V32GD engines for BP's Foinaven floating production vessel.
Late last year, Wartsila Diesel received two orders for its pioneering gas-diesel engine for use on two prestige floater projects.
Four Wartsila 16V32GD engines will power the SPU 380 FPSO being built for Smedvig in Singapore by Far East Levingston Shipbuilding. The engines are each rated at 5,920kW and 720rpm, and are due for delivery next month. The vessel will be 211 metres long and 36m broad with storage capcity of 380,000bbl and a production rate of 45,000 b/d.
The second project is for a Russian submarine repair vessel, which is being converted for floating production by Astano, Golar-Nor/McDermott in Spain for the first phase of BP's Foinaven development west of the Shetlands. Here the vessel's four existing Wartsila 16V32 engines will be converted into gas-diesel generating sets, each rated at 6,000 kW, 750 rpm. Four new Wartsila 18V32GDs are due to be supplied this month for the same engine room, rated at 6,750 kW and 750 rpm.
Gas-diesel technology allows the engines to operate on natural gas or crude oil directly from the well. Wartsila Diesel has further refined the technique so that the engine can automatically switch over from one fuel to the other without any shut-down in power production. Existing diesel engines can be converted with small modifications.
For fuels direct from the well, a total efficiency of over 45% is achievable, which is about 10 percentage points higher than for gas turbines. This also cuts carbon dioxide and sulphur oxide emissions to the minimum possible today, according to Wartsila Diesel: by comparison, a simple cycle gas turbine produces on average 50% higher emissions.
Another recent landmark for the company which is of relevance to the offshore sector was the announcement of a 50/50 joint venture with US company Cummins Engine to design, develop and manufacture two new families of heavy duty, high speed diesel and natural gas engines. Respectively, these new engines will range in output up to 2.7MW and 4.5MW..
The first development will be based on the recently launched Wartsila 200 engine, which ranges up to 4.5MW. Production will start at the company's Mulhouse, France factory this year.
The second engine family, a new 4.5 litre per cylinder engine, will be tested this year at the company's Surgeres factory, also in France. Initial production is scheduled to start in 1996. This engine range will provide up to 3,600HP for durable high-load use while employing full-authority electronic controls and the latest in fuel technology.
These engines will be marketed worldwide under the Wartsila and Cummins names. Cummins serves a number of sectors, including marine, with engines ranging from 76 to 2,000HP.
Copyright 1995 Offshore. All Rights Reserved.