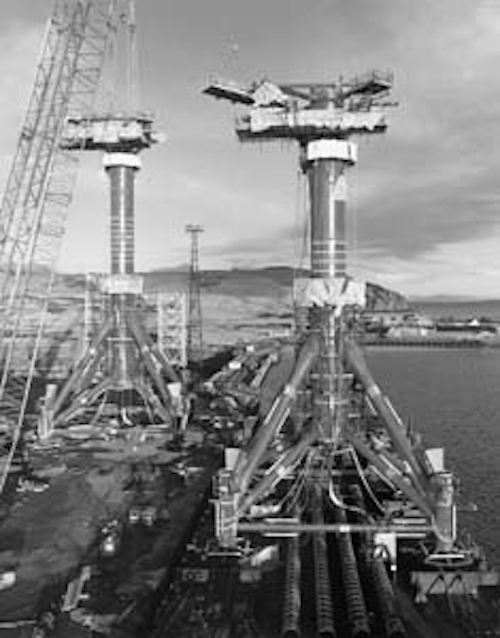 Amerada confirms Arne's potential
Denmark, normally the most dormant of the four North Sea sectors, has recently witnessed a flurry of activity. First, Amerada Hess' drilling program in Block 5604/29, as suspected, encountered hydrocarbons. The RIGS-1 test well tested 2,341b/d of 35API oil through a 24/64-in. choke from two Chalk horizons.
The well, drilled in 60 meters of water 240 km west of Esbjerg, was an appraisal of the northern part of the South Arne structure, discovered originally in 1969 by the DUC. Amerada now plans a follow-up 3D survey this month. The new find is not far from Maersk's Svend development.
Shortly afterwards, the Danish Energy Agency approved Maersk's development plan for the small Elly Field in Block 5504/6, just to the west of the Roar Field. Elly's estimated reserves are 5MM bbl of oil and 3 bcm of gas: it will be exploited via an unmanned wellhead platform tied back to the Tyra Field.
A much larger scheme has been proposed by the DUC, costed at DKr6 billion, to improve oil recovery from the established Dan Field through a water injection program. If successful, it could boost the current production level from 60,000 b/d to 90,000 b/d by 2000. A new process platform would be installed, with up to 42 new wells drilled, including 23 deviated and horizontal wells, with water injection capacity doubled to around 300,000 b/d.
Denmark is also considering importing gas from Norway, to cover for the time when domestic offshore supplies slow down. A joint initiative was announced in Iceland last month to examine the possibilities by the Norwegian and Danish energy ministers, Jens Stoltenberg and Svend Auken.
Hydro hits target off Oseberg
In Norway, new finds remain increasingly few and far between. Norsk Hydro has had better luck than most, its latest discovery coming on the 30/8-1 well drilled by semisub Treasure Seeker southwest of the Oseberg Field. It was drilled as a deviated hole on the A prospect in the northeastern part of the block to a TD of 4,662 meters. Hydrocarbons were found in sandstone of Middle Jurassic age, but the find has yet to be production-tested due to environmental restrictions. A deeper re-entry well is planned this November.
Statoil has announced a busy exploration schedule for this year, with up to three rigs at work simultaneously. Deepsea Bergen will drill three wells in Gullfaks Block 34/10, aimed at proving a connection with the Beta formation further north. In July, Ross Rig will appraise the extent of the Smorbukk Field off mid-Norway, and Ross Isle is due to drill 9/2-5 near Yme, in a structure called Beta East. If suspected estimates for this reservoir are confirmed, it could be produced as a satellite of Yme gamma. The same rig is also lined up for work in the Norne area in June.
Elf submits HP/HT plan
Elf is planning a £1 billion development of its central North Sea gas fields Elgin and Franklin, beginning next year with first production likely in 1999. These are high pressure, high temperature fields, with reserves of around 800 mboe. The likely scenario is for one unmanned wellhead platform on each field, with a central processing platform somewhere between the two.
Elf's research center in France has solved most of the problems associated with producing deepwater HT/HP gas containing carbon and sulfur dioxides, but this was not the only reason for the delay in submitting an Annex B to the UK government. Elf and its partners waited to see how the European gas market would develop: at one point a pipeline to the continent was a possibility.
Some of the gas will head this way via the new Interconnector pipeline from Bacton, UK to Zeebrugge, Belgium. Elf has a 10% stake in this project. Some will also be sold to gas marketing company Agas for the UK industrial market, transported either via the Amoco-operated CATS line to Teesside or through a new pipeline to the Bacton terminal. Condensate from the two fields could head to the UK through the Forties system. A coordinated development is still possible with Shell/Esso's Puffin and Shearwater fields, although here further appraisal work is first needed.
Amoco unveils Amoss platforms
Structures for the first two platforms based on the lightweight Amoss design recently sailed out of the Brown & Root McDermott Fabricators yard in Nigg, Scotland. The two 400- ton topsides were due to be mated in a single lift in the Cromarty Firth by Saipem crane barge M7000, before delivery to Amoco's southern North Sea Bessemer and Davy Fields.
These fields are set to produce a combined 220 mcf/d. Following depletion in seven to eight years, they should then be reusable elsewhere.
Amoss is a new concept which cuts weight substantially. The two 1,050-ton platforms are two-thirds lighter than conventional equivalents, which has allowed Amoco and its partners to cut the two-field development plan by six months to just 18 months. The platforms also feature lightweight materials and simplified deck facilities. Another novel feature in the UK North Sea is the use of wind-driven turbines for power generation, both positioned at the northern corners of each platform.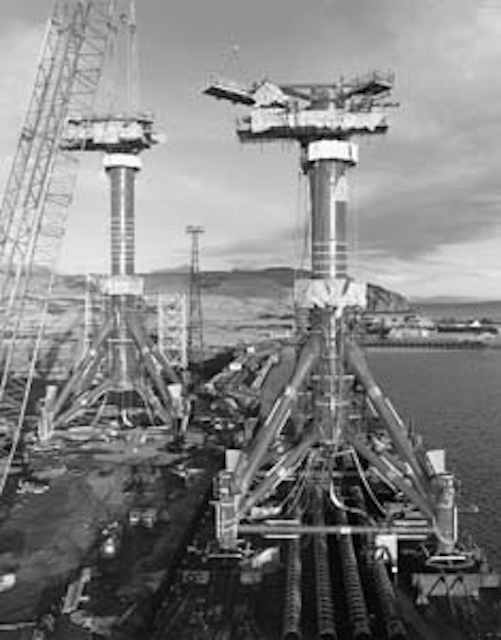 The Amoss platform structures at the Brown and Root McDermott fabricators yard in Nigg, prior to sailaway.
Go-ahead for Dawn, debut for Blenheim
Phillips has gained development approval for its Dawn gas field, which was only discovered in May last year in 114 ft of water in southern North Sea Block 48/29. It lies just 4.4 miles northwest of Phillips' 48/29C Hewett platform: Hewett, in 1966, was one of the UK's first offshore discoveries.
The £16.2 million plan for Dawn is based on a single well subsea structure connected by an 8-in. gas pipeline to the Hewett platform and controlled by a hydraulic control umbilical. First gas is scheduled for October this year, at a daily rate of 32 mcf/d. Total recoverable reserves are put at 30 bcf.
Another southern North Sea field, the ARCO-operated Blenheim, has just started to produce oil following another fast-track development. Annex B approval came just 11 months ago. The field, in Blocks 16/21b and 15/25c, is ARCO's first operated project in the UKCS, with oil being produced via the Petrojarl 1 floating production vessel. Recoverable reserves are estimated at 23 MM bbl, produced from three subsea fields.
Copyright 1995 Offshore. All Rights Reserved.