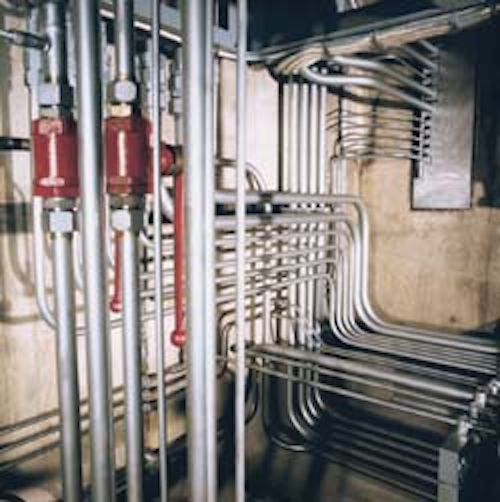 Recognition for scaffolding specialist
Haki Scaffolding, a supplier of modular scaffolding systems to industries including offshore and shipyards, has been voted runner-up in the Swedish Trade Council achievements awards scheme. This scheme recognizes and rewards contributions to Swedish business in the UK.
Haki, based in Tamworth, England, was acknowledged for its marketing prowess. UK managing director Paul Brunt commented: "By identifying potential, demonstrating the dramatic savings in maintenance costs our equipment can create and, importantly, by developing training and implementation programs suited to our offshore customers, we have rapidly become an established supplier in a highly competitive and demanding market."
For more information contact Paul Brunt, Haki Scaffolding: tel +44 1827 282525 or fax +44 1827 250329.
Stainless steel questions answered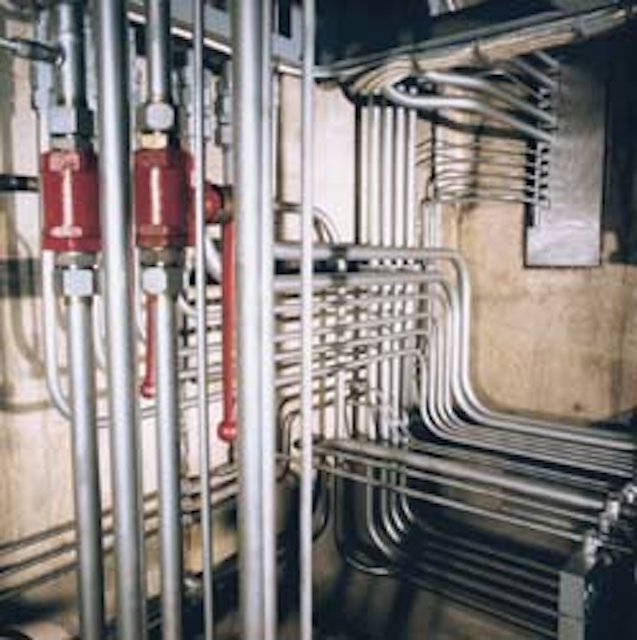 Sandvik has issued a technical brochure for its stainless tubes for hydraulic and instrumentation systems.
Sandvik Steel has issued three new technical brochures this year. One covers its range of seamless, stainless, hydraulic and instrumentation tubes. The hydraulic tubes are supplied in AISI stainless steel standards 304L, 316L, 321 and 316Ti in sizes from 6-42mm OD. Instrumentation tubes are manufactured in AISI 316L in sizes from 6.35-19.05mm OD. Maximum recommended working pressure at 50degC is also listed for each product.
A four-page selection guide to Sandvik's high temperature stainless steels has also been issued, listing chemical composition and equivalent international specification standards. Finally, an eight-page brochure is available covering Sandvik's seamless stainless tubes for heat exchangers: these are produced in nine different steels in over 50 tube sizes.
For more information contact Sandvik Steel UK: tel +44 121 5504700 or fax +44 121 5011054.
Chain-maker acquired by Scana group
Norway's Scana Industrier has acquired 100% of the shares in Ljusne-Werken, which manufactures and supplies chains globally to the offshore oil and gas and marine markets. Ljusne is noted for the advanced heat treatment processes it employs in production.
The new owner is taking on extra staff to boost Ljusne sales worldwide. Heat treatment activities will be integrated into Scana Varmebehandling-steknik, which will open a new facility in Ljusne serving local customers.
For more information contact Anders Berg, Scana Ljusne: tel +46 270 65080 or fax +46 270 65330.
Black Box recorder for vessels
Wahlberg & Selin has introduced the Interactive Black Box - IBB, a voyage event recorder for ships. This stores important information over a chosen period of time on a ship's journey such as radar images; video recordings from different monitoring systems; recordings from audio sources, including radio traffic; GSP, alarm, maneuver and ECDIS plotting data.
Information from various onboard systems can be merged, time synchronized against the GPS in the IBB, safely stored and displayed. Following any incident, this information can be easily retrieved and then presented in a clear and system synchronized way. Wahlberg & Selin also claims use of the IBB can reduce costs from any legal actions, and provide a powerful tool for efficient operational simulations and education.
For more information contact Mats Falck, Wahlberg & Selin: tel +46 8 7832005 or fax +46 8 7832003.
Copyright 1995 Offshore. All Rights Reserved.