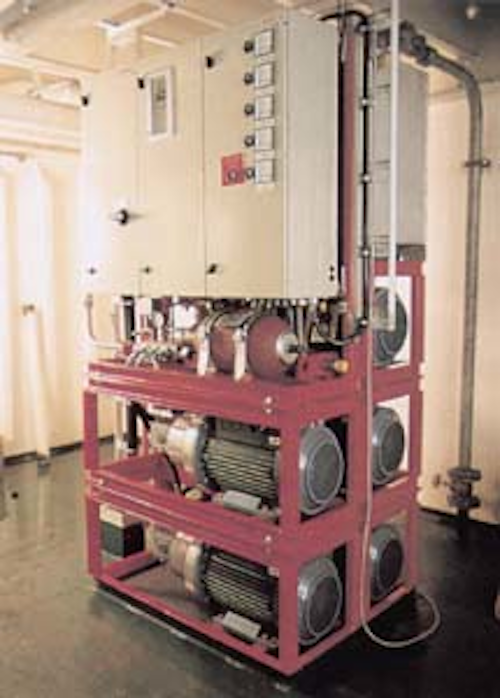 Hi-Fog selected for two new showcase UK field developments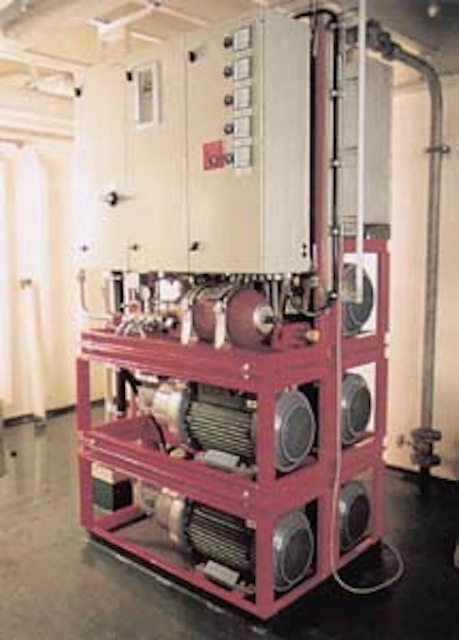 Marioff Hi-Fog sprinkler system.
Water fog firefighting systems have proven to be acceptable for scores of cruise vessels and ferries. Now they are beginning to confound the skeptics who won't look beyond CO2 or halon for offshore installations.
Marioff Hi-Fog made a breakthrough in this sector when its water fog systems were chosen for the machinery spaces, cabins and stores of the seismic vessels Geco Topaz and Geco Diamond. New systems have also been specified for fixed installations on two new field developments offshore the UK.
Wood Group subsidiary Fireater is the UK distributor of Hi-Fog systems. Sister company Wood Group Fire Protection (WGFP) designed and engineered two firefighting packages for Hamilton's Liverpool Bay project. The accommodation area on the Consafe-converted jack-up Morecambe Flame is protected with a pumped Hi-Fog system.
Machinery spaces are protected by a Fireater Hi-Fog pre-engineered, high pressure, skid-mounted system, complete with a low pressure pumped system for extended discharge. WGFP has also designed a skid-mounted high pressure Hi-Fog unit for machinery spaces on Phillips' J-Block development.
Distribution technique
Hi-Fog, created in 1991, works by using standard hydraulic pressures to create and then propel small water droplets with sufficient momentum to penetrate hot flue gases and reach the combustion source. It absorbs a fire's energy, cools the surrounding hot air and gas and works to prevent oxygen from entering the combustion area.
Its allegedly unique sprinkler and spray heads also minimize the harmful side effects of hot gases produced through a fire kill via a suction effect. This draws in gases, cools them down and then washes the particles to the floor. Sprinkler suction rate is 10cu m/min, with up to 25 cu m/min achievable through the large spray heads.
Over 30 different Hi-Fog sprinkler and spray head types have been invented as well as various valves and power units. These vary, along with water volume and discharge time, according to the hazard and fire protection requirement.
Four basic categories of firefighting systems are available. The machinery space system is powered by banks of water-filled cylinders pressurized by nitrogen, often combined with pumps.
The self-contained system consists of a pressurized cylinder and either a head mounted directly on the valve or head(s) connected to the valve assembly by stainless steel piping. No external water supply is needed.
Marioff's sprinkler system is claimed to weigh less than 10% of a conventional system. It is pump-powered, combined with pressurized cylinders to protect against fire in case all electric power should be lost. Finally, a hand-held system powered by a pump or pressurized cylinder is available to generate a flooding type of discharge.
To date more than 1,500 independently witnessed, full-scale fire tests have been performed at testing laboratories in Europe, the UDS and Japan. Currently Marioff is aiming to satisfy new IMO test procedures for water fog systems in accommodation and machinery space.
Wood Group Fire Systems' Gerald Hocking points out that "All other gaseous/chemical agents for halons have question marks over long-term availability: they are non-green and corrosive. I don't think environmentalists will ban water."
Hardware for water fog systems is also competitively priced, he says, in terms of installation and servicing. "And if you do get discharges offshore, the effects of lost water are negligible. Replacement water is available cheaply, whereas with other agents, you're talking of $30-40 per kilo."
As regards fire protection systems for drilling rigs and supply boats, water is much easier to procure than other agents like argon "which have to go in as a precise formula that is not always available everywhere in the world."
One of the barriers to acceptance of water fog in the UK offshore sector remains the lack of agreed, generic standards, he claims. Most standards used in the UK are written by a US association called NPFSA, "which views quasi-sprinklers as a threat".
Undeterred, Marioff continues to develop new models, one of the latest being a smaller sprinkler head which can cover 12 sq metres with 120 micron water droplets using a 2mm valve.
Copyright 1995 Offshore. All Rights Reserved.