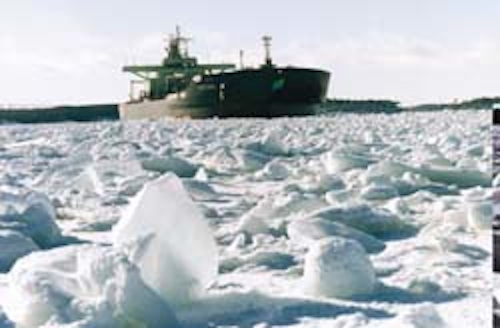 Neste's 91,000 dwt tanker Futura, recently converted to handle submerged turet loading, should be offloading oil from BP's Harding field late this year.
Norway's Haltenbanken is fueling Neste's drive to derive 30% of its crude oil needs from its field production interests. Heidrun, due onstream this autumn, will add at least 10,000 b/d to Neste's worldwide tally. And likely development of the Smoerbukk and Midgard fields will strengthen its position as a purveyor of gas to most points across Europe.
Neste sees itself as a middle rank oil company, and is not interested in becoming an operator. It has, however, built up a portfolio of stakes in strategically important Norwegian fields - in recent times, at the expense of most of its remaining UK interests. For Neste, Norway is the main offshore profit centre, although long-term Russia might run it close.
Oilfield disposals
In the UK offshore sector, Neste is close to clinching a sale of all its oil production stakes in Brae, Claymore, Nelson and Ninian. It did not join this year's stampede to apply for West of Shetland licences.
But this is small fry compared with Norway, where last year Neste Petroleum invested NKr588 million in the Brage, Haltenpipe, and Heidrun projects. Brage, where it holds 12.25%, had its first full year of production in 1994. Output was higher than expected at 97,500 b/d.
Drilling of a production well (in all, 32 are planned) identified a new reservoir with 100 MMbbl potential, which would swell the Brage total to 500 MMbbl, according to Bo Lindfors, executive vice-president of E&P: "This horizon is not included in the original licence, but it could probably be renegotiated."
Neste Petroleum also participates in the WAG technology programme which is being tested full-scale on Brage. WAG aims to increase oil and gas extraction through alternating injections of gas and water; most of the R&D is conducted at IKU, Trondheim and Rogalandsforskning, Stavanger.
Water injection took place in a Fensfjord well through October to December last year, followed by gas injection. Depending on the evaluation of the results, another well may be tested, and eventually, the WAG project could be extended to the entire reservoir. Besides increasing oil output, the technology would reduce the effect of any restrictions in export of associated gas.
Heidrun was Neste group's largest investment last year. It will be the company's second producing Norwegian oil field (Neste 5%) following its expected start-up this autumn, with peak output put at 200,000 b/d. Associated gas will be sent through the new Haltenpipe pipeline to Tjeldbergodden, west Norway for production of methanol.
Neste has a stake in the methanol and 5% of the pipeline, which is close to completion. First gas from Heidrun will be conveyed in December 1996, occupying one third of Haltenpipe's capacity. The rest will be offered to other field owners on Haltenbanken looking for a transport vehicle for their gas.
Tenants may be signed up quickly, assuming that Norway's authorities sanction development early next year of the Smorbukk, Smorbukk Sur, and Midgard Fields on the Haltenbanken. Gas from these fields would be used to meet sales contracts negotiated by Norway's GFU committee of gas producers. Neste Petroleum is one of the 12-strong supply committee (FU) advising the Ministry of Industry and Energy on field allocation, and it also has a 7% share in the three fields.
A decade or so from now, Haltenbanken supplies could feed a new grid of gas pipelines extending across Scandinavia to Helsinki. More realistically, they will first be heading to Dunkerque in France via the planned NorFra line and through a second Europipe line to Emden, Germany from 2000 onwards. Neste's interest in NorFra should be decided by the Ministry this summer.
The proliferation of Norwegian pipelines has led to nearly 1,000 agreements being concluded between the partners in the different transportation systems. Statoil wants future pipelines to be concentrated under a single owner, to ensure effective use of the system. Neste's Lindfors agrees that merging NorFra with all the other pipelines "would make sense in terms of efficiency".
Better coordination would improve transmission and distribution cost efficiency, for instance, which some members of the supply committee are dissatisfied with.
Unlike some E&P directors, Lindfors doesn't scoff at the proposed interconnector gas line from England to Belgium. "In principle, the better the integration of the European gas network, the more efficient it will be. We trade in gas in the USA: I'm always impressed how much more advanced they are there in terms of being more open to competition."
Neste Petroleum is among the companies chasing a position in Mid-Norway: it is hoping to gain interests in two to three blocks, says Lindfors, when 15th Licensing Round awards are announced shortly. An exploration well on one of its existing licences in the Moere region found gas last year.
African appraisal
Two appraisal wells will be drilled off Tunisia this summer, following the Zelfa oil discovery in January. Neste has 25% in this Samedan-operated licence: Tazerka, nearby, continues to churn out 700 b/d, but the new discovery could be more interesting, says Lindfors, because of the reservoir's tertiary drive. It is close enough to shore for a pipeline to be considered.
In Russia, Neste has formed an E&P joint venture in the Timan Pechora region with Finnish construction group Kvaerner Masa-Yards and five Russian partners. The venture, called Pechormorneft, will explore the shallow waters of the Nenets region.
Neste is also keen to stir activity in the Barents Sea, on both the Russian and Norwegian sides, having recently reprocessed some seismic data over this area. It continues to negotiate for a part in the planned Shtockmanovskoye deepwater gas development.
Oil from Timan Pechora finds could be exported by tanker. Neste has a joint venture with Kvaerner Masa-Yards called Nemarc: their M/T Uikku, and Neste's M/T Lunni, began sailing in Siberian waters last year.
Neste's 91,000 dwt tanker M/T Futura has been equipped with the Statoil-patented submerged turret loading (STL) system, allowing it to take oil directly from a production platform in rough or Arctic seas. It should make its debut in this mode in the North Sea later this year when BP's Harding Field comes onstream. However, no more STL conversions are planned by Neste, according to Lindfors.
Copyright 1995 Offshore. All Rights Reserved.