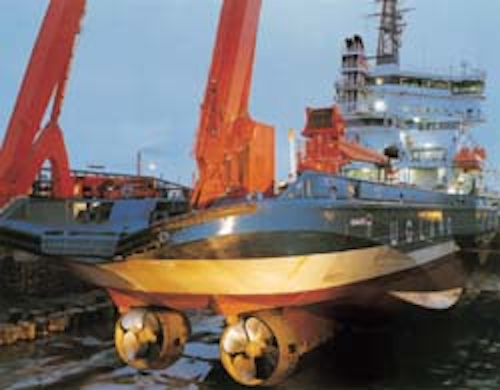 Rautaruukki's 500MPa TMCP steel grade was chosen for the hull and framework of the multipurpose vessel Nordica.
Steel for the Neptune Field production spar hull in the Gulf of Mexico is being supplied by Rautaruukki. At 10,000 tonnes, it is the steelmaker's largest consignment by far to the offshore industry.
The 705 ft tall, 72 ft diameter spar is being fabricated in Finland under the supervision of Rauma offshore Contracting. Rautaruukki is supplying its high strength, thermomechanical shipbuilding steel for this job (355MPa TMCP).
This grade was specified by Rauma OC for its good welding properties. TMCP steels, as well as offering strong resistance to hydrogen cracking, are also well suited to efficient, high heat input welding processes such as electrogas welding.
When completed, the hull will be towed out in two sections to the Gulf: in operation, it will be double-walled 20 ft above and below the water line.
Kvaerner Rosenberg specified 355MPa TMCP for the Troll Olje floater (the 3,750 tonnes of steel were delivered last year). And 2,000 tonnes of this grade, in an extra high strength 500MPa version, are currently doing service with the multipurpose icebreaker/offshore support vessel Nordica.
The steel was used by Finnyards for the ice class POLAR 10 vessel's hull and framework. It has a minimum yield strength of 500N/sq mm and is impact toughness tested at -40betaC. Plate thickness ranged up to 39mm.
Other, non-TMCP offshore steel orders for Rautaruukki currently are all from Norway. Largest of these is for the ship's turret for Statoil's Norne Field: Rautaruukki is supplying one 1,600t part as a welded cylinder. Smaller deliveries are under way to the Vigdis Field module P88 and subsea manifold (170t), and 350t for the Troll Gas onshore treatment plant, ordered by Fluor Daniel.
Rautaruukki faces strong competition for offshore plate deliveries in Europe, particularly in France and Germany, but it is one of the few companies in the world producing TMCP steels. Its automation process allows plates to be ready for export within two weeks of start of smelt (a week longer for larger deliveries). Competitors can be one to two weeks slower, according to business manager, sales Aarre Juopperi.
"At our research works in Raahe, we are concentrating on making production cheaper, and also developing new steel grades. For offshore projects, almost everybody has their own specs, and we can meet these. But we also meet the requirements of the national classification societies."
Copyright 1995 Offshore. All Rights Reserved.