Jeremy Beckman
London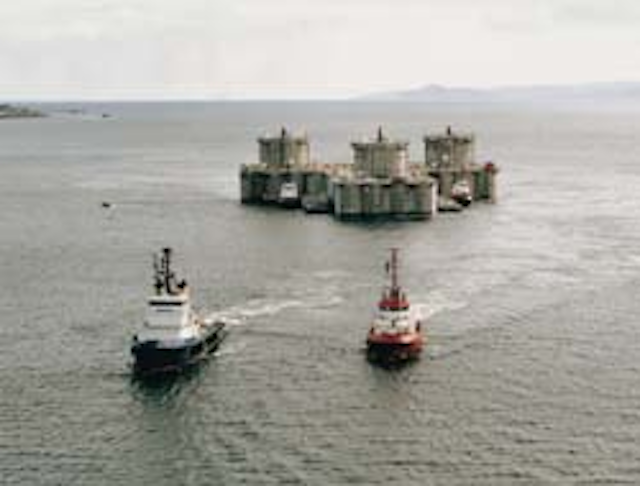 Towout of the concrete gravity base for BP's Harding Field was performed recently from the construction yard in west Scotland.
Abandonment needs clarification
UK Industry and Energy Minister Tim Eggar has issued draft guidelines which could be applied to abandonment of offshore installations. Eggar called for industry comment on how to speed up procedures which minimize cost burdens of such programs; the need for sensible and proportionate decisions on abandonment; and ways of meeting international obligations, including those on the environment and fisheries.
All these are issues hurting Norwegian as well as UK operators, currently in the throes of decommissioning installations. Esso Norge wants to bring its Odin Field topsides to shore, but leave the steel jacket and connecting pipeline to Frigg in place (via rockdumping). However, fishermen say leaving the jacket in place as a reef would interfere with trawling, while environmental groups want it removed and recycled, which could hike Esso Norge's costs by a further NKr150 million.
Elf Norge has had prolonged problems convincing the Norwegian government of the merits of dumping the entire East Frigg platform out at sea. Most notoriously, Shell UK's plans for deepwater dumping of its disused Brent Spar Field loading buoy have been disrupted by Greenpeace activists occupying the facility.
Despite sanction for the scheme by the UK government, Greenpeace claims that toxic substances in the spar are liable to be released during towout, because the facility was damaged early in its working life. Counter-claims that any rupture would have minimal effect, with little marine life near the planned resting place, have been rebuffed by Greenpeace, which is preparing for a long stay of occupation.
A UK sector program planned for this summer is the (40 million removal of platforms and facilities from BHP's Esmond and Gordon Fields in the southern gas basin. But although these facilities are up for re-sale, no buyer has yet been announced.
To stave off a potential abandonment of the Heather Field facilities in the northern North Sea, Britain's Energy Ministry has awarded Unocal and partners an early license (ahead of other 16th Round awards) on a block close to Heather. This will allow them to rapidly evaluate whether further reserves can be routed through these facilities, which have been operating since 1978.
One of the latest independent estimates of abandonment expenditure, from Arthur Andersen, values UK costs at (6.7 billion between 1990 and 2025, and Norwegian outlay over the same period at (4.3 billion. But AA suggests average Norwegian field costs will be almost twice the UK figure, partly due to greater average water depths.
Rosier outlook for Danish exploration
Denmark's Environment and Energy Ministry has awarded nine new exploration licenses to 16 companies grouped within seven consortia, under the country's fourth licensing round.
Only one applicant - BHP - missed out. But whilst the dominant producers, Maersk, Shell, and Texaco, strengthened their position with three new licenses, five new companies gained entry. They include Germany's EWE, Norway's Pelican with 15% in two blocks (its first venture overseas), and Enterprise, which in partnership with Statoil is targeting a new Palaeocene sandstone play on the Ringkobing-Fyn High. Another underexplored area, which was keenly contested - blocks 5503/2 - went to Amerada Hess.
The Ministry's aim was to pep up exploration activity off Denmark, and this seems to have worked. Expenditure for the submitted exploration programs totals DKr1.3 billion, with a commitment by the consortia to drill six wells (four in the next two years) plus a further eight contingency wells.
Danish development spending will also rise following recent Ministry approval for Maersk's Alma gas field development (costed at DKr580 million). The 35 bcf structure, five km northeast of the Dan Field, will be developed by re-entering a well drilled in 1990 and completing it as a tie-back to the Dan F facilities using a STAR unmanned platform.
More fields set for UK production line
Latest batch of development plans approved in the UK includes Agip's small oil and gas fields Thelma and Thelma South East - which will be subsea satellites of the Tiffany Field; Texaco's HP/HT gasfield Erskine in the central North Sea; and ARCO's Trent and Tyne gasfields in the southern gas basin. Reserves from the latter two fields are put at 440 bcf: these will be developed by two not normally manned platforms remotely controled from a shore base in Great Yarmouth.
Analayst Wood Mackenzie estimates that a further 67 new fields could come forward for development in the UKCS in the short to medium term. 40% would probably employ subsea technology, whilst 15 could use floating production systems.
In total, Wood Mackenzie estimates some 3 billion bbl of oil and 10.5 tcf of gas could be recovered fron these fields, representing 25% of the UK's remaining reserves. The extra liquids production they would provide could push UK output to 2.75 MM b/d in 1997, with the nation's gas production reaching 3,000 mcf/d by 2000.
Mixed fortunes for field planners
Hardware for several key field developments is currently undergoing installation, with varying degrees of success.
The pre-drilling template for Britannia, Britain's largest gas-condensate field-to-be, was set down on the seabed ahead of schedule by heavy-lift barge DB 102. And installation of all four satellite platforms for Liverpool Bay was completed three weeks earlier than planned by the same barge, except for Lennox, which was delivered by the Stanislav Yudin.
However, two showpiece Norwegian installations have had to be delayed. Towout of Conoco's Heidrun TLP has been put back nearly four weeks to allow production operator Statoil to perform more completion work.
Most of the platform's 270 meter steel tethers have already been despatched to the site, except for one which sank to the seabed when flotation tanks at each end of the tether disconnected prematurely. But Heidrun's targeted production date, set for mid-August, is unlikely to be impacted. Norske Shell had to put back towout of the Troll gas concrete gravity base platform last month in order to remove plugs from the seawater pipes at the structure's base.
One float-out which did go smoothly was the 84,000 ton concrete gravity base for BP's Harding development. This left the drydock at Costain/Taylor Woodrow's yard in west Scotland for ballasting and inclination tests. This month it is due to be towed to the field for installation, and subsequent union with the TPG500 jackup production platform (scheduled to leave Hyundai in Korea early next month).
Copyright 1995 Offshore. All Rights Reserved.