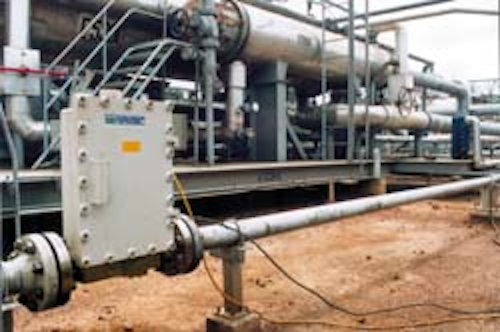 Nick Terdre
Contributing Editor
Multiphase meters offer a number of benefits, not least the elimination of the test separator, leading to substantial space, weight and cost savings.
In a subsea application they remove the need for a separate test line and associated equipment. They also provide a cost-efficient method for continuous well monitoring, enabling incr-eased productivity to be achieved through close well control.
Norway has made an important contribution to the development of this technology. One of the latest initiatives is a test program sponsored by Norsk Hydro, Saga, and Statoil at Hydro's Porsgrunn research facility. The intention is to choose one or more of four meters under test for marine utilization.
Known unofficially as "the world multiphase meter championships", the programme has put to the test meters developed by Fluenta, Framo Engineering, Kongsberg Offshore, and Multi-Fluid International (MFI). Testing began this March and was completed in June, followed by analysis of the results. Strict quality control has been exercised over collection of the data.
"As far as we know, this is the most rigorous test programme yet carried out," says Ole Oekland, Statoil's project leader for the programme. All four meters have been tested simultaneously rather than separately, as in other tests. The test matrix covered some 550 flow points. Four different pressure conditions were run, ranging between 20 and 90 bar, and at three different temperatures, from 30 to 90C.
Water cut was varied between 0 and 90% and gas from 0 to 98%. Flow regimes were varied between 0 and 12 metres/sec superficial gas velocity and 0-2.5m/s liquids velocity. This means that the meters have been tested in stratified, slug, dispersed and bubble flow, Oekland says.
Crude oil from the Oseberg Field was the medium used, mixed with gas synthesized from methane, ethane and propane: this simulates natural gas much more closely than the nitrogen usually used in tests. Salt content of the water was comparable to that of natural formation water.
An assessment of the programme and overview of the results will be given at the North Sea Flow Measurement Workshop in Lillehammer in October. Results so far show that pressure is a more important determinant of flow conditions than temperature.
The tests have proved that testing over a wide range of conditions is needed to qualify a meter capable of covering the naturally occurring fluctuations experienced in service subsea, says Oekland. The project will now continue into a new phase with the aim of having a multiphase meter system installed on a subsea field in 1997.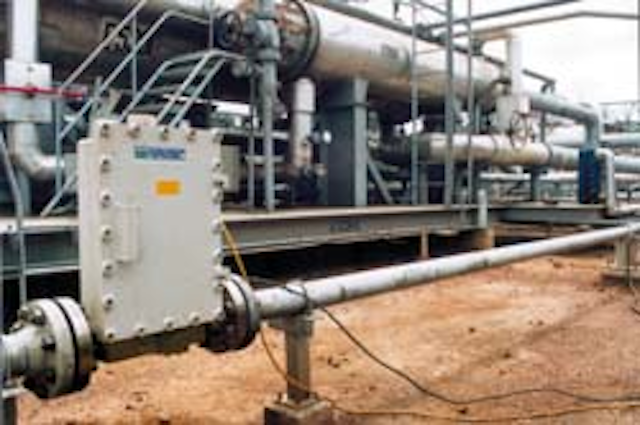 Kongsberg Offshore's MCF 351 Multi-component flow meter.
Fluenta
Fluenta's meter is the MPFM, the same design as the unit which comes into operation on Amerada Hess' South Scott Field in the UK North Sea this September.
This is a non-intrusive meter based on capacitance technology combined with a clamp-on gamma densitometer. The capacitance electrodes are capable of measuring the fractions of oil, gas and water in combination with the gamma densitometer.
By using cross-correlation techniques on the signals, the meter measures the velocity of both the gas and the liquid, enabling the meter to operate in all kinds of flow regimes - bubbly, churn and slug flow - for water cuts of 0-100% and gas fractions up to about 95%.
A venturimeter also forms part of the meter, to provide redundancy and to handle flows with very low gas content. The meter has no moving parts and requires a minimum of maintenance.
Winning the South Scott contract gained Fluenta the distinction of being the first vendor to have a multiphase flow meter installed subsea for commercial use. Marinisation of the unit was performed jointly with Amerada and Kvaerner FSSL, which provided the control and power system. Amerada saves on the flowline which it would otherwise have had to install.
So far Fluenta has carried out 16 multiphase installations for testing or permanent use. An important new order is for Shell UK's Teal/Guillemot production ship. The 6-in. MPFM 1900 VI will be the world's first to be installed on a floating production system, according to Fluenta's managing director Trygve Mildestveit. A special configuration will be needed to enable the meter to be installed in the turret.
Fluenta also claims the biggest ever multiphase flow metering contract to be awarded in the Norwegian sector. This is for two 8-in. MPFM 1900 VI units to be installed on Saga's Snorre platform for measuring production from the Vigdis Field. Another order recently received was for two meters for Amoco/Gupco's October Field in the Gulf of Suez.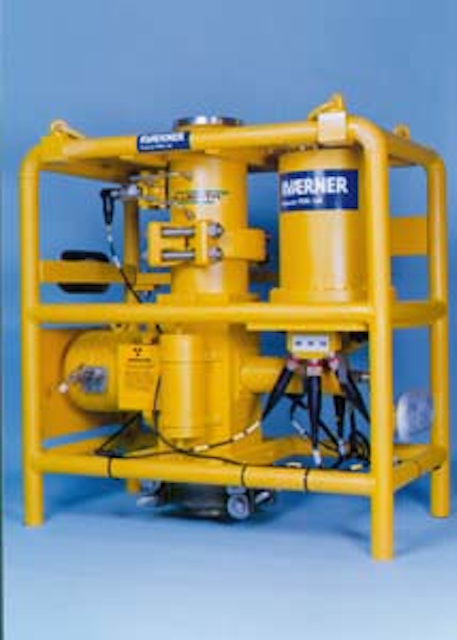 Fluenta's multiphase meter is the world's first for commercial subsea use. It is installed on Amerada Hess' South Scott Field in the UK North Sea, where start-up is due next April.
Framo Engineering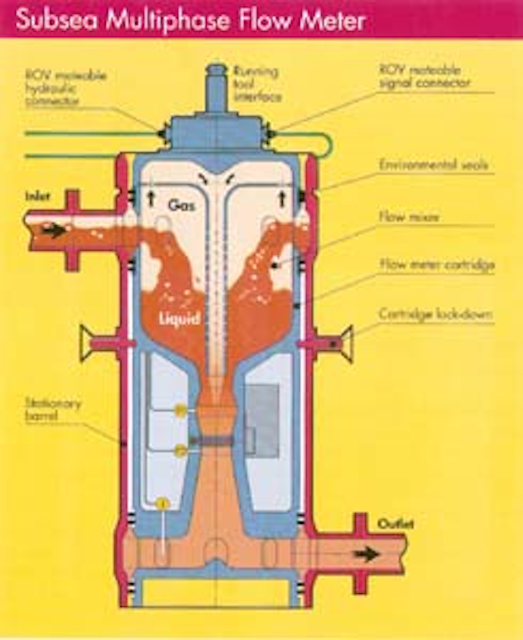 Schematic of Framo's subsea multiphase flow meter.
Framo Engineering's Multiphase Flow Meter uses a multi-energy level gamma fraction meter and a venturi momentum meter. It also incorporates a flow mixer which provides a homogeneous flow to the metering section, thereby making operation independent of upstream flow conditions.
Both the gamma and the venturi meters are located immediately downstream of the flow mixer. The gamma meter determines the oil, gas and water fractions in the flow, a calculation based on the relative attenuation of different gamma energy levels. The venturi meter is used in combination with the gamma meter to obtain the flow rates of the different phases.
Framo's meter operates in any flow regime, in water cuts of 0-100% and in gas volumetric flows of 0-100%. Detailed design of a marinized version for a North Sea subsea application is now under way.
Several units have already been sold for topside use, including three for the three satellite platforms in BHP's Liverpool Bay development. Others went to Maersk's Svend and Dan F platforms, Norsk Hydro's Gamma North, the Texaco-led Deepstar project and also to Statoil for test programs on the Gullfaks B and C platforms.
Kongsberg
Kongsberg Offshore's MCF 351 Multicomponent Flow Meter takes measurements from a pair of parallel sensor plates inserted into the pipe in line with the flow, and running from the top to the bottom of the pipe. Etched onto the plates are electrodes forming capacitors which generate the basic signals from which calculation of the flow rates is derived.
Currently the meter requires slug flow to operate, but development is under way to extend the operating range to other flow regimes such as stratified, plug, bubble and annular.
The meter gauges liquid and gas flow rates by continuously determining the cross-sectional areas occupied by each phase and multiplying each area by the velocity of the corresponding phase. The water cut in the liquid is also determined through analysis of the signals from the capacitors.
Kongsberg developed the MCF 351 with Norske Shell, testing it extensively in oilfields in Oman and Gabon and offshore in the North Sea. This spring it underwent another test programme at Texaco's Humble flow facility, focusing on oil continuous emulsions. Tests were also performed using heavy crude from a North Sea field. More full-scale field trials are planned to demonstrate performance in a full range of water continuous emulsions.
This April a unit was permanently installed on Petronas Carigali's Tembungo B platform in Malaysia. Now a marinized version, the SMF 351, is being developed. A mechanical prototype which demonstrates subsea installation and retrieval by ROV or wireline is being built and will be tested this summer.
MFI
Also contributing to the Porsgrunn tests is MFI with the FR Multiphase Meter, which relies on microwave technology. It consists of a composition meter, incorporating a gamma densitometer, and one or two velocity meters.
The composition meter derives the volume fractions of oil, water and gas from mixture density and mixture dielectric constant. Patented microwave measurement techniques are used to measure mixture dielectric properties.
Water differs considerably from oil and gas in its dielectric properties, and gas from oil and water in its density. Using these complimentary sensitivities, the multiphase composition can be accurately determined, according to marketing manager Bjorn Pedersen.
Velocity measurements are performed by a momentum meter which can be combined with a microwave cross-relation device. In conjunction, the two meters allow liquid and gas velocities to be measured more accurately over a wide range of flow regimes.
The FR meter operates in water cuts of 0-100%. The LP version, which uses a similar microwave technology, operates only in oil continuous flow, up to a water cut of 40-60%.
FR prototypes were tested last year on both Elf's Pecorade Field and Statoil's Gullfaks. The prototype is now being developed into a field unit, hopefully available commercially next year.
The LP meter has been qualified by Statoil for well testing, with a 6-in. unit due to be installed shortly on Gullfaks. Another unit has been operating on Saga's Snorre platform since early this year.
Copyright 1995 Offshore. All Rights Reserved.