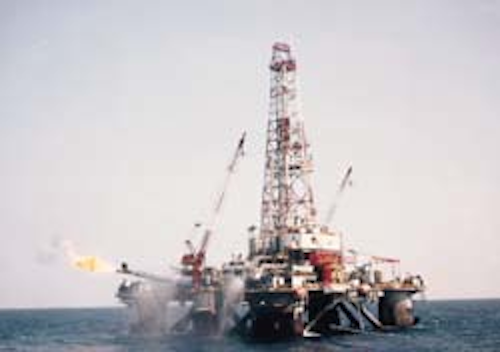 Michael Crowden
Houston
Texaco drills three deepwater discoveries
Texaco last month announced it has drilled three rank wildcat wells this year in the deepwater Gulf of Mexico, all of which resulted in discoveries. Texaco is operator for all three discoveries, designated Petronius, Fuji, and Gemini.
Texaco's Viosca Knoll 786-1 was drilled in 1,754 ft of water. Located 130 miles southeast of New Orleans, the discovery well tested 7,700 b/d of 31-degree crude oil and 4.4 million cu ft/day of natural gas. Petronius is 50/50 joint venture with Marathon.
Located 150 miles southwest of New Orleans Fuji is one of several Texaco prospects within a 22-block clustered leasehold (126,720 total acres) in the central Green Canyon area offshore Louisiana. The Green Canyon 506-1 discovery well, located in 4,243 ft of water, was temporarily plugged and abandoned in February 1995.
Texaco's partner in the three block Fuji project is Shell Offshore (25 percent working interest). Texaco owns 75 percent working interest in Fuji and 100 percent of 19 surrounding blocks.
A subsalt discovery, Gemini is located 90 miles southeast of New Orleans in 3,393 ft of water. It is described as an exceptionally well-imaged subsalt prospect. The Mississippi Canyon 292-1 discovery well was recently drilled to a total depth of 17,976 ft. Well testing is scheduled for 1996 to evaluate substantial hydrocarbon reservoirs encountered below 2,908 ft of tabular salt.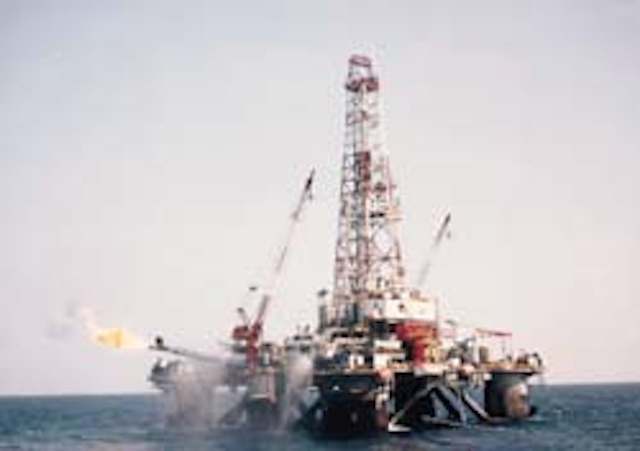 The Arrthusa Lexington drilled Texaco's Petronius prospect.
Texas sale seen as sign of rebound
In early October, Texas conducted its best lease sale in 10 years as bidders offered nearly $20 million for 242 tracts, mostly offshore. "There is only one way you can characterize this," said Texas Land Commissioner Garry Mauro. "It means there's a major recovery under way for the oil and gas industry in Texas, particularly in offshore exploration."
The state accepted $19.69 million in total bonus money, the most since April 1985 when $23.23 million was received. The state leased 242 tracts, the most since October 1984, when 222 were leased. The 72,384 acres leased at the sale compared with 106,474 leased in October 1984. The average bonus per acre was a record $290.19.
Most of the tracts were in coastal bays-40 tracts were leased in the East Matagorda and Matagorda bays, and 53 in the Galveston and Trinity bays.
OCS reserves increase 18% during past year
An annual report from Minerals Management Service shows that oil and condensate reserves increased 17.8 percent in the federal waters of the US Gulf of Mexico from 1993 to 1994. During that time, natural gas reserves increased 0.7 percent. Remaining proved reserves at year-end 1994 were estimated to be 2.52 billion bbl of oil and 29.3 trillion cu ft of gas. These reserves are recoverable from 743 proved active fields located in federal waters. There are an additional 77 unproved active fields with no reserves estimates, making a total of 820 active fields in the federal waters.
Average production from the federal US Gulf of Mexico in 1994 was 717,000 b/d of oil, 143,000 b/d of condensate, 1.56 billion cu ft/day of casinghead gas, and 11.66 billion cu ft/day of gas-well gas. The 876 proved oil and gas fields in the federally regulated part of the Gulf of Mexico originally contained proved reserves estimated to be 11.86 billion bbl of oil and 141.9 trillion cu ft of gas. Some 133 have been depleted and abandoned. Another 77 are active, but considered unproved. The MMS does not include reserves estimates of unproved fields due to differing levels of economic certainty and geologic assurance.
LeTourneau reopens Vicksburg yard to build Gorilla V
In a ceremony attended by numerous government officials, including Mississippi Governor Kirk Fordice, ground was broken in early October at the riverside shipyard of LeTourneau in Vicksburg, making the reopening of the facility where the first mobile offshore jackup drilling rig was constructed in 1955. The facility is undergoing a $20 million refurbishment. The newly opened yard will employ 350 workers.
LeTourneau was purchased by Rowan Companies in February 1994. Delivery of the new rig is scheduled for the second quarter of 1998.
Briefs...
Noble Affiliates has purchased interests in three Gulf of Mexico properties for $24.7 million. Acquired were 100 percent working interest of High Island A325, 100 percent of Galveston 150L, and 55 percent of Eugene Island 286. The seller was not identified.

Noble says it will invest about $15 million during the next nine months to develop the properties, including installation of production facilities and pipelines, as well as additional drilling and completion activities. Net proved gas reserves associated with the acquired interests is 42 billion cu ft of gas.

Apache has completed its $192-million purchase of Aquila Energy Resources. The purchase was funded by a public offering of 7.45 million shares of Apache stock. The acquired assets include:

(1) proved and probable reserves of 239 billion cu ft of gas equivalent on approximately 107,000 developed and 49,000 undeveloped net acres located primarily in the Andarko basin and Gulf of Mexico;
(2) a 5-year, 4-month premium gas contract effective 1 September 1995; and
(3) non-operated interests in four gas processing plants.

Aquila Energy Marketing has agreed to purchase 20 million to 25 million cu ft/day of gas from Apache for $2.70/thousand cu ft in 1996, with the price escalating to $3.20 in the year 2000.
Petrobras America has awarded Paragon Engineering Services an EPC contract to design and fabricate a platform with test facilities. The platform will be installed in 260 ft of water at Ship Shoal 301 in the Gulf of Mexico. Paragon is 60-percent owned by Dresser-Rand.
Hurricane Opal blasted into the Florida Panhandle last monthas a category four hurricane. Wind speeds reached nearly 150 mph, making Opal the strongest hurricane to hit the US Gulf Coast since Camille in 1969. The eye of the storm was seven miles wide. Nearly 740 offshore platforms and more than 100 mobile offshore drilling units were evacuated. Opal forced the shut down of more than seven billion cu ft/day of natural gas and nearly 700,000 b/d of oil production. The storm's impact on the offshore industry was exacerbated by its lingering in the Gulf for days before making landfall.
Coral Energy Resourceswas launched on 1 November as an independently managed, Houston-based natural gas company. Coral Energy is being created jointly by subsidiaries of Shell Oil and Tejas Gas.

"In terms of gas sales, on our first day of business we'll rank in the top five with about 3.7 billion cu ft/day," said Murry Gerber, Coral chief executive. "But more importantly, we'll be able to better serve our customers, and we'll be positioned to grow."

Shell Oil has contracted Swiss-based Allseas Marine Contractors for the installation of two pipelines for the Ram Powell TLP in the Gulf of Mexico. The first line consists of a 12-inch oil pipeline extending 41.7 km between Viosca Knoll 956 and Main Pass 289. The second line consists of a 14-inch natural gas pipeline extending 40.7 km between Viosca Knoll 956 and Viosca Knoll 817A. Water depths are 103 to 981 meters.
Copyright 1995 Offshore. All Rights Reserved.