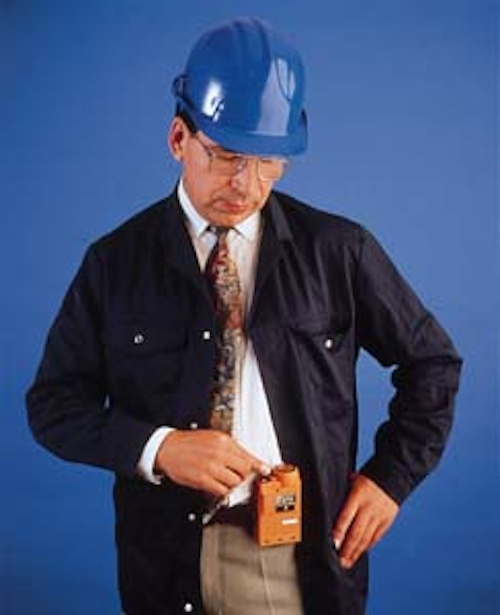 New generation of devices also designed for user comfort and multi-alarm programming
Gavin Boorman
Crowcon Detection Instruments
Despite the widespread adoption of fixed gas monitoring systems on offshore installations, there is still an important role for portable gas detectors. Although the long-term trend towards automated, unmanned installations will certainly reduce demand for portable instruments, a typical North Sea production platform will currently have about 200 portable detectors in daily use.
Even if a fixed monitoring system has both flammable and toxic sensors, it cannot measure the particular gas and level an individual is exposed to during a work shift.
Where offshore workers are exposed to toxic gases, these are most likely to be hydrogen sulfide from crude oil and carbon monoxide from generator exhausts. Any safe work practices conforming to COSHH or the HSE's occupational exposure limit regulations should be backed up by personal monitoring.
Personal flammable gas detection is also essential, especially when working in confined spaces where methane, for example, can accumulate in high concentrations. In addition to the obvious toxic and flammable gas risks offshore, rig workers also need to be wary of oxygen deficiency, especially when entering confined spaces.
Because offshore workers can encounter multiple gas hazards, both toxic and flammable, the most commonly used portable instruments are types which can detect simultaneously three or four different gases.
While fixed gas detection systems provide wide-area safety monitoring, personal detectors are essential to protect workers from specific gases or very local hazards and to monitor occupational safety standards.
In the general industrial gas detection market there has been rising demand for instruments which detect a wider range of gases, more specific and with higher accuracy at lower detection levels. These trends are not so significant offshore: however, recent developments in portable technology do influence specifiers of offshore safety products.
The most obvious is a constant quest for miniaturization. As an example, Crowcon's recently introduced four-gas detector weighs just 500g, almost half the weight and size of the three year-old instrument it replaces.
Demand for ever smaller instruments come directly from staff who use the products. It may seem surprising that someone would think twice about using a life-saving device just because they found it a bit bulky and heavy. However, anyone who has worked a full shift with an object the size and weight of a bag of sugar strapped to their chest will tell you differently.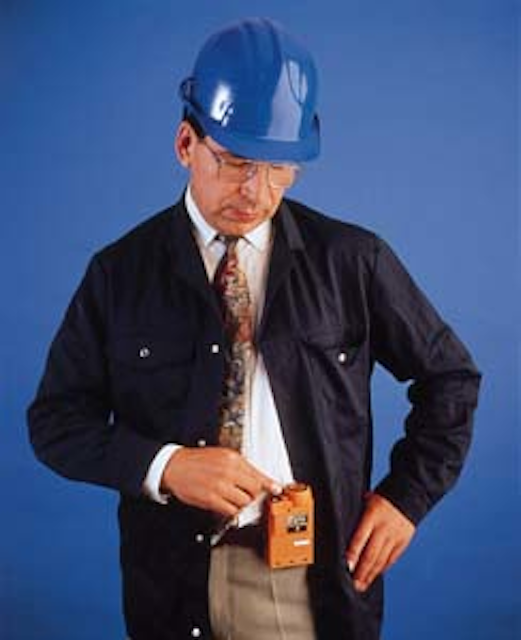 Single gas monitors for offshore use such as Crowcon's Gasman range (pictured) provide protection against general flammable hazards, toxic gases such as H2S or oxygen deficiency.
Reductions in the size and weight of portables are mainly due to the use of inexpensive microprocessors and a new generation of smaller pellistor and electrochemical sensors. In future, we will see increasing miniaturization of portable detectors. However, the limiting factors are likely to be sensor and battery technology, not the control and data processing electronics.
Managers with health and safety responsibilities are more concerned with control functions than physical parameters. Their main interests are the facility to configure and customize their instruments and the advanced functions deriving from inbuilt programmable software.
These microprocessor-based functions have been greatly enhanced recently, especially the ability to interface with a PC for alarm configuration, post-acquisition data analysis and calibration.
Safety managers often want gas detectors to be highly user-configurable, since many oil companies operate unique safety practices which differ from the regulatory baselines. One major North Sea oil producer requires all its flammable gas sensors set to alarm at LEL (lower explosive limit) about 50% lower than the standard level.
The latest generation of multi-gas personal detectors let the user program three instantaneous alarms for each of four separate gas monitoring channels. Toxic gas channels additionally have two time-weighted average alarm settings for 15 minute and eight hour exposure periods. These are easy to configure since they are all established under software control with the detector linked to a PC.
Offshore safety managers see portable detectors as part of a systematic, integrated employee safety and health monitoring scheme.
To satisfy this need, today's sophisticated multi-gas detectors have internal data-logging software which records each user's gas exposure in report form. Simply by locating the instrument into a charger/data interface unit, data is downloaded to a computer.
Data can easily be imported into a spreadsheet for trend analysis and, to maintain individual accountability, each data download is tagged with the instrument's code. These instruments will record basic exposure information, in terms of instantaneous peak levels or short-term exposure limits, and also calculate time-weighted average exposures.
Copyright 1995 Offshore. All Rights Reserved.