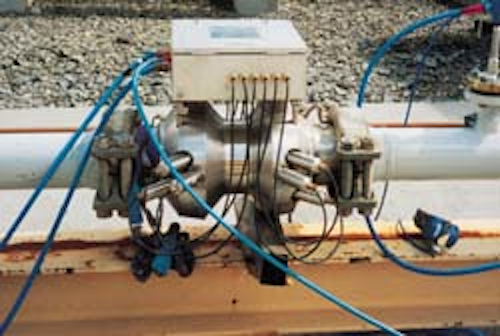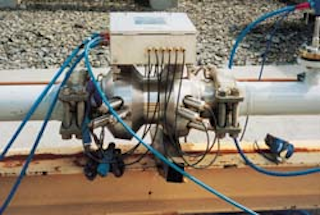 Fluenta's FMU 700 fiscal gas meter installed for tests at Statoil's K-Lab.
For flow measurement specialist Fluenta, Indonesia is one of the priority countries in the Southeast Asian market. The Bergen-based company has been working there for several years, selling a number of its flare gas meters, and has an agent in Jakarta.
This initiative forms part of Fluenta's drive to establish itself in Southeast Asia. It also has agents in Malaysia and Taiwan, and plans to set up a subsidiary in the region, but has not yet decided where it will be based.
This year Fluenta, which has developed a range of non-intrusive instruments for flow measurement, has launched a new fiscal gas metering system and seen its multiphase flow meter become the first to go into commercial operation subsea. The new fiscal gas meter, the FMU 700, is a six-path ultrasonic flow meter which can measure to an accuracy of 0.5% over a velocity range of 0.4 to 20 metres/sec at temperatures of -10 to +70°C and pressures of 10 to 200 bar. It comes as a compact flanged spoolpiece available for pipe sizes of six to 40-in. For a 12-in pipe, the length is 1,000mm and the weight 700 kg.
Compared with the existing orifice plate system, the FMU 700 offers weight savings of up to 60% and space savings of up to 90%, according to Fluenta's marketing manager, Kjell Fredriksen. It is also competitively priced, he says. The meter is currently undergoing an intensive series of tests. This summer it completed a qualification and test programme at Statoil's K-Lab, since when it has been dispatched for trials with Ruhrgas in Germany and Gasunie in the Netherlands. Its performance has met expectationss and according to Fredriksen the meter is well on the way to gaining certification for the European market.
K-Lab also carried out acceptance testing of a unit which has since been installed on Norsk Hydro's Oseberg Field. Before year-end Fluenta hopes to chalk up another important milestone, its first commercial North Sea order. Another product which has attracted interest is Fluenta's MPFM 1900 multiphase flow meter. A marinized version has been installed on Amerada Hess's South Scott Field in the UK, the first commercial application subsea. Other recent sales include two units for Amoco's Gulf of Suez operations. One of these is mounted on a skid for portable use.
Among Fluenta's other products are the FGM 100 ultrasonic flare-gas meter, of which it has sold two units to Pertamina's Plaju refinery in Indonesia and 19 to the CPC's Kaohsiung refinery in Taiwan; the SAM 400 acoustic clamp-on sand monitor, of which more than 300 units have been sold worldwide since 1990, including two to Shell Brunei and a dozen to Woodside in Australia; and the PDS 500 acoustic clamp-on pig detector.
Saga presses ahead with Jambi Merang
Saga Petroleum is moving ahead with plans to develop an onshore gas find in Indonesia, but has had no luck so far with exploration on its offshore acreage. The Gelam gas field on the Jambi Merang block in southern Sumatra - in which Saga and Pertamina each hold 50% - holds an estimated 352bcf of gas.
The field extends into the neighbouring Corridor block, and partners in the two blocks are currently negotiating a unitisation agreement, according to Saga spokesman Knut Aanstad. The development will be operated by Asamera, the Corridor block operator. In an initial phase the four exploration and appraisal wells will be converted into producers. The gas will be delivered to a central processing plant serving Gelam and the other Corridor block gas fields before being sent through a new pipeline to Caltex's Duri field 500km to the north, where it will be used for steam generation to assist with heavy oil recovery. A gas sales agreement should be finalised in the not too distant future, Aanstad says.
Meanwhile Saga and Pertamina are planning a new exploration well on the Jambi Merang licence. Due to spud in November, the well will target the Pulau Gading prospect.
Offshore the company has so far had no success on its Block II acreage in the north-west Natuna Sea, in which it has a 30% stake. Two wells were drilled last year by Enterprise, the operator, but neither made a commercial find. The partners are now reviewing 2D seismic data with a view to deciding their next step, Aanstad says.
DNV/NOSCA sign memorandum
Det Norske Veritas is to prepare a master plan for the prevention and combat of marine pollution in Indonesia. On behalf of the Norwegian Oil Spill Control Association (NOSCA), the company signed a Memorandum of Understanding to this effect with the Indonesian Ministry of Communication on the occasion of the visit of the official Norwegian delegation to Indonesia in September.
The project is intended to enable the Indonesian authorities to comply with their obligations under the MARPOL and other international conventions - a formidable task, given the country's lengthy coast, its immense marine economic zone, the high levels of shipping and the incidence of offshore oil and gas activities.
DNV will carry out a study to identify how pollution is to be monitored and combated. The work, which will take about a year to complete, is expected to get under way in early 1996. At subsequent stages, as the master plan is implemented, other members of NOSCA are expected to supply some of the equipment and systems required, as well as training for the Indonesian operators. Funding for the initiative is coming from the Norwegian aid agency NORAD and from Indonesian sources.
Copyright 1995 Offshore. All Rights Reserved.