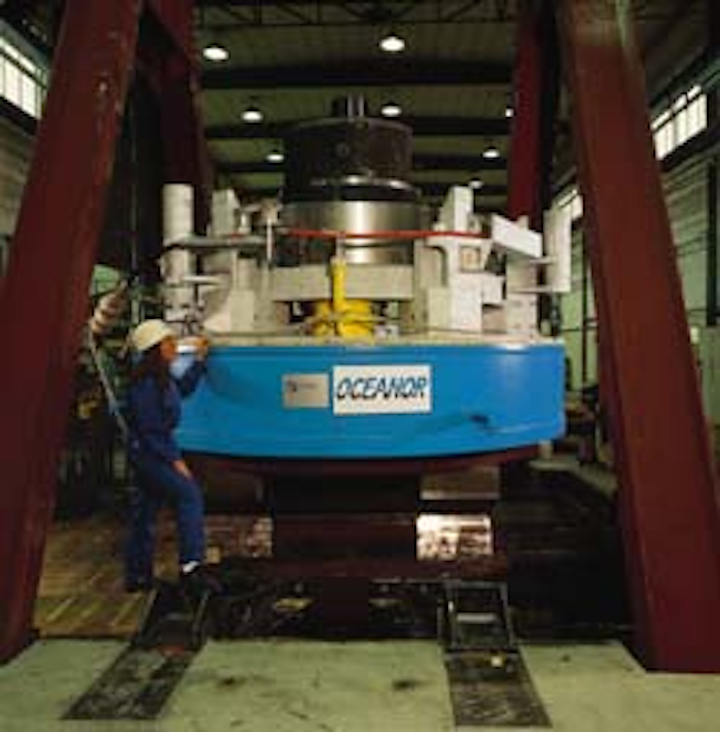 Full scale testing of Oceanor's tether tension monitoring system for the Heidrun TLP
As part of the wide-ranging environmental agreement signed between Norway and Indonesia, Oceanor is to provide its Seawatch system for monitoring Indonesia's marine environment. The Trondheim-based company will also provide a training programme so that the system will eventually be run by Indonesians.
The scale of Oceanor's task is immense. Indonesia extends along 15% of the equator and occupies an area measuring 4,500 km from east to west and 1,500 km north to south. The country consists of some 17,000 islands.
The company, which has worked in Indonesia for several years, will tackle the most important areas first, the Malacca Strait and the Java Sea, according to director Svein Tryggestad. It will sign a contract worth almost NKr110 million for an initial three-year period, after which it expects to move into a transition phase during which operations will be progressively handed over to Indonesians.
A number of benefits will result from implementing the Seawatch system, Tryggestad says. These include improved weather forecasting, improved forecasting of the spread and drift of oil slicks and of the appearance of algae blooms, while for the offshore oil industry there will a mass of important marine environmental data.
Oceanor claims Seawatch is the world's first complete integrated marine environmental monitoring and forecasting system. Already in operation in Norwegian, Thai and Vietnamese waters, it brings together data collection and analysis within a framework of environmental modelling and forecasting. The data is communicated to the controllers by satellite. The front end of the system is the Seawatch automatic buoy, which is equipped with an array of sensors to measure wave heights, wind speed and direction, air temperature and pressure, currents, water temperature and salinity, and the presence of algae, nutrients, oxygen and radioactivity. The buoy is capable of operating for months at a time without maintenance.
The data acquisition system uses the powerful GENI program, while ORKAN is used for data storage, analysis, and presentation. A number of other programs are available with the system, such as OILSPILL, an oil drift forecasting model, OILSTAT, an oil drift statistics model, HYBOS, a hydrodynamic model, and NOMAD, a transport model.Oceanor's activities also extend into structural monitoring such as the measurement of strains and stresses in risers and mooring lines. It supplied a tether tension monitoring system for Conoco's Heidrun TLP.
Copyright 1995 Offshore. All Rights Reserved.