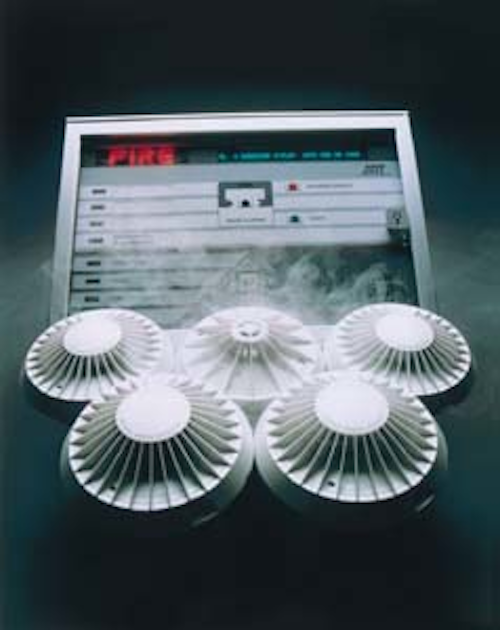 Autronica's system establishes new standards in fire detection technology.
Autronica Offshore has just launched in the UK a state-of-the-art system for early warning fire detection for the offshore industry. The company claims that the unique system provides a reliable pre-fire detection and alarm capability for electrical apparatus which eliminates the need to use halon. From a strong base in its home market - previous versions of its system are installed on 20 Norwegian fields - Autronica is planning to spread its wings. In southeast Asia its sights are set principally on Indonesia and Malaysia, where it sees a growing market for fire detection systems.
In Norway as in many other countries, halons are being phased out and operators must find alternative systems. But even where this requirement does not exist, there are obvious advantages in systems which offer very early warning and minimize the fire-fighting to be done and the amount of damage caused to equipment.
According to international sales and marketing manager Arild Olsen, the new Autronica fire detection system can detect smoke obscuration levels as low as 0.5% per meter, compared with 1.5% per meter for existing systems. The effective level of sensitivity is as good as or better than that achieved by aspiration systems.
Autronica's system is also very sensitive to over-heating. The company claims it can detect wire temperatures down to 110C, but in tests for Statoil the system detected temperatures as low as 70C. The main point, Olsen stresses, is that the system is often capable of detecting over-heating problems in electrical apparatus before these result in the outbreak of fire.
The system itself utilizes intrinsically safe technology. It comprises the third generation of Autronica's BS-100 control panel and the highly sensitive BH-31S optical smoke detectors. The control panel software uses dynamic filtering to distinguish between the early stages of a real fire and transient fire-like phenomena such as tobacco smoking.
In this way the incidence of false alarms is virtually eliminated. According to Olsen, this represents a significant advance, as some other systems are liable to generate a large number of spurious alarms, disrupting the work process and undermining workers' confidence in the system. The detector and sensor units are individually addressable, allowing the location of any problem to be pin-pointed immediately by the operator or control system.
The system is inexpensive to install, requires very little maintenance and overall offers a very cost-effective solution, according to Olsen. It is very much in line with the Norsok and Crine campaigns, he says.
Autronica's system is now being supplied to the FELS yard in Singapore for installation on Statoil's Norne production ship. This is the first time the company has supplied a complete package including engineering, Olsen says. Autronica intends to ease its entry into new markets such as Indonesia by finding local partners. In South-East Asia it will also enjoy the support of its parent company, the instrumentation specialist Whessoe, which is setting up in Singapore.
Smedvig keen to broaden oilfield service profile in Indonesia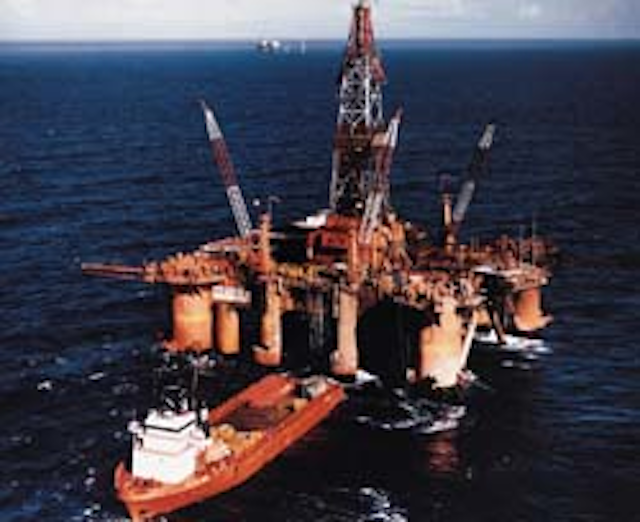 Smedvig semisub West Delta found gas when drilling for Mobil last year in the Makassar Strait.
Diversified oilfield services provider Smedvig was one of the first of Norway's offshore contractors to be drawn to Southeast Asia, acquiring Robray Offshore Drilling and its tender rig fleet in 1990. The company now ranks the Indonesian market as one of its priorities. "Within our Southeast Asian strategy, Indonesia is one of the two or three countries where we most want to concentrate," says Lyder von der Lippe, who has just returned from a five-year stint as general manager, finance in Smedvig Robray's Singapore office. "It's such a large market, with so many fields and so many wells, both onshore and offshore, that you just can't ignore it."
Indonesia is one of the countries where it is most important to have a partner, according to von der Lippe. In this respect Smedvig is well set up, having established a close relationship with PT Apexindo Pratana Duta, a company which specializes mainly in onshore and swamp drilling.
Apexindo Pratana was deeply involved in Smedvig's most recent operation in Indonesia, when its semisubmersible rig West Delta drilled an exploration well for Mobil in the Makassar Strait late last year. The well found gas and Mobil is likely to follow it up with an appraisal.
Although Smedvig is well known as a drilling contractor, von der Lippe stresses that the company is keen to offer its whole range of well, reservoir and production services, running from initial geological studies through well construction and management to evaluation of drilling results, reservoir management and enhanced recovery.
Some of these services are the result of recent acquisitions, including Geomatic, which offers reservoir software products and consulting services, and Prodrill, the well engineering consultancy. Smedvig has also entered into a joint venture with Canadian well service company Northland to provide under-balanced drilling services for production wells.
It is well on the way to establishing its name as a production contractor, and in mid October was finalizing a contract to deploy the SPU 380 production ship on Norway's Balder Field with operations to be managed jointly with the operator, Esso Norge.
Copyright 1995 Offshore. All Rights Reserved.