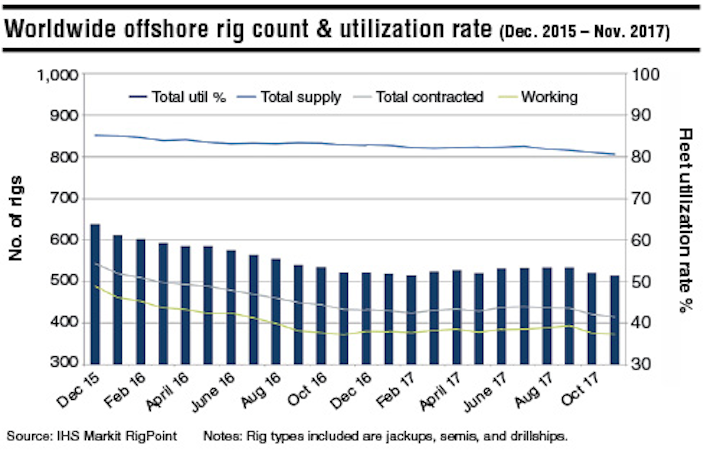 Worldwide offshore rig count and utilization rate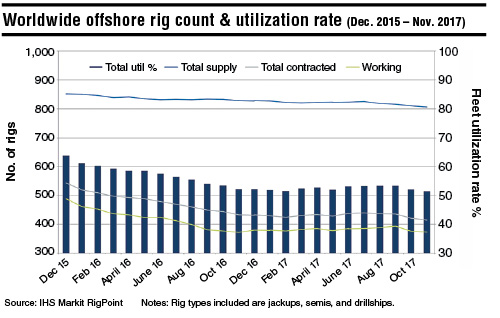 Worldwide offshore rig count and utilization rate
In November, the offshore rig market continued to struggle. The total number of rigs under contract has continued its ongoing slide, this time falling from 422 jackups, semis, and drillships under contract to 415. On the upside, at least the number of rigs working has only had a small slump of two units, falling to 374, meaning most of the rigs that rolled off contract in the last month had already ceased to work prior to their release. Also, the total supply of drilling units continues to slowly dwindle, with the fleet size dropping from 810 to 806. As a result, utilization only fell about half of a point to 51.5%.
– Justin Smith, IHS Markit Petrodata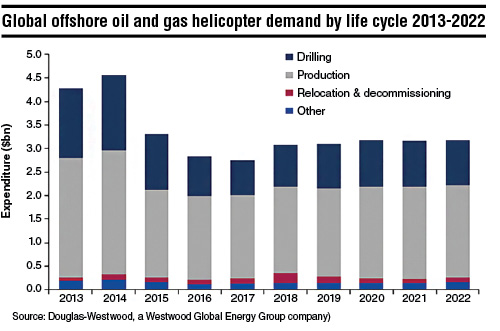 Helicopter demand veering to frontier deepwater regions
The offshore helicopter market is recovering after three years of decline, according to analyst Douglas-Westwood. Rotorcraft operators are said to have reorganized and restructured, in recognition of a near-term outlook of for modest growth. Global helicopter fleet use reached an estimated 54% in 2017.
The analyst expects demand to switch from the traditional deepwater areas, such as Nigeria, Angola, US Gulf of Mexico, and Brazil, to the Mediterranean, East Africa and Guyana. However, this will require the establishment of new bases in this region, and the re-allocation of underused aircraft.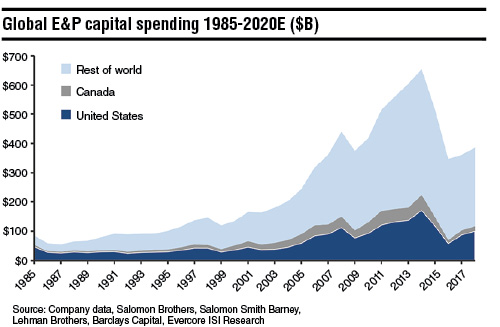 Global E&P spending to increase in 2018 for second consecutive year
Analyst Evercore ISI expects global upstream spending to rise by +7% in 2018 following a 4% increase in 2017 and a 33% decline in 2016. Global capex is expected to be up 12% from the 2016 trough, but still down 41% from the 2014 peak. North America will again lead the 2018 charge, with estimated capex up +14% year-over-year, up 67% from 2016, and down 48% from 2014.
The analyst expects the US will continue to pace the spending gains in 2018, with an estimated 15% lift to capex. Canada spending is forecast to increase +9% year-over-year. International spending is projected to increase by +4% in 2018 following a 6% fall in 2017. The pace of international spending declines moderated in 2017, as incrementally higher activity levels were offset by continued pricing pressure. However, 2018 growth is projected to be muted, the analyst says, as majors/IOCs retrench to shorter-cycle shale and NOCs continue to practice capital austerity.