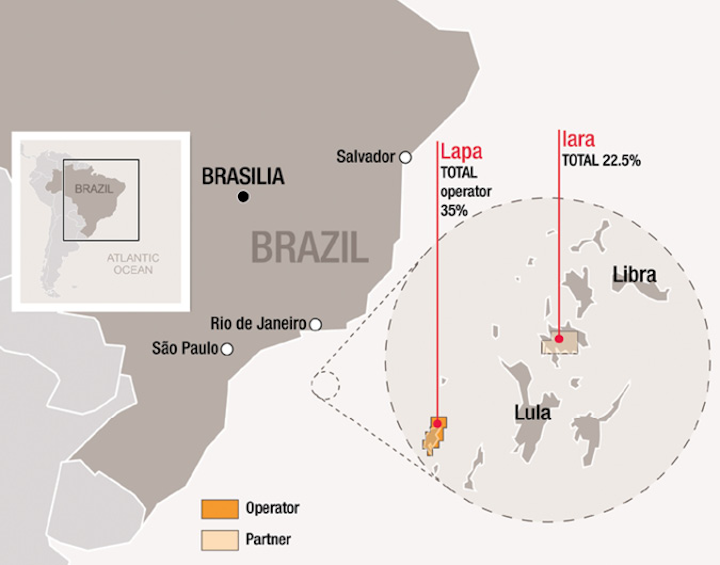 | | | |
| --- | --- | --- |
| | | Jeremy Beckman London |
North America
Mexican regulator Comisión Nacional de Hidrocarburos has authorized TGS to process data from its library of over 30,000 wells drilled across Mexico's offshore and onshore basins. The first phase will focus on exploration and appraisal wells and stand-out development wells, with the results offered to bidders assessing future Mexican lease rounds.
South America
Total has taken equity in two exploration blocks off Guyana following separate farm-in deals. One is the ultra-deepwater Canje concession, operated by ExxonMobil, where the company has acquired a 35% stake. The other is the shallow-water, Repsol-led Kanuku (Total 25%).
•••
Petrobras has extended its charter with MODEC of the FPSOCidade de Niteroi by a further six years. The vessel, which has operated at the Marlim Leste oilfield in the Campos basin since early 2009, is moored in 1,400 m (4,593 ft) of water, and can process 100,000 b/d of crude. To date it has produced and offloaded around 120 MMbbl.
Aker Solutions has secured a $101-million contract from Petrobras to perform repairs and upgrades to three FPSOS serving the Albacora Leste, Barracuda and Caratinga fields in the same basin. Work will be executed at the C.S.E. Mecanica e Instrumentação service base in Macaé, Rio de Janeiro.
•••
Premier Oil has awarded Diamond Drilling a letter of intent (LoI) to provide a rig for the Phase 1 wells for the Sea Lion oilfield development in the offshore North Falkland basin. Further LoIs are due to follow for the subsea equipment.
West Africa
BW Offshore and Ocean Installer may have started decommissioning of the FPSO Berge Helene at the Petronas-operated Chinguetti field, 80 km (50 mi) offshore Mauritania. The vessel has been in service since production started in 2006.
•••
Cairn Energy and its partners are aiming for approval by year-end from Senegal's government for their first-phase plan for the deepwater SNE oilfield development. This will entail drilling up to 25 wells connected to an FPSO, targeting around 240 MMbbl of the field's 563 MMbbl resource base. Start-up should follow some time during 2021-23.
The governments of Senegal and Mauritania (to the north) have signed a co-operation agreement that allows BP and Kosmos Energy to proceed with the cross-border ultra-deepwater Tortue gas field/LNG development. Assuming a positive final decision late this year, first gas should flow in 2021.
•••
BP and Kosmos are also partners with state-owned Petroci in five newly awarded blocks offshore Côte d'Ivoire. Tullow Oil too has agreed to terms for two new Ivorian exploration licenses, one of which – CI-524 – is close to the company's TEN fields development offshore neighboring Ghana.
In Ghana, the government has granted ExxonMobil an 80% operated interest in the Deepwater Cape Three Points block, 57 mi (92 km) offshore, in water depths ranging from 5,085-9,350 ft (1,550-2,850 m). The work program, due to start later this year, includes seismic acquisition.
•••
Erin Energy has proven oil with a well on the deepwater Oyo-NW prospect, 9.5 km (5.9 mi) northwest of the company's Oyo Central field in Nigerian offshore block 120. Erin said the result de-risks numerous other major Miocene prospects on blocks 120 and 121.
•••
Vantage Drilling's jackupTopaz Driller will undertake a 150-day program for New Age on the gas-rich Etinde lease offshore Cameroon, starting with the IM-6 appraisal well. To the south off Gabon, Borr Drilling's jackup Borr Norve has begun development drilling on the Tortue oilfield, part of the Dussafu Marin production-sharing contract.
•••
ExxonMobil is set to take a 40% interest in deepwater Petroleum Exploration License 82 in the Walvis basin offshore Namibia. Galp Energia will remain operator, with Namcor and Namibian company Custos each retaining 10% stakes.
Offshore South Africa, Qatar Petroleum has agreed to terms with Total to take a 25% stake in block 11B/12B in the Outentiqua basin, 175 km (109 mi) off the southern coast of South Africa. The two companies are already partners in projects offshore Republic of Congo and Qatar.
Mediterranean Sea
Eni has delivered a favourable verdict on its Calypso gas discovery, the company's second gas find offshore southern Cyprus. The Calypso 1 NFW well was drilled in 2,074 m (6,804 ft), encountering hydrocarbons in Miocene and Cretaceous rocks. The results, the company claimed, confirm an extension of the play containing the giant Zohr discovery in the Egyptian ultra-deepwater sector.
•••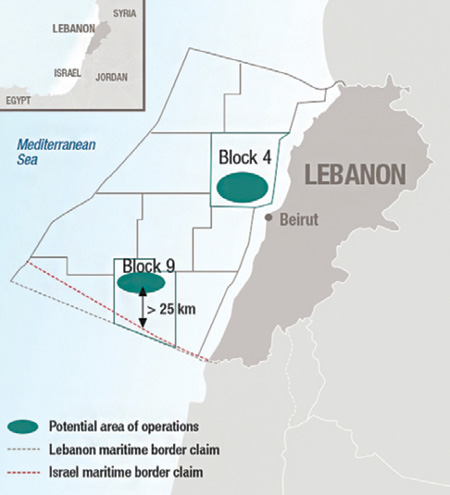 Blocks offshore Lebanon. (Map courtesy Total)
Total, Eni and Novatek have signed Lebanon's first offshore exploration and production agreements, for blocks 4 and 9, and have agreed to drill at least one well on each block during the first three years. The first will likely be on block 9 next year: although the southern tip of this concession is within waters disputed by Israel, the main prospects are over 25 km (15.5 mi) outside the disputed area, Total said.
•••
Energean has extended its offtake agreement with BP for all oil produced from the Prinos basin offshore northern Greece until end-July 2021. Energean is also expanding production by drilling up to 25 wells on the Prinos, Prinos North and Epsilon fields and adding two new platforms.
Offshore neighboring Israel, the company has contracted Stena Drilling to drill at least three development wells early next year on the Karish gas field, probably using the DP-3 ultra-deepwater drillshipStena Forth. The wells will be connected to a newbuild FPSO at Karish, 90 km (56 mi) offshore, with production due to start in 2021.
Noble Energy has signed agreements with Delphinus Holdings to supply gas to Egypt over a 10-year period from the Tamar and Leviathan fields offshore Israel, subject to government approval. For both fields, the initial rate contracted will likely be around 350 MMcf/d.
•••
BP has produced first gas from its Atoll Phase One project in the North Damietta offshore concession in Egypt's East Nile Delta, seven months ahead of schedule. The early production scheme – a near $1-billion investment – called for recompletion of the discovery well as a producer and drilling of two further producer wells. Production of 350 MMcf/d of gas and 10,000 b/d of associated condensate is sent to the onshore West Harbor gas processing plant.
Middle East
McDermott International has a new EPCI contract from Saudi Aramco to supply 13 platform jackets for ongoing development of the Abu Safah, Berri, Marjan and Zuluf fields offshore Saudi Arabia. Combined weight of the structures, to be constructed at McDermott's in-Kingdom and UAE yards, will be over 220,462 tons (200,000 metric tons). The company's vessels will perform the offshore installations.
•••
ADNOC has granted Indian E&P companies ONGC Videsh, BPRL and IOCL a combined 10% share of the Lower Zakum concession offshore Abu Dhabi. This is the first time Indian groups have been admitted to development of the emirate's hydrocarbon resources - the agreement runs until 2057. ADNOC, which will retain a 60% interest, planned to award the remaining 30% to other international companies.
ExxonMobil, which partners with the state-owned company in the Upper Zakum project, stated in a recent review that investigations last year proved over 800 MMbbl of extra oil in the field.
•••
Iran Offshore Oil Company has installed the new A20 and A21 platforms at the Abouzar field, 76 km (47 mi) southwest of Kharg Island in the Persian Gulf. Once operational, the facilities should boost production (currently 200,000 b/d) by a further 20,000 b/d.
Asia/Pacific
Owners of offshore fields in the Asia/Pacific region face a total decommissioning bill of over $100 billion, according to analyst Wood Mackenzie. It has identified nearly 2,600 platforms and 35,000 wells that may need to be decommissioned in coming years, and claims that most parties in the region are not prepared for the task ahead.
Problems include a lack of experience in the sector and insufficient clarity of government regulations.
Wood Mackenzie suggests various solutions, including the establishment of a regulatory framework based on guidelines and processes in place in areas such as the North Sea and Gulf of Mexico. Operators with extensive offshore asset retirement experience could also help draft regulations – Chevron and Shell are already collaborating with respectively Thai and Bruneian regulators through knowledge transfer and pilot projects, the analyst points out. For areas involving large numbers of aging wells and platforms, it adds, batch decommissioning could be the way forward, involving different operators co-operating across various blocks, thereby reducing costs.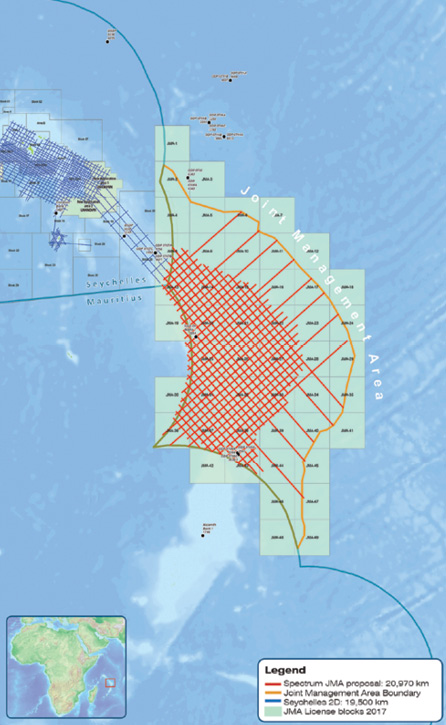 Mascarene Plateau 2D seismic coverage. (Map courtesy
Spectrum Geo)
East Africa
SpectrumGeo has agreed to acquire and process 20,000 km (12,427 mi) of new 2D broadband seismic over the Joint Management Area (JMA) covering the offshore Mascarene Plateau between Mauritius and the Seychelles. The data-set will cover exploration blocks delineated by the Joint Commission that administers the JMA under an Open Door licensing system. Despite the location in the heart of the Indian Ocean, 20% of the JMA area is in water depths of less than 1,000 m (3,281 ft), with potential for oil from pre-volcanic source rocks based on evidence of slicks captured on satellite images.
•••
L&T Hydrocarbon Engineering has a $229-million EPCI contract from ONGC for the Bassein Development 3 well platform and pipeline project offshore western India. The scope includes supply of three new wellhead platforms, a 23-km (14.3-mi) subsea pipeline, and modifications to 10 existing platforms. The development covers three small fields in blocks B-146, BSE-11 and NBP-E, and should be completed by May 2019.
•••
Shell has agreed to sell its 22.2222% interest in the giant Bongkot gas-condensate field offshore Thailand and adjoining acreage to PTTEP for $750 million. Following completion of the transaction, PTTEP will operate with a two-thirds interest, the remainder held by Total.
The sale will help Shell achieve its target of raising $30 billion from divestments to focus on core E&P areas.
•••
Petronas and Twister are collaborating to apply the latter's technology for processing acid gas fields in the Malaysian sector that contain large quantities of carbon-dioxide (CO2). Their program involves developing and fabricating a skid-mounted Crystallizer vessel (similar to the Twister hydrate separator) for testing the concept of melting CO2 solids and producing liquid CO2 for reinjection.
•••
CNOOC expects to bring onstream four new projects offshore China this year: the Dongfang 13-2 gas fields, the Penglai 19-3 oil field 1/3/8/9 comprehensive adjustment project, the Weizhou 6-13 oil field, and the Wenchang 9-2/9-3/10-3 gas fields. Globally the company expects to operate or participate in 132 exploration wells this year and to acquire around 19,000 sq km (7,336 sq mi) of 3D seismic.
•••
Premier Oil and partners Mubadala Petroleum and KrisEnergy have secured the Andaman II license under Indonesia's 2017 License Round. This is in the barely explored North Sumatra basin offshore Aceh – based on direct hydrocarbons indicators from existing 2D seismic, Premier views this as a potentially strong play. Any discoveries that follow could be developed to service the company's clients in North Sumatra. Initial plans call for acquisition of 3D seismic.
Australia
National Energy Resources Australia has agreed to provide $115,000 of funding for the Transforming Australia Subsea equipment Reliability (TASER) project, which Wood is leading on behalf of Chevron, Shell and Woodside. This is a follow-up to the Subsea Equipment Australian Reliability (SEAR) JIP, also fronted by Wood.
Main aims are to improve subsea equipment design and to reduce the need for interventions in Australia's challenging warm water offshore environment: off Northern Australia, marine fouling is a persistent problem affecting subsea equipment. TASER will investigate novel coatings, materials and technologies to address calcareous deposition and growth of marine organisms on subsea facilities.