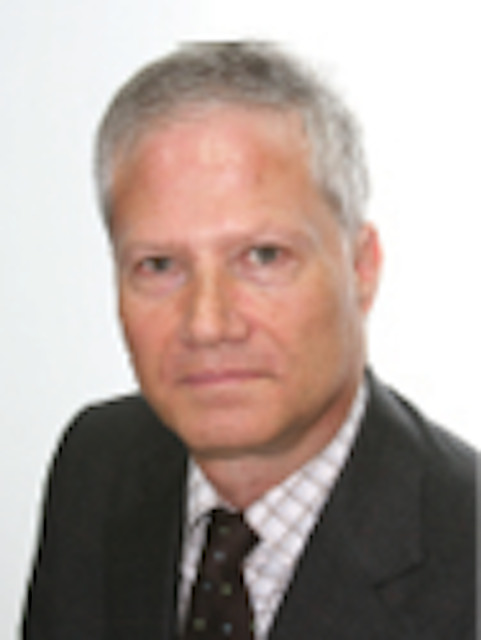 North America
TGS and PGS are deploying two Ramform vessels, theHyperion and Sterling, for their eighth season of seismic data acquisition off eastern Canada. One program is the 8,000-sq km (3,089-sq mi) Tablelands 3D Geostreamer survey over the Flemish Pass and Orphan basins offshore Newfoundland; the other involves expanding coverage of last year's Harbour Deep and Cape Broyle 3D survey. In both cases, final processed data should be ready next spring.
Husky Energy has discovered oil with the White Rose A-24 well in Newfoundland's Jeanne d'Arc basin, 10 km (6.2 mi) north of the SeaRose FPSO. The well encountered over 85 m (279 ft) of oil-bearing sandstone.
Brazil
Equinor (formerly Statoil) has completed transactions covering two major deepwater oilfields in the Campos basin. One, valued at up to $2.55 billion, gives the company a 25% share of Petrobras' license over the Roncador field, and associated production of around 60,000 boe/d. The company plans to apply its IOR experience offshore Norway to help Petrobras lift remaining recoverable volumes from 1 Bboe to 1.5 Bboe.
The other deal entailed transferring 39% of the BM-S-8 block containing the Carcará field to ExxonMobil and Galp. The same partners are present in the adjoining Carcará Norte block and now have full control over the unitized field which is thought to hold over 2 Bboe recoverable. After firming up the resource potential of the area, planning will start on development, with Equinor targeting first oil during 2023-24.
West Africa
Bissau Exploration Company has signed an agreement with state oil company Petroguin to jointly explore, develop and produce hydrocarbons in block 4b offshore Guinea Bissau.
•••
Two West African countries are reportedly preparing new licensing rounds. Ghana's Energy Ministry plans to offer nine new blocks off the country's western coast during 2018-19, with state-owned GNPC set to be allocated one of the blocks. Republic of Congo is said to be considering staging oil license tenders in September for 15 offshore and onshore blocks in the Cuvette basin.
•••
Repsol and partner Woodside Energy have discovered oil in the Luna Muetse (E13) block offshore Gabon. According to Spectrum Geo, the Ivela-1 well penetrated a 78-m (256-ft) gross oil column. It follows an earlier pre-salt discovery by Petronas in the Boudji prospect in the nearby Likuale (F14) block.
•••
The Total-led block 17 partnership have committed to the Zinia 2 deep offshore development, 150 km (93 mi) offshore Angola. This will involve drilling and tying back nine wells in 600-1,200 m (1,968-3,937 ft) water depth to the FPSOPazflor. Total said design simplification measures more than halved the development cost, now estimated at $1.2 billion.
In addition, the company has signed a 50:50 risk service agreement with Sonangol for Angola's ultra-deepwater block 48. Commitments during the first two years include at least one well.
•••
Chariot Oil & Gas has contracted the deepwater drillshipOcean Rig Poseidon to drill the first exploratory well on the PEL 71 license in the Walvis basin offshore Namibia. This will test the potential 459-MMbbl Prospect S, a dip-closed structural trap with multiple targets in Cenomanian-Turonian and deeper Albian-Aptian formations.
Baltic Sea
The European Union's Innovation and Networks Executive Agency has signed a co-financing agreement for the Baltic Pipe gas export project with Gaz-System and Energinet. The proposed pipeline will transport gas from fields offshore Norway, initially to end-users in Denmark and Poland.
Western Europe/Mediterranean Sea
Eni and Galp were reportedly preparing to drill the Alentejo prospect in 1,000 m (3,281 ft) water depth offshore Portugal, having secured environmental impact clearance.
•••
Subsea 7 has an EPCI contract from Burullus Gas Company for the West Delta Deep Marine Phase 9b development offshore Egypt. This involves tying six new wells to existing subsea facilities via umbilicals and flexible flowlines. Petrojet is fabricating some of the subsea structures and spools at its yard near Alexandria; offshore installations should start during 2Q 2019.
EGPC and EGAS have reportedly invited bids for 27 Egyptian offshore and onshore blocks, including 13 in the Mediterranean Sea and three in the Gulf of Suez.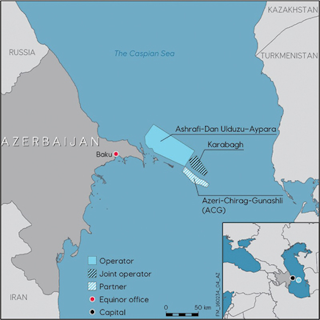 Equinor/SOCAR's joint license areas offshore Azerbaijan. (Courtesy Equinor)
Caspian Sea
Azerbaijan's president Ilham Aliyev has opened the new Southern Gas Corridor pipeline network. This will initially transport gas from the Shah Deniz field in the Azeri offshore sector to Turkey via Azerbaijan's expanded Soth Caucasus pipeline and the new TANAP pipeline system – supplies will extend to Western Europe from 2020. According to Shah Deniz operator BP, the current Phase 2 development will increase Azerbaijan's gas production by16 bcm/yr.
Equinor and SOCAR has signed a joint appraisal and development agreement for the Karabagh offshore oilfield, 120 km (75 mi) east of Baku and close to the Shallow Water Gunashli field and the ACG offshore complex. The two companies also signed a production-sharing agreement for the Ashrafi, Dan Ulduzu and Aypara exploration area 100-110 km (62-68 mi) northeast of Baku.
•••
Lukoil and KazMunayGas have a `Principles Agreement' covering the Zhenis license area 80 km (50 mi) offshore Kazakhstan in water depths of 75-100 m (246-328 ft), close to proven fields. They plan to progress the arrangement to qualify for exploration and production in the block.
Middle East
Aqualis Offshore has installed a 1,800-ton steel jacket offshore Bahrain on behalf of EPC contractor GS E&C for the Bahrain LNG import terminal. Aqualis provided engineering service to support load-out, transportation to the offshore site, float-off from the transport vessel by means of buoyancy tanks, and lowering to the seafloor through ballasting. This avoided the need for a large installation vessel.
East Africa
CGG has completed acquisition of 15,400 sq km (5,946 sq mi) of 3D seismic over blocks Z5-C and Z5-D in the outer Zambezi Delta basin offshore Mozambique. The company expects to release the fasttrack pre-stack time migration data during 4Q, ahead of a license round next year.
The Anadarko-led Mozambique LNG1 Co has signed a heads of agreement with Centrica and Tokyo Gas for long-term supply of LNG from the Golfinho/Atum gas fields in Mozambique's offshore Area 1 concession. The onshore LNG plant will comprise initially two trains with total capacity of 12.88 MMt/yr.
Indian Sub-Continent
Reliance Industries has invited bids for an FPSO for its MJ project in 600-1,200 m (1,968-3,937 ft) water depth in the KG-D6 block offshore eastern India. Analyst Rystad Energy said large new deepwater developments will become the key driver for growth in India's offshore sector, with shallow-water projects increasingly dominated by brownfield investments.
ONGC has implemented its new 'Company within Company' concept at its giant Mumbai High complex off western India in order to improve efficiency of offshore drilling operations. This year the company plans to drill 535 wells across the country, including 24 deepwater wells for its Cluster-2 development in the KG-DWN-98/2 project off the east coast.
•••
Schlumberger subsidiary Eastern Echo DMCC will acquire, process, interpret, and license seismic data offshore Sri Lanka on a multi-client basis following an agreement with the Ministry of Petroleum Resources Development. Various 2D and 3D surveys should follow over selected offshore areas. Applying modern acquisition/processing techniques should reduce the financial and technical risk of deepwater exploration off Sri Lanka.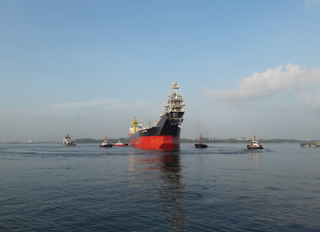 InterMoor completes work for the Benchamas FSO replacement. (Courtesy InterMoor)
Asia/Pacific
InterMoor has overseen installation of the new FSOBenchamas 2, built by MISC Berhad, at Chevron's Benchamas field in the Gulf of Thailand. The project scope included towing of the vessel from the MMHE shipyard in Malaysia to the offshore location, and engineering/analysis to support hookup operations and installation of the riser spread.
•••
PSTC Offshore Service has contracted McDermott to transport and install platform and subsea structures for Idemitsu Kosan's Sao Vang and Dai Nguyet gas/condensate field developments offshore Vietnam, in water depths of 110-130 m (360-430 ft). The program, due to be performed during 2019-21, will likely take in the central processing platform jacket, topsides float-over, a wellhead platform and associated flexible pipelines and subsea power cables.
•••
Husky Energy has discovered oil in four zones with a well on a prospect in South China Sea block 15/33, 160 km (99 mi) southeast of Hong Kong in 80 m (262 ft) water depth. Following completion of the test phase, the company planned a follow-up well on a separate structure elsewhere on the block, and this will be followed by two further wildcats later this year on nearby block 16/25. In addition, the company has signed PSCs with CNOOC for shallow-water blocks 22/11 and 23/07 in the Beibu Gulf.
CNOOC has awarded TechnipFMC a subsea contract for the Liuhua 16-2, 20-2 and 21-2 joint oilfield development project in the South China Sea, in water depths of 380-430 m (1,247-1,411 ft). The scope includes provision of 26 enhanced horizontal Christmas trees and wellheads and associated subsea/workover control systems.
•••
INPEX Masela has contracted Chiyoda International Indonesia and PT Synergy Engineering to provide pre-front end engineering design contract for the Abadi LNG project in Indonesia. This covers the offshore facilities for the Abadi gas field development in the Masela block in the Arafura Sea (subsea umbilicals, risers and flowlines and gas export pipeline). Chiyoda/Subsea 7 subsidiary Xodus Group will provide technical leadership and specific studies for the program, with Subsea 7 working on competitive installation solutions.
A 1,900-metric ton (2,094-ton) steel jacket – the first major piece of hardware for BP's Tannguh LNG expansion project offshore Papua Barat province – was recently shipped out from the Karimun yard in Indonesia for installation via the launch method. The topsides should be installed later this year, followed by the jacket and topsides for the ROA platform. These facilities and a third LNG train will lift capacity at Tangguh to 11.4 MMt/yr.
Australasia
Searcher Seismic has completed its Laurabada Ultracube 3D reprocessing program offshore Papua New Guinea. This entailed application of modern broadband de-ghosting and pre-stack depth migration to two open-file 3D data sets, one covering near-shore, shallow water and the other over deepwater in the Gulf of Papua. One of the goals is to improve definition of large carbonate structures in Laurabada West.
•••
ConocoPhillips has started the front-end engineering design (FEED) phase of its Barossa field development offshore Northern Australia, which will supply further gas to the Darwin LNG complex. This will feature an FPSO, subsea production system and gas export pipeline in waters 300 km (186 mi) from Darwin. Two groups – TechnipFMC/Samsung Heavy Industries and MODEC – are in a design competition for the FPSO. INTECSEA is working on the subsea infrastructure requirements.
•••
Polarcus was due to start a 600-sq km (231-sq mi) 3D seismic survey this month over the Beehive prospect in the WA-488-P permit in the Joseph Bonaparte Gulf, 225 km (140 mi) west of Darwin. Santos is operating the program; partner Melbana Energy claims that Beehive, a Carboniferous-age, isolated carbonate build-up in 40 m (131 ft) water depth, is potentially one of Australia's largest undrilled structures.
•••
Commissioning has finished ofIchthys Explorer, the central processing facility for INPEX's Ichthys LNG project offshore northwest Australia. The company expected to start processing of gas from the wellhead after final safety checks, followed by first shipment of cargoes in September to the new onshore LNG plant in Darwin. •