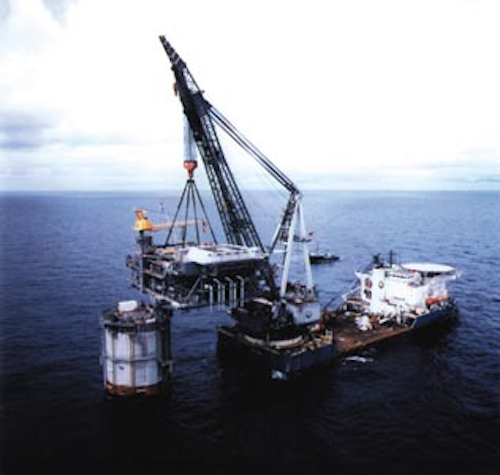 James Dodson
James K. Dodson Company
Leonard Le Blanc
Editor
US Gulf setting new records in production;
1997 drilling plans will push rig supply harder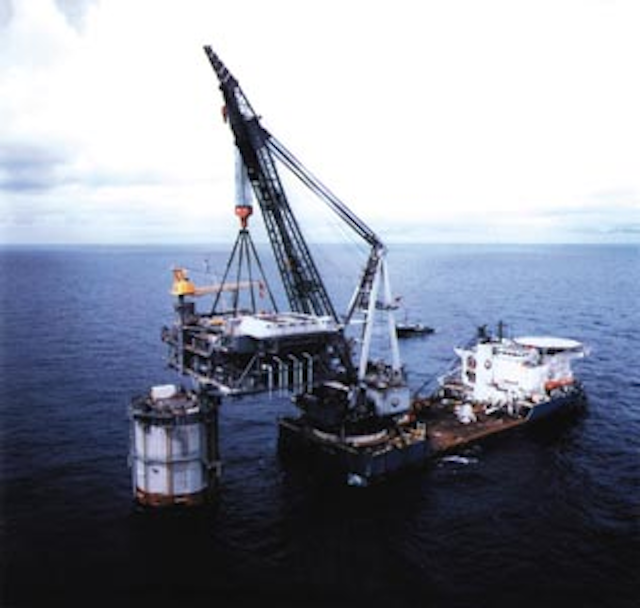 The Neptune Field spar deck is shown being set on the hull by McDermott's DB-50.

Oil and gas production in the US Gulf of Mexico is continuing to climb in the wake of new demand on output and better finding and development tools. Annual oil output for 1996 is projected to top the record 356 million bbl produced in 1986, and continue climbing in 1997. Natural gas production in 1996 was up 7% over 1995 production, and at 4.952 tcf, established a new record. Gas producers are expected to add another 7% on top of the 1996 gain by the year 1998. The 1986 oil production record was set following five years of high exploration rates and just before oil prices collapsed. Oil production is expected to hit 360 million bbl for all of 1996, and is projected to surge 8% higher in 1997 and 1998 as more deepwater fields are brought onstream. There are now 64 prospects in water depths over 1,000 ft (see following article), of which eight are in water depths exceeding 4,000 ft. Eighteen deepwater prospects have been developed and brought onstream and 21 have been marked for development over the next 2-5 years. In water depths greater than 1,500 ft, operators have found hydrocarbons in the range of 42-47% of all wells drilled, with a commercial success rate of about 22%. This rate is higher than on the continental shelf and flex trend (600-1,500 ft) and comparable to the rate that US Gulf of Mexico operators experienced 50 years ago when they first ventured offshore. During the coming year, producers are expected to drill 1,072 wells in the US Gulf of Mexico, a projection based upon current drilling activity, rig availability, and drilling permits granted during the final months of 1996. This drilling rate is 7% more than the 1,000 wells drilled in 1996. The activity gain comes despite the slowdown in drilling by Shell Oil and several other major operators.
Rig dilemma
Even if more large fields are discovered in the deepwater Gulf of Mexico and technology continues to lower the cost of recovery, exploration and development are becoming entangled in a simple numbers game. There are 3,674 leased tracts undrilled in the US Gulf of Mexico, of which 1,802 are in water depths of more than 1,500 ft. Despite the new and upgraded mobile drilling units coming on the market, several contractors are estimating the US Gulf will be short at least 3-8 drilling units. Will operators elect to push up drilling day rates by as much as 20-40% over current rates to encourage newbuilding, or will drilling contractors reinvest new earnings in new construction without the necessary term contracts? More than likely, both will give way some, but don't expect these efforts to satisfy deepwater mobile rig demand. The lessons of the 1980s have left an impression forever. Presently, day rates are continuing to rise slowly, even as contract lengths stretch out. That slow creep could change somewhat later this year if producers are not happy with the prospect of surrendering large numbers of longer-term leases in deepwater undrilled. There are 234 undrilled leases scheduled to expire in 1997, and 3,406 undrilled leases will expire in the 1998-2006 period. Flex-trend action off The Flex trend, an area of the US Gulf of Mexico just beyond the continental shelf where depths build quickly to the 1,500 ft contour, have held much of the exploration and development interest for the past 15 years.
However, this area is quickly becoming the least interesting in the US Gulf. Producers are focusing on two plays: deepwater, in depths beyond 1,500 ft, and shallow water under 600 ft where resurveying with 3D seismic is underway to locate new natural gas and subsalt oil deposits. Only 180 leases (as of December 10, 1996) out of a total of 3,674 undrilled leases expiring in the 1996-2006 time frame in the US Gulf of Mexico are in water depths of 600-1,500 ft. By contrast, there are 1,692 expiring leases in the sub-600 ft range, all of which are expiring before 2002, and 1,802 expiring leases in water depths beyond the 1,500 ft depth contour.
All acreage leased
The rate of leasing drives virtually all other activities in the US Gulf of Mexico, and tendencies by various companies provide an insight into how opportunities are perceived. The highlights of gross leaseholding acreage in all water depths in the US Gulf of Mexico by 136 operators are as follows: ? Shell holds 12% of leased federal acreage in the US Gulf of Mexico - about 3.7 million acres. Shell also ranks first in primary term acreage, producing acreage and producible acreage. ? BP ranks second in leaseholding, at 7% of all leased acreage, but is a relative newcomer in terms of producing and producible acreage. The firm ranks second in primary term holdings, but 21st in producing acreage and 26th in producible acreage. ? Zilkha Energy is the fastest rising newcomer, ranking 7th in gross leaseholding acreage, 5th in primary term holdings, and 5th in producible acreage. In contrast, the firm ranks 49th in producing acreage, but its fifth highest position in the producible ranks guarantees a substantial rise in production in the coming years. ? Vastar, CNG, Texaco, Walter Oil & Gas, Enron, Seagull, and Newfield all have substantial positions in terms of producible acreage waiting to come onstream.
Shelf acreage leased
The highlights of gross leaseholding acreage on the continental shelf (600 ft and under) in the US Gulf of Mexico by 130 operators are as follows: ? Chevron holds over 6.7% of all acreage on the continental shelf, more than half of which is already under production. The firm ranks fifth in producible acreage. ? Zilkha Energy occupies the second position (6.3%) overall, but has a very high 94% of it's shelf leaseholdings under primary term lease and holds the first position in that category. Of the firm's total leaseholdings in all water depths, over 96% are on the continental shelf. ? Shell Oil, which recently established a new internal group to pursue oil and gas on the US Gulf continental shelf, holds the third position in gross leaseholdings, but has first position in producible acreage. The latter is an indicator of additional growth expected by Shell in the future. ? Mobil, Unocal, Amerada Hess, Oryx all have much of their acreage already in production, but very little in the producible category, suggesting downsizing in terms of presence on the continental shelf.. ? CNG Producing, Newfield, Texaco, and Enron all have substantial portions of their gross leaseholdings on the shelf in the producible category, suggesting an emphasis on boosting gas production in the future.
Drilling activity
Next after leasing, drilling activity provides an insight into operators are deploying now-scarce resources, meaning drilling units.
The highlights of US Gulf of Mexico wells drilled in federal and state waters in all water depths by 98 operators are as follows: ? While Shell Oil continued to set the pace in 1996 as it did in 1995 on the continental shelf and in deepwater, it has pulled back on exploration to put funds into field development. Shell reduced the number of wells by one-third in deepwater and by one half on the continental shelf in 1996 from 1995. ? Other major drillers pulling back on wells drilled in 1996 compared with 1995 include Mobil, Amoco, Kerr-McGee, Marathon, and Seagull. ? Chevron, Vastar, Exxon, Unocal, Texaco, and Pennzoil all drilled more wells in 1996 than in 1995.
Production by depth
The highlights of bbl oil equivalent (BOE) production, which includes oil, gas, and gas liquids, by 115 operators in the US Gulf of Mexico are as follows: ? Shell Oil was leading all producers in 1996 (10/96 YTD) with 13.9% of all BOE production in the US Gulf, but produced over 82% of all BOE production in water depths beyond 1,500 ft and 18.4% of all BOE in the 601-1,500 ft water depth range. ? Texaco took over the second ranking of BOE production in 1,500 ft plus water depths in 1996, replacing Conoco, which was second behind Shell in 1995. Conoco's deepwater BOE production in 1996 was significantly off it's 1995 production in deepwater. ? Ranking third and fourth in deepwater (1,500 ft plus) BOE production in 1996 were Conoco and Enserch, respectively. By October of 1996, other producers with a share of deepwater production included Oryx, BP, and Exxon. ? Other major BOE producers in the US Gulf without deepwater production include Chevron, which ranks second overall, Mobil (ranks 4th), Unocal (ranks 6th), Marathon (ranks 7th), Amoco (ranks 8th), Pennzoil (ranks 9th), and Vastar (ranks 10th).
Reserves, production picture
The US Gulf of Mexico has produced 24 billion BOE over its 50-year history, with another 8 billion BOE discovered but not produced. A number of producers believe that 20-30 billion BOE remain to be discovered, of which 18 BOE are resident under some type of salt structure and six billion are in ultra-deepwater. Salt canopies are believed to cover at least 45% of the remaining BOE reserves in water depths beyond the 4,000 ft contour. Of the 20-30 billion BOE estimated remaining in the US Gulf, two billion are thought to reside just outside of existing producing fields, which is why re-drilling of mature fields continues to occupy a number of drilling units. Production in the US Gulf is likely to remain at the one billion BOE/year rate for at least the next 10 years, enhanced by growing deepwater oil flow from the 64 prospects yet to be developed. However, all of the prospects discovered in water depths beyond 1,000 ft may be just the "tip of the iceberg" if geological opportunities in ultra-deepwater are a continuation of trends found recently in shallower water.
Holding ROP
During the era of low oil prices, operators gained a much deeper appreciation for life cycle costs and recovery factors. The result was a push for more information from every borehole. As drillstrings carry new sensing tools behind the bit, the collective rate of penetration (total ft/total wells/time) begins to slow to accommodate the measurement and adjustment process. In recent years, more wells have been drilled horizontally or in an extended reach mode, where drillstring weight could no longer be used to advantage.
The collective rate of penetration (ROP) began to drop, but stabilized as new drilling systems produced faster drilling times in the vertical mode. There are two factors that conceivably could slow collective ROP in the US Gulf in the coming years: ? Maximize pay zone penetration: 3D seismic is providing the subsurface vision to spot nearby pay zones that drillers had blindly bypassed in previous years. With reserve size dropping, recovery from as many producing formations as possible has become a priority. The bit has to vector to reach all of the pay zones. ? Maximize pay zone exposure: Thin producing zones are becoming a higher profile target in the US Gulf with the means to place multiple completions through one vertical borehole. Drillstring tools that can steer laterally along thin pay zones need a slower drilling pace for evaluation and bit-steering. Conveniently to both factors, technology is providing the sliding completion systems selectively operated from the surface to assist in maximizing recovery from multiple pay zones and thin reservoirs. The significance of a slowing ROP in the US Gulf in the future is that the collective period of time spent on drilling could rise, further aggravating the growing demand for mobile drilling units, especially in deep water. New developments that can speed up drilling both vertically and laterally could keep ROP within range of past years.
Copyright 1997 Offshore. All Rights Reserved.