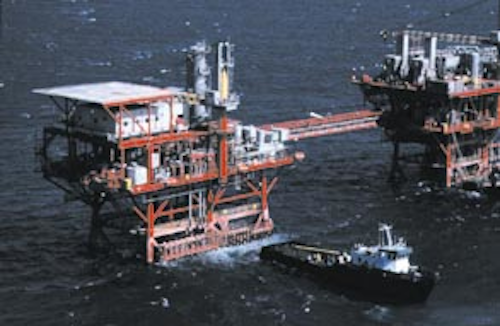 Dev George
Houston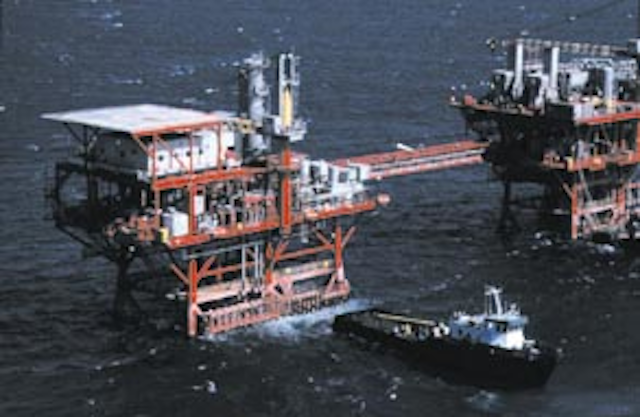 Amoco platform offshore Egypt.
Egypt enters the LNG market
Egypt's ever-expanding Mediterranean gas province centered on the Nile Delta has now propelled the once energy-poor country past self-sufficiency into the realm of world-class gas exporter. For years, Egypt had to rely on a cobbled together complex of energy sources that relied heavily on electric power generation via the Aswan High Dam on the upper Nile and hydrocarbons from the Gulf of Suez and Western Desert.
But times have changed. Amoco, Agip, British Gas, and Egyptian General Petroleum Corporation have been steadily increasing the known natural gas reserves in Egypt's Mediterranean aquatory - now officially estimated at some 50 tcf - to such a degree that decisions had to be made about how these vast quantities of gas would be exploited, and for several months that question has occupied many of the powers that be at EGPC and the Ministry of Petroleum.
A gas pipeline company has been set up, Egypt Trans-Gas Co, in a joint venture between EGPC and Amoco, IEOC, and British Gas, and pipelines linking the Nile Delta, Western Desert, and the current gas grid are being planned, since Egypt's domestic consumption is expected to rise to 2.8 bcf/d within a decade.
Initially, an export pipeline to Israel was thought to be the solution to much of the marketing question, with that country requiring some 600 million cf/d in about five years. That, however, has been bogged down by price negotiations and the political implications of the Netanyahu government.
As a consequence, the feasibility of establishing an LNG plant in the Delta, under study by EGPC and its partners for some time, has been approved and a first customer contracted. On 13 November, at the Middle East and North Africa Economic Conference Cairo, Dr. Hamdi el Banbi, Egypt's Minister of Petroleum, and Mr. Recai Kutan, Minister of Energy and Natural Resources of Turkey, announced that a memorandum of understanding for exports of liquefied natural gas had been signed between EGPC, Turkey's Botas Petroleum Pipeline Corporation, and Amoco Egypt Oil Company. First deliveries of LNG under the project are expected to begin in 2000. Capital costs are expected to be in the range of US$2-4 billion. EGPC and Amoco will construct and operate the gas liquefaction plant as well as handle the transportation and commercial sale of the LNG to Turkey. A second joint venture, to be established by BOTAS, will construct and operate a regasification plant and other facilities near Izmir, Turkey. BOTAS will be the principal purchaser of the LNG under long-term contract in quantities up to the equivalent of 10 billion cubic meters (7.3 million tons) per year.
Other regional markets are under consideration, as is the possibility of other partners in the LNG project. According to William G. Lowrie, President of Amoco Corporation, Egypt is destined to become a major natural gas producer and a key energy provider in the East Mediterranean region for many years to come.
Finally the other shoe...Iraqi oil
No one is surprised by the return of Iraq to the world oil market, only by the inordinate time the process has taken. Indeed, no one is decrying the return, either, at least no one in the industry, since the long run-up to the return allowed everyone to be thoroughly prepared and, in fact, anticipating it with some amount of impatience.
Everyone knew a long time ago that the punishment aspect of the embargo really didn't phase Saddam Hussein, but it did play its part in sustaining world oil production at a respectable level, thereby maintaining the elevated price per bbl - and it has wrought grave punishment on the Iraqi people, who have suffered unnecessarily because of the embargo and Saddam Hussein's recalcitrance. The price itself barely bowed on the news of Iraq's return, and quickly bounced back.
By accepting the conditions of United Nations Resolution 986, Iraq is now about to sell up to $2 billion in oil or about 550,000-800,000 b/d over the next six months to pay for sorely needed food and medical supplies. And even though the Iraqi oil ministry denies any deals with American or British companies, the majors are clamoring to contract as much of that oil and they can - Texaco, Total, and Elf are at the front of the line. First oil should be flowing from Mina al-Bakr and through the Turkish pipeline just about now, but don't expect to see the total lifting of sanctions any time soon, since weapons destruction and monitoring have yet to meet UN requirements.
Petronas power-play: no E&P in Kelantan
Kelantan is one of the poorest states in Malaysia, an economically depressed province that lies between western Malaysia's two principal oil and gas producing regions, the offshore Malay-Thai joint development area to the north, where upward of 7 tcf of gas reserves are located, and the offshore Trengganu state area, where the Malaysian national oil company Petronas's exploration subsidiary Cariga* and its partner Esso Production Malaysia have made numerous major oil discoveries. Oil has recently been discovered in Kelantan waters, too, but, in a rather callous squeeze-play designed to force a change of state government, the Malaysian central government has declared Kelantan's entire aquatory off limits for exploration for both oil and gas.
As it happens, Kelantan is the only one of Malaysia's 13 states ruled by the opposition, muslim Parti Islam Se-Malaysia (PAS). The majority UMNO, part of the National Front, controls the rest of the country and the central government, including Petronas. By law, state governments are to receive 5% of production sharing revenues from all discoveries in the state and its waters, thus UMNO is making an all-out effort to bring down the PAS leadership and force a new election. (PAS has held the majority in Kelantan since 1990, but was of no consequence to the central government until the recent oil find.)
Kelantan has appealed to both internal forces and foreign organizations to try to have the ban lifted, but to no avail. All PAS executive orders have been blocked, as have any development and infrastructure projects. Even plans for a US$2.8 billion peninsular gas utilization project pipeline from Songkla in southeastern Thailand to Trengganu state have been altered to bypass Kelantan.'
---
Briefs. . .
Mideast:
Iran's Caspian Sea Mehdad prospect has proven to be dry, despite three test wells drilled last year by Khazarneftegaz, using the semisubmsersible Khazar 5. Farkhad Agamoglanov, KZNG's head, says oil is in the Iranian Caspian, but not where they drilled.
Azerbaijan's Dan Ulduzu and Ashrafi Fields will be developed by a consortium composed of international oil companies, including Amoco, Delta (Saudi Arabia), Itochu, Socar, and Unocal, as well as a likely Russian partner, either Lukoil or Tyumen.
Qatar's Ras Laffan LNG project, a joint venture between Qatar General Petroleum and Mobil, which is developing the 9 tcm North Field, is selling 7% equity in the project to Japan's Itochu and Nissho Iwai.
Americas:
The US Gulf of Mexico Destin Dome area off Florida is proving a viable prospect, but is being blocked by local environmentalists. Chevron, Murphy Oil, and Conoco, are seeking to develop the Destin Dome 56 unit, which has had two commercial wells drilled. A review is under way to determine if drilling can proceed.
Canada's West Bonne Bay prospect, about 15 km northeast of Terra Nova, on Newfoundland's Grand Banks, is to be explored early this year by Amoco, which paid C$90 million for the tract in 1995. Sedco Forex will carry out the exploratory drilling with the Bill Shoemaker.
Venezuela's LNG project, Sucre Gas (Cristobal Colon), the long touted $4.3 billion JV between PDVSA's Lagoven, Exxon, Mitsubishi, and Shell, has been indefinitely shelved for lack of economic viability under current gas prices.
Venezuela is offering blocks in its Third Operating Agreement Round (Apertura) in both the Gulf of Paria and Lake Maracaibo. PDVSA says the purpose if the round is to rehabilitate, reactivate and further develop areas that are currently in production.
Europe:
Bulgaria's Black Sea Block III is being drilled now by Texaco and partners (Enterprise, OMV, and the Bulgarian government). Drilling is in the Galta prospect, with an aim at confirming the commercial presence of gas. The jackup Atlas is drilling in 35 meters water depth.
Greenland's Fylla area off Nuuk in West Greenland has been licensed to a consortium of Statoil, Phillips, Dopgas and Nunaoil, for exploration. Statoil, operator of the 9,487 sq km area, plans seismic surveys this summer and a first will in early 1998.
Africa:
Ghana National Petroleum has signed an agreement with the Export Import Bank to provide US$300 million for development of the Tano oil and gas fields. Gas from the fields will be used to generate electricity for the western coastal area of the country.
South Africa's first well is set to go on production this year on the Oribi Field off the south coast. It will be produced to an FPSO in Mossel Bay, with production estimated at 20,000 b/d oil.
Asia:
Pakistan is venturing offshore with award of a "reconnaissance permit" to Digicon Exploration for 2D seismic along 37,436 sq km of the Makran Coast offshore the state of Baluchistan.
Bangladesh offering of 12 new offshore blocks is set for this month. The deadline for submitting bids is June 30th. Terms have been liberalized considerably to attract foreign participation and new model joint venture contracts are available.
Natuna on hold indefinitely, says Pertamina, after Arco's Irian Jaya discoveries in the Wiriagar Deep and Berau Fields, and British Gas's find in the Muturi concession next to them, which are thought to hold more than 20 tcf gas. It is believed President Suharto decided to postpone Natuna himself.
China's Liuhua Field FPSO successfully withstood Typhoon Sally's 88-ft seas and 110 knot winds when the storm passed within a few miles of the field. The FSPO Liuhua, a monohull MODEC vessel, was permanently moored.
New Zealand has three years or so to find new gas reserves within its aquatory, else its small but important petrochemical industry will fold. Thus a new petroleum policy has been announced to attract exploration of some 515,000 sq km of mostly virgin waters - a policy said to be one of Asia-Pacific's best.
Australia's Tasmania offshore region has been opened for three more exploration blocks. Applications are being accepted for King and Flinders Islands aquatory and an area off the west coast of Tasmania.
Vietnam's Dai Hung, may be taken over by Petronas. A disappointment to BHP due to its smaller than expected reserves, the company may sell its 44% interest to the Malaysian state oil company. Petronas already holds a 20% stake in the field.'
Copyright 1997 Offshore. All Rights Reserved.