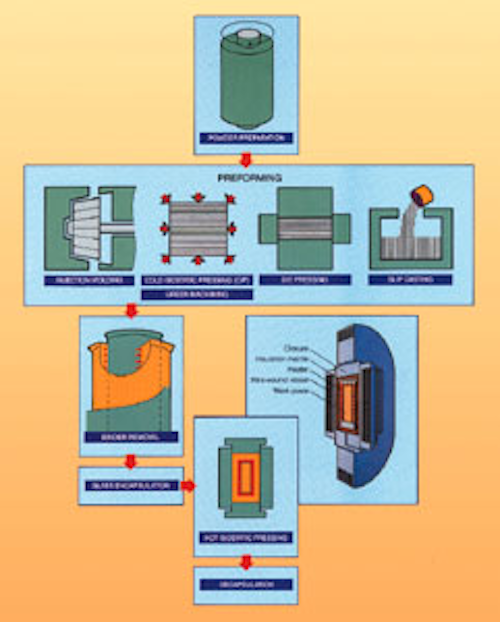 AC Cerama's process for the manufacture of high performance ceramics. In the glass-encapsulated HIP process, the ceramic powder is heated to 50-70% of its melting point and subjected to a gas pressure of 100-300MPa. The glass capsule works as a gas-tight barrier on the performed ceramic powder body.
Since its management buyout from the ABB Group in 1993, AC Cerama has focused on its own production, although it remains firmly committed to developing ceramic materials with properties that include high strength, low weight, extreme resistance to corrosion, exceptional hardness and high operating temperatures.
"The most important aspect is our capability to design tailor-made materials and produce high quality ceramics," says managing director Tore Garvare.
Essential to the production of high performance ceramics is hot isostatic pressing. AC Cerama has two HIP presses, one of which is the largest in the world for high temperature use. The HIP process creates a pore-free, fully dense ceramic material free of internal cracks. This is particularly relevant to subsea components such as valve parts, seals and other parts subject to wear and tear.
With roots in the nuclear industry, AC Cerama has experience to offer the offshore industry in a variety of applications using materials such as HIP'ed boron carbide, third only to diamonds and cubic boron carbide for hardness. The company's range of ceramic materials also includes silicon nitride and titanium diboride as well as a variety of ceramic composites: all are well suited to the drive towards increased performance and better process economy.
Offshore seal
As a practical example, a new material has been developed in collaboration with Huhnseal which makes mechanical seals used in oil pumps at water depths of 300 metres. Test results on these seals have already shown considerable promise. This is a new application for the industry, driven by the need for longer life materials that require less maintenance. Commercial use is expected in a couple of years.
Garvare also sees a possible application for the offshore industry in a range of buoyancy spheres which have been developed for manned and unmanned submarines. With wall thicknesses of 1mm, the spheres come in two sizes - 3 and 4 inches - and are pressure tested to 1,000bar (corresponding to a depth of 10,000 metres) before delivery.
AC Cerama is currently involved in research to produce low cost ceramics capable of withstanding temperatures up to 1,600!C. The aim is to develop ceramic composites based on oxide fibers in a matrix for high temperature applications. The four-year research programme, which started in 1994, is in conjunction with Rolls-Royce, Volvo ero Corp., Sweden, SNECMA and ONERA in France.
Testing methods
One problem that AC Cerama is experiencing is that there are not yet internationally recognized test standards for ceramics. Other leading ceramic companies often have their own test measurements and AC Cerama also uses its own standards for published data. However, the company is involved in an international project with participants from the US, Germany, Sweden, Belgium, Japan and France in an attempt to get an industry norm accepted and is encouraged that ceramics are now being introduced into university courses, which will further understanding of their properties in the future.
"It's important to understand that ceramics should not just be used to replace metal parts," says Garvare. "That's an easy way for the process to fail. For ceramics to be most effective, the design of the final application needs to be adapted, so we like to be involved at the design stage to make sure that the key benefits of our materials are fully utilized."
Garvare also points out that although others make ceramics, AC Ceram's competitors are mainly offering different solutions. "We are ready to react when the market fully understands the abilities of ceramics and how they can be applied to improve processes."
For more information contact Tore Garvare, AC Cerama: telephone +46 934 17200 or fax +46 934 10139.