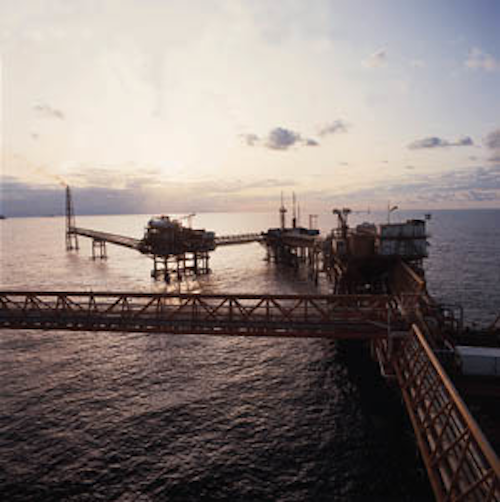 Mexico's Campeche areas set for 1997 redevelopment.
Although there appears to be at least a tacit attempt to bring the Latin American energy sector into some form of commercialization, privatization of state oil companies has actually been shelved everywhere except in Argentina, where it has brought more than $10 billion in direct investment and debt relief and led to an influx of new companies that have appreciably increased energy production, albeit, to date, almost all onshore. Brazil's Petrobras, despite rumors to the contrary, is not likely to go public any time soon, even though it is now forced to compete with private operators in Brazilian waters. Likewise, although it looked as if Petroleos de Venezuela might go public last year, it didn't happen and doesn't appear likely this year, either.
Mexico's Petroleos Mexicanos (Pemex) ridden by scandal and graft, restructured somewhat in 1995 and again last year, but as long as the current regime is in power, privatization is out of the question. Besides, at the recent 17th national assembly, the powerful oil workers union rejected the movement toward privatization and called for a return to the ethics and morality of the PRI's founding principals. About the only side effect of the changes made are that a few more turnkey projects are being offered to private and foreign concerns - several drilling contracts in Campeche Sound have been let, and Bechtel Offshore has been granted a major contract for the redevelopment of the Cantarell Complex.
MEXICO - The Mexican government is rife with corruption and appears to be giving more attention to the transshipment of cocaine than to development of its petroleum sector. (Reportedly, the country's income from the export of drugs is now greater than from petroleum.)
Both the Zapatista guerrillas in the oil-producing states of Chiapas and Tabasco and the disgruntled Partido Democratico Revolucionario continue to demand reform and fair elections, but there has been little of either so far. The depressed economy and devalued peso have prevented Pemex from any real investment in additional production capability. In fact, in real terms, crude production has not increased significantly since 1991.
Two significant events, however, may presage improvement in the petroleum sector: Pemex has scheduled three of the ten major fields discovered recently in the Mexican Gulf's Tabasco Littoral region for development - Sinan, Bolontiku, and Hayabil. The fields lie in relatively shallow waters off the coast of Tabasco state southwest of Campeche Sound. And it appears Pemex is taking another look at its northern petroleum play. PGS Exploration shot two 3D seismic surveys last year at the request of the Mexican state oil company; one was an obstructed 1,470 sq km survey area offshore Tampico, and the other was of the Saja de Oro area off Tuxpan.
A few foreign-Mexican joint ventures continue to be active in Campeche Sound, but most are entirely Mexican.
TRINIDAD - Considerable new activity has been taking place in the Trinidad and Tobago aquatory over the last year. Perhaps the most significant is that construction of the $1.4 billion Trinidad & Tobago Atlantic LNG project began in October and is to be shipping LNG to the Northeastern USA and Spain by mid-1999, when it will be producing 4 billion cm/yr of LNG for export. Amoco, British Gas, Repsol, Cabot, and the National Gas Co. of Trinidad are partners in the project, while Bechtel is the prime contractor.
Trinidad's gas province is expanding rapidly. Following a highly successful 3D seismic-assisted exploration program, Amoco drilled two new structures to discover a 3 tcf reservoir in one and the El Diablo Field in the second, which flowed 27.2 million cf/d from six zones.
Additionally, the 1 tcf British Gas-Texaco Dolphin Field has come onstream to provide another 275 million cf/d for the Trinidad & Tobago National Gas Co. Amoco, the country's largest gas producer, has increased the gas it provides to meet national demand by some 350 million cf/d, to a present total of 1.1 billion cf/d. This due to growing demand through 2019.
Amoco has also had six oilfield discoveries in Trinidad over the past year. The latest was at East Mayaro Field, where the well flowed 3,700 b/d oil and 64 million cf/d gas from two deep zones. Eight miles south of this field, Amoco made a second significant discovery with its Corallita-1 well, an untested major gas find.
Bidding on Trinidad & Tobago third round, which included 10 blocks off the country's northeast corner and nine deepwater blocks off the east coast, closed earlier this year but no awards have been announced. Oil production has been on the decline recently, but an excellent future as a gas producer lies ahead.
VENEZUELA - Whatever happened to Cristobal Colon? It reportedly still lies beneath the waters of Venezuela's Gulf of Paria, across from Trinidad. The enormous 11 tcf gasfield complex continues to await development by the Sucre Gas consortium, but the $5.6 billion project, still a controversy in Caracas, is on permanent hold. Originally meant to go onstream in 2000 with initial production of 2.3 million tons LNG a year aimed at the eastern USA market, it is now focused on Western Europe, if it ever gets back on track.
Venezuela's marginal field program has also been a failure due to the lack of interest expressed in the fields offered for private investment, a few on- and offshore prospects in the Falcon region.
PDVSA's Lake Maracaibo redevelopment project has been completed, and the Lake's 11,000 active wells have been redeveloped through redrilling, reworking, and enhanced production such as cyclic steam injection, and the entire Lake has been mapped via 3D seismic, which is producing new discoveries, including, it is said, an enormous potential reservoir at a very deep level in the southern sector of the Lake. Hopes are to expand Maracaibo production from the current 1.4 million b/d to 5 million b/d of oil by the year 2000.
BRAZIL - Although last year's reversal of policy opened the door to foreign and private participation in Brazil's petroleum sector, ended Petrobras's monopoly and the government's control of crude and oil product prices, the effect of this change has been slow in coming. Even though it is retaining all its known, highly prospective fields and their environs, Petrobras must now compete with other international oil operators and is free to seek international private partners for its present holdings and future explorations and developments. The company has begun a campaign to determine the most prospective blocks in the Campos, Santos, Espirito Santo, Sergipe, and Alagoas Basins before the first round of bids for E&P concessions is called. A new seismic survey program is underway to define a drilling plan for the next three years.
Parallel to these political machinations, however, activity has been ongoing. Petrobras continues to plunge into ever-deeper waters and, with an eye on Shell's deep drilling in the US Gulf, continues to drill wells at world-record water depths.
Brazil is now producing just over 1 million b/d offshore, thanks to additional production from two new Marlim Field platforms. (Current reserves estimates are up to 2.5 billion bbl oil equivalent - a 25% increase, but recent discoveries of several new fields as well as four giants in the Campos Basin, with more than a billion bbl in reserves, should further augment Brazil's oil reserves by at least 10%. Production from these new fields, in the year 2000, could reach 1.5 million b/d, effectively achieving the long-time goal of national self-sufficiency. One of the fields, the Albacora Leste Field, at a water depth of 1,000 meters, alone holds 550 million bbl. All the while, the company's principal development projects continue apace, the 3 billion bbl Marlim Field wells as well as Albacora II, Enchova-West, Marlim I, Bijupera/Salema, and Carapeba III, and these, too, should push Petrobras's production level past national requirements before the year 2000.
Petrobras had another discovery in Brazil's deepwater Campos Basin Marlim Sul region. It is the country's deepest discovery yet, at 1,709 meters. Estimated production is 5,000 b/d oil and 2 million cm/d gas. The company has just completed drilling its ultra-deep 6-MLS-3-RJS (Marlim Sul #3) appraisal well at a water depth of 1,709 meters, 125 km offshore in the Campos Basin. Tests indicate potential production of 5,000 b/d oil and 70,000 cm/d gas.
ARGENTINA - Although privatization proved very successful for Argentina's petroleum sector, it has not attracted more than a passing interest in the Argentine aquatory. Total's declining Hidra Field is the only commercial offshore development so far. Effectively, the recent seismic acquisition and offering of aquatory surrounding the Islas Malvinas (Falkland Islands) have been the only stirrings in these waters.
Somewhat of a standoff obtains in the Malvinas. Seismic shot in 1995 indicates the region is probably highly prospective, but operators continue to stand on the sidelines to see how the situation will be settled. In the meantime, Argentina withdrew seven blocks from its current offshore round. Bidding was ongoing, but the blocks, located in the exclusion zone established after the Falklands/Malvinas war with Britain, in an area delineating Argentine waters, were withdrawn due to pressure for more time by potential bidders. Licensing is expected to begin soon from the UK's local administration, with drilling, if conflict doesn't interfere and oil prices cooperate, with first production in 2002-05.
The area could very well become the next decade's largest producing area. Data indicate that crude reserves in the South Atlantic surrounding the Falklands/Malvinas may exceed by more than 50% the reserves of the UK sector of the North Sea.
Copyright 1997 Oil & Gas Journal. All Rights Reserved.