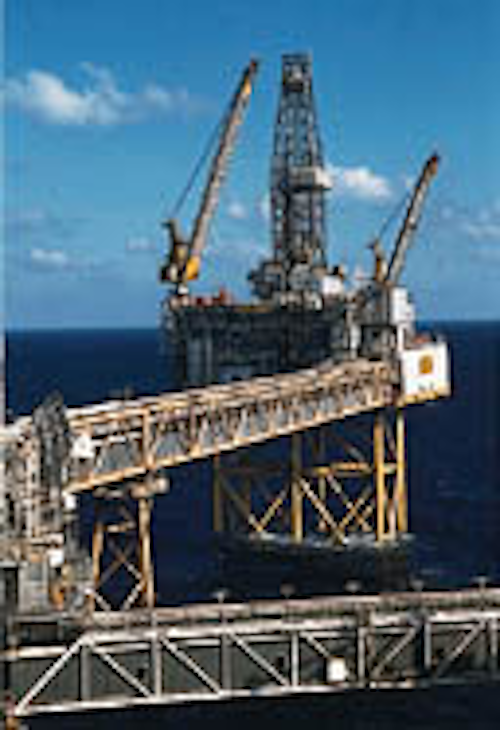 A major new wave of production drilling began last fall on Ekofisk.
Once more, the North Sea has claimed the record as the world's largest offshore oil producer, accounting for some 30% of the world's total offshore oil and gas production in 1996. Although the general decline continues, production from the province reached another high - not the predicted 6.06 million b/d, but still a respectable 5.91 million b/d. Results for the year were varied according to the various sectors; a high level of licensing took place over the year throughout the region, but particularly by Norway under its 15th Round, in the Netherlands' 9th Round, and Ireland's Rockall Round. The UK's 17th "Frontiers" Licensing Round, still being haggled about, had been set for March of this year, but will likely not be held until early 1998.
Exploration likewise increased across all of Northwest Europe and the UK. Some 57 exploration/appraisal wells were completed in Northwest Europe in 1996, 101 in the UK. Norwegian drilling actually dropped due to lack of rigs, but Dutch drilling totaled 27 wells (compared to just 11 in 1995). In the UK, rig utilization reached 100%.
Seventeen of the UK wells found oil, whereas five Norwegian wells were discoveries.
Overall oil output averaged 5.94 million b/d, gas 15.5 billion cf/d. Northwestern Europe produced 3.37 million b/d oil, while UK production remained flat at 2.57 million b/d.
Forecasts are that 1997 will see a major surge in production, with overall North Sea oil output reaching a record 6.47 million b/d. This because the output from UK offshore fields is expected to rise at least 210,000 b/d to a record 2.68 million b/d. Gas production is expected to continue to rise at up to 20% a year to 1999.
Analysts attribute this exceptional production to use of new cost-saving technologies, development of new smaller fields, extending the life of existing fields, and recovery of higher percentages of reserves.
NORWAY - Norway underwent considerable change in its petroleum sector last year, both political and in its activities. Politically, there was a shuffle of ministers resulting in a new Minister of Petroleum and Energy, Ms. Ranveig Froiland. The Ministry itself was reorganized, returning to the structure it had before 1993.
Norwegian oil production during the year increased by 12% over 1995 to 3.24 million b/d, up an additional 335,000 b/d, setting a new record.
The same number of fields came onstream in 1996 as in 1995, but their significance is far greater. Output from Statoil's Yme Field came on at 28,000 b/d, Statoil's Sleipner West at 25,000 b/d, and Troll East and Gungne Fields came on with relatively small quantities of condensate. Statoil's Heidrun Field, however, reached an average of 211,000 b/d, Norsk Hydro's Troll Oil Complex reached 228,000 b/d, and Shell's Draugen Field reached 145,000 b/d averages. Failing production from Gullfaks, Statfjord, and Ula, however, had its effect as well.
The Norwegian Petroleum Directorate says that 1.318 billion tons of oil equivalent are held in the Norwegian sector of the North Sea still to be developed, and another 1.079 million tons of oil equivalent are said to be in discovery fields awaiting evaluation. Currently producing fields hold an estimated 2.0648 billion tons oil equivalent. Thus Norway has enough oil for the next 16 years, but it has enough gas for the next 111 years.
The showpiece of the Norwegian North Sea, the huge, $4.79 billion Troll Field, one of the world's largest offshore gas fields, with recoverable reserves of 46 tcf gas and 400 million bbl of oil, will be producing 2.3 bcf/d gas at its peak. A Statoil property, it is being operated in Stage 1 by Norske Shell.
Eight field developments and two pipelines were approved during 1996, but by far the most important of these were the Asgard, Gullfaks Satellites, Balder, and Visund. Asgard itself will be the world's largest subsea oil development, with 60 subsea wells producing to two FPSOs.
In an ongoing effort to expand its hydrocarbon play, exploration is being extended beyond the northern frontiers of the North Sea, outside Floro, and farther north still, into the Norwegian Sea's Voring and More Basins, where sea depth ranges between 800 and 1,200 meters. More than half the blocks receiving bids in the Norwegian 15th licensing round were in this mid-Norway region, where the Norwegian Petroleum Directorate estimates that up to 16 billion bbl oil equivalent remains to be discovered in mid-Norway, and of the 18 licenses granted in the 15th Round, 14 are in these deep waters. The most prospective, the Nykhogda and Vemadomen area, is being divided between Statoil and BP. Three wells were drilled in the region last year. There was no exploratory drilling in the Barents Sea.
The vast majority of North Sea deepwater drilling is taking place in these Norwegian waters, as Norway prepares for the future. Other fields, particularly in the central North Sea, continue to be drilled and brought into the development stage, while the numerous smaller fields, long discovered and awaiting development, will for the most part, still be left for future exploitation after the turn of the century. This year, 40 exploration wells are planned, doubling last year's number.
UNITED KINGDOM - Unlike Norway, the UK sector of the North Sea had a dismal year in 1996. Plagued by delays in field start-ups, operational problems, production declines that exceeded expectations, and lack of drilling rigs, production averaged just 2.57 million b/d, approximately the same as 1995.
Activity in the UK's central North Sea aquatory increased considerably during 1996, accounting for 46% of the new wells drilled during the year, furthermore, the Southern Gas Basin had a 16% increase in drilling activity and the northern North Sea an increase of 15%. Of the total 101 wells drilled in 1996, 17 found oil, gas, or condensate, for a total of new reserves of some 220 million bbl liquids, 850 bcf gas - higher for both than 1995's discoveries, but still lower than 1996's production, at 940 million bbl oil and 3 tcf gas.
There were ten significant discoveries during 1996 , as opposed to 1995's five, but only three of these are estimated to hold more than 50 million boe: Abbot (29/1b-5), Corvette (49/24-20), and an unnamed field at 48/17c-12.
Fourteen fields were approved for development, another 13 for incremental work. These 14 hold approximately 669 million bbl oil and 892 bcf gas. Four of these are of considerable importance: BP's Schiehallion and its Loyal satellite, to be produced to an FPSO, with first production early next year; Shell's Curlew, with two reservoirs, also to be produced to an FPSO, and due to go onstream this fall; and Shell's Kingfisher, to be developed with a subsea template and tied back to Marathon's Brae B platform.
Like Norway again, with the specter of a declining North Sea, the UK is making every effort to expand its province beyond its limits, and with considerable success. In particular, the exciting discoveries in the "West of Shetland" northwest Atlantic frontier zone of the giant Foinaven, Sheihallion Fields, now in fast-track development for production later this year, and the newly discovered Suilven Field just north of Foinaven, have established the area as the UK's next major oil province. Said to hold recoverable reserves of at least 5 billion bbl oil and a negligible amount of gas, the region has already seen at least five other potentially commercial discoveries, with an additional nine more on the horizon. Output from the area is expected to reach at least 500,000 b/d from at least seven fields by year 2005.
And on the UK horizon is its frontier border zone in the Faero-Shetland Islands region off northern Scotland, which was included in the 16th Round and drew considerable interest, as well as the upcoming 17th Round offerings in this and nearby aquatory, perhaps including the hotly contested "White Zone" between the UK and Faeroe Islands boundaries.
IRELAND- The UK's movement of its frontier zone west of the Shetland Islands, north of Ireland, and the possible prospectivity of the Faeroes, farther west, have focused the spotlight on Ireland and its own Atlantic frontier zones. To that end, two licensing rounds brought in prior players Enterprise, Marathon, Mobil, and several consortia to the Slyne and Erris Troughs and the Porcupine Basin, where exploration is ongoing. Enterprise's deepwater drilling program on Blocks 18/20 and 27/5, which targeted the Avonmore prospect in 207 meters water in 27/5, and the Corrib North prospect in 18/20 in 345 meters water have had mixed results. The Avonmore proved uninteresting to date, but the Corrib may be very encouraging of further explorations, since it is thought to contain from a half to 1 tcf gas. In itself, its commercial viability is limited.
Only these two wells were drilled in Irish waters last year. Production, however, dropped about 3% from the Kinsale Head and 18% from Ballycotton, in St. George's Channel.
DENMARK- The Danish sector of the North Sea set record levels of both oil and gas production in 1996, due to new output from new and incremental developments. Oil production, which has steadily increased every year, reached an average of 207,000 b/d last year, and gas production was maintained at roughly the same level as 1995. There were only three well completions in 1996, keeping exploration and appraisal drilling at a steady low. These wells were on the South Arne and Siri structures.
Harald Field is in development with expected production later this year, which will include adjacent Lulita Field. Four others fields, Adda, Alma, Elly, and Igor, are scheduled for development, and should provide a steady growth in Danish gas production by the year 2000. Two other fields offering oil and gas could also be developed, Gert and South Arne.
The Danish government's efforts to attract interest in the Danish aquatory with its Fourth Licensing Round, garnered only 17 applicants, but there still remains only three companies working there as members of the DUC, Maersk, Shell, and Texaco.
Denmark's saving grace may very well turn out to be its Faeroe Islands colony, which is looking more prospective all the time. Licensing there will probably take place at the earliest in the spring of 1998, despite the UK's expansion of its own province in that direction.
NETHERLANDS- The decline in oil and NGL production offshore the Netherlands continued in 1996, dropping another 9,000 b/d to approximately 36,000 b/d, 20% lower than 1995. Gas production, however, grew to a new, all-time high of 2.61 billion cf/d, a nine percent increase over last year that effectively offsets the decline in oil, producing a 6% overall rise in hydrocarbons or 465,000 boe.
RUSSIA- For the foreseeable future, Russia is an onshore province, Sakhalin's Sea of Okhotsk excepted. Year after year since the fall of the Soviet Union, the situation offshore Russia seems to become ever more dismal. Certainly, deals are made and contracts signed, and smiles all around seem to indicate change, yet there is no change - Russia is languishing in a quagmire of status quo - despite everyone's eagerness to exploit the vast oil and gas resources that are known to exist beneath the arctic waters of the Barents and Kara Seas - some say as much as 550 billion bbl of estimated offshore oil and 250-300 trillion cu ft of natural gas.
The problem is the Yeltsin-Duma standoff. Quite simply, no one wants to give an inch to the credit of the other, thus deals die on the vine, contracts gather dust, and smiles become signs of consternation. Thus Russia is an onshore province, and it's going to stay that way until at least the first decade of the next century, because there is no cohesive bureaucratic structure with which to do business and there is no infrastructure in which to work. All told, venturing into Russia's waters is one of the world's riskiest enterprises and a formidable prospect before even considering the enormous difficulty presented by the arctic conditions that prevail over 95% of Russia's offshore petroleum provinces. As a consequence, international operators have slowed their previous rush to stake a claim in the Russian aquatory. The risks at this time are overwhelming.
In the Russian Far East, however, the much touted Sakhalin projects have finally begun, at least one of them has. Exxon and its consortium partners Sodeco, Sakhalinmorneftegaz, and Rosneft received last PSC approvals last summer and have already undertaken a 3D survey of the area and began drilling the first wells of the $15 billion Sakhalin I project near the end of 1996. The fields, Odoptu, Arkutun-Dagi, and Chayvo are in water depths of 165 ft, 15 miles off the northeast coast of Sakhalin. At stake: 2.5 billion bbl oil and 15 tcf gas.
Sakhalin 2, a project to develop the Piltin-Astohskoye and Lunskoye Fields' 1 billion bbl oil by the MMMMS consortium (Marathon, Mitsui, McDermott, Mitsubishi, and Shell) continues to languish without PS contracts, etc., but the Sakhalin 3 project (Exxon, Mobil, and Texaco) is also said - by Sakhalinmorneftegaz - to be about ready to explore the East Odoptinsky and Ayashky Blocks of the Sea of Okhotsk, some 7,700 sq miles of ice-ridden waters.
Copyright 1997 Oil & Gas Journal. All Rights Reserved.