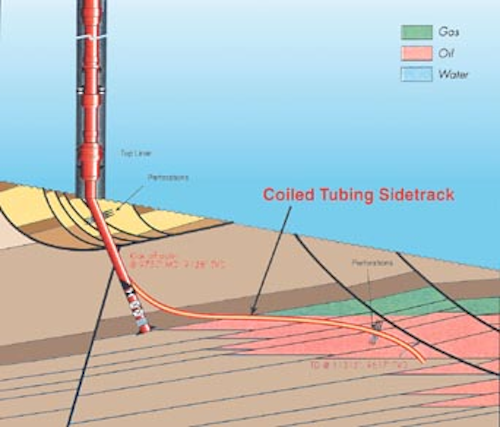 Jeremy Beckman
European Editor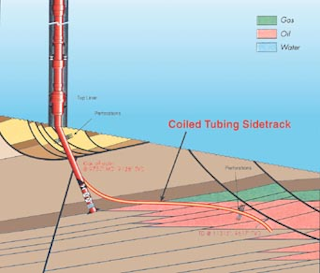 Profile of the coiled tubing drilled Brent Delta well 38, recently completed by Shell.
Long reach horizontal wells are making an impact in UK fields as a cheaper alternative to multiple subsea tiebacks. BP, for instance, plans to drill seven such wells up to six km from its Harding processing platform, in order to access 30-40 million bbl from four oil satellites.
But attention is now also spreading to much smaller targets. Shell and its contractors on the Brent Field redevelopment claim to have set two world records with coiled tubing drilled (CTD) wells into 500,000 bbl pockets. These are marginal in terms of the 400 million bbl estimated to remain in the Brent reservoir, but the important point is that the exercise was profitable.
Both wells were drilled from the Brent D production platform as sidetracks from an existing well. A conventional re-drill would have required all existing pipe sections to be removed from the hole. This was not necessary using the technique co-devised with Baker Hughes Inteq, Deutag and Transocean.
Following earlier trials with different contractors on the North Cormorant Field last March, the Brent D team branched the first coiled tubing well, D-38, from a point 9,750 ft down the existing well. It descended initially before veering off horizontally over a distance of nearly 1,500 ft. This is probably a world record for an offshore CTD well, Shell claims - in the North Sea at least, there is nothing comparable - and the TD of 11,238 ft also breached the barrier for this type of well.
D-38 was completed within a year, late in 1996, at half the price of a conventional well, despite a stuck pipe. This was freed during a six-hour operation by lowering the hydrostatic head of the two-in. diameter tubing. The resultant wellflow pushed the pipe clear - another first, according to Shell. Last month, the D-38 was producing at 6,500 b/d.
A second CTD well, D-46, recently outstripped D-38 by traversing 1,700 ft and hitting a TD of 11,808 ft to access comparable oil reserves. This is due onstream next March. However, both wells will then face a six-month suspension while the new Brent D platform is refurbished.
According to Brent well engineering leader John Thornton, the technique has upside potential for a further 50% cost reduction. For commercial reasons, he would not reveal how this could be achieved, but added that Shell was now considering applications elsewhere on Brent and on other fields, not just in the North Sea.
Ream team
Typical complaints of horizontal hole drillers in the North Sea, as elsewhere, include casing running difficulties such as ledging, keyseats, wash-outs, swelling sections, creeping salts and low-side debris. Brit Bit in Aberdeen has responded with a new range of reamer shoes.
Early in 1995, Enterprise Oil was embarking on its first horizontal well in the UK North Sea for the Nelson subsea development. Enterprise planned a 3,500 ft horizontal section extending 125° from the vertical. However, poor hole conditions looked like preventing the well bore liner from being run to bottom. To counter anticipated problems associated with tight clearances and reactive shale formations, project drilling engineer Philip Strong commissioned a casing shoe from Brit Bit, based on his design, that would permit full reaming of the liner, come what may.
The resultant reamer shoe, successfully applied on Nelson, incorporated PDCs and an eccentric parabolic nose profile to guide the casing past ledges and other obstructions in the well bore. Brit Bit has since collaborated with Enterprise on other fields in the UK and Italy, and the two companies continue to work closely on development of the product.
The reamer shoe range has been extended to 21 styles to cover most casing sizes from 4.5 in. to 13.375 in. There are two basic categories: the Premium shoes, heavy set with diamond cutters, are best suited for overcoming wellbore restrictions and moderate obstructions, particularly in tortuous horizontal, extended reach or directional wells. According to Brit Bit, well bore instability can often be alleviated sufficiently to allow the casing to progress through the restriction.
The lower cost shoe range, incorporating tungsten carbide hardfacing, is aimed more at coping with unexpected deterioration in well bore conditions. In both cases, the eccentric profile aluminum nose is designed to allow fast, trouble-free drill-out following setting and cementing of the casing.
When rotated, the eccentric Ledgerider nose profile allows the shoe to climb ledges and bridges, finding the easiest route through. It also allows the nose to be drilled without leaving a large chunk at the hole bottom. A chip-breaking facility allows faster drilling of the nose without the typical `birds nest' of dried aluminum cuttings to ball the bit.
According to Brit Bit's downhole tools division manager, Jim Bain, 75-80% of applications for the shoes are horizontal wells. Other UK North Sea applications include the Magnus, Captain, Tern and Curlew Fields. On one of these wells a reamer shoe was used to run a 13 3/8-in. liner in 45 minutes. Shoes were also supplied to run all four 4 and 7.5-in. liners on recently completed Forties Field multilaterals.
Copyright 1997 Offshore. All Rights Reserved.