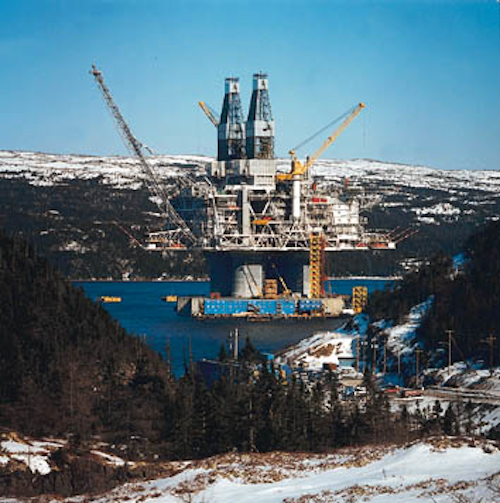 Dev George
Managing Editor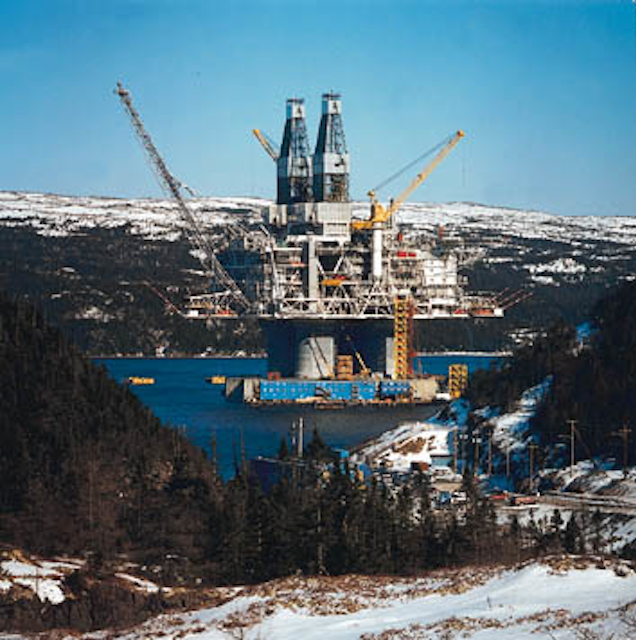 The Hibernia Platform at Bull Arm.
Hibernia has been long in coming, but it is almost here. Its unique gravity base structure and extraordinary supermodular topsides have been completed, mated, and towed out to the production site on Newfoundland's Grand Banks. Drilling is set to begin in August, and first oil is scheduled for mid-December.
The tow-out of this remarkable, mammoth structure, some 600,000 tons, symbolizes much more than the penultimate stage in a long process leading to production of approximately 135,000 b/d of oil. It represents, in the words of Newfoundland and Labrador's Premier Brian Tobin, the beginning of a new era for Eastern Canada.
"There's no question that the completion of Hibernia and its tow-out, after many years of construction, millions of dollars of investment, controversy, and commentary, have demonstrated that it is a viable proposition, that it's now going to work, and that it's going to return a reasonable rate of profit to its owners. And, it says clearly that we are capable of constructing absolutely leading-edge technology, one of a kind project here in this province and making it work.
"Hibernia has created not only a center for oil and gas production," Tobin said, "but a nucleus for services around the world, a climate for a long-term offshore oil and gas industry."
The Premier's enthusiasm is shared by everyone in the region.
The 3 billion bbl Hibernia Field was discovered in 1979 by Chevron on the Mobil-held concession some 315 km off the Avalon Peninsula of Newfoundland in the Jeanne d'Arc Basin. Over the following five years, nine appraisal wells were drilled, with eight of the nine encountering oil. Political and financial wrangling for the next five years finally resulted in a viable partnership, the Hibernia Management Development Corporation (HMDC), composed of Mobil, Chevron, PetroCanada, Murphy Atlantic Offshore, Norsk Hydro, and Canada Hibernia Holding, and ultimate expenditures of approximately US$4.35 billion. (When fully reckoned, the total cost, including infrastructural development, reaches a whopping $10.65 billion.)
Supporting the views of the Premier, H.A. Harvey Smith, president of HMDC, told Offshore that the real significance of the completion and tow-out of the Hibernia Platform is that there will now be infrastructure in place on the Grand Banks that will spur the start of an offshore industry.
"The tow-out itself, although spectacular and a feat in itself, won't be the big one we'll all celebrate. It'll be a beer celebration; first oil will be champagne. That's the kind of significance we have around here, because we've still got some work to do. Once we've got it out there and on the seafloor and we've had a successful grouting and ballasting , then we've got drilling to do, most likely in August. The biggest thing that we're looking for is that first oil later this year. That's what we've all been doing this for, it's building a platform that can actually recover oil from a deposit we've known about for close to twenty years now.
"The project's had a lot of ups and downs. When the discovery was made, it took a long time to put the Atlantic Accord together, then to get the Canadian-Newfoundland Offshore Petroleum Board organized as a regulatory body. And, of course, the middle 1980s were not the best of times for funding a giant project like this in a greenfield site. It's a big field, in a very difficult operating environment - probably as difficult as the North Sea and compounded by the fact that we have ice in this area, in some cases, large ice. We have big icebergs here.
"Oil prices effected the initial funding, too, but since then, after the pullout of Gulf in 1992, and after we got the engineering right for the GBS - once Norwegian Contractors came in on the job and started doing the slipforming - they met every milestone. The budget struck in 1994 is still in effect and we're within it.
"We were delayed, about six months, and, of course, we had to have a summer weather window to install it, but we've used our time well and gotten all the drilling systems up and running, tested all our systems, and so on. So when we get offshore, we'll probably be drilling in record time and, if we can make all the milestones we have, we think we'll be able to bring oil on in record time, too. We know very clearly that we have to do everything right out there, since we're setting an example for other projects to come - Terra Nova, Hebron, Whiterose, Ben Nevis, and so on."
HMDC has been conservative in its estimate of the Hibernia reserve base, normally pegging it at 615 million bbl, but there is more than 3 billion bbl oil in place and more than 3 tcf in the gas cap. Smith says, however, that most of the recovery will be from the Hibernia reservoir, that the upper reservoir, Avalon, is expected to produce about five percent of the field's output. It's a highly stratified reservoir, he says, lacking in interconnectivity between pores, but adds that perhaps with horizontal wells and multifracs, more production may be had to force costs further down.
"We think we can get our operating costs down, then owners and other companies will feel comfortable in investing in this area," Smith adds. "There will be a beginning crew of about 360 on board Hibernia, then down to 280 by first oil. The normal compliment will be 185, mostly Newfoundlanders."
Components
The Hibernia platform consists of the GBS, or gravity base structure, supermodule topsides, and crude oil transportation system. The GBS, 224 meters high and weighing 1.2 million tons after ballasting at the offshore site, stands 85 meters tall from seafloor to the top of its shafts. Each shaft is 26 meters tall and 106 meters in diameter. Storage capacity is 100,000 tons.
Although there are several GBS platforms in the North Sea, only Hibernia is designed to withstand the impact of sea ice and icebergs. The icewall has 16 teeth to absorb the impact of icebergs and the overall reinforced concrete structure is capable of surviving with little damage the direct impact of a 5 million ton iceberg.
The supermodule topsides contain production, drilling, and process equipment as well as personnel accommodations. They consist of five large supermodules and seven smaller mounted structures, collectively weighing 37,000 tons.
The produced oil is stored in the GBS storage cells and is to be offloaded into tankers through an offshore loading system that consists of a base mounted on the seafloor and a vertical riser or pipe to carry the oil from the platform through the system loading hose to the tanker. Two ice-reinforced, double-hulled tankers capable of carrying 900,000 bbl oil will be employed.
The tow-out
The tow-out was scheduled to begin about May 23 and take approximately seven to nine days to cover the 500 km voyage to its Grand Banks production site.
Ten of the world's most powerful tugboats will maneuver the platform into open water from its Bull Arm construction site, then, with six tugs in front, three others at the rear, and one on standby, they will fan out some 300 meters from the platform to begin the trip, but 1,000 meters from it after leaving Trinity Bay. It will sail at 1.5 knots in open water.
In the event of a storm, the platform will be ballasted down a few meters for greater stability and the tugs will face into the wind to maintain a holding pattern. If icebergs are encountered, support vessels will lasso them and tow them into different trajectories to prevent them from striking the platform. [See Ice Management article in our August issue.]
Once the platform reaches the Grand Banks, water depth will be approximately 80 meters, thus the platform will clear the bottom by about five meters. As a consequence, this is one of the most critical phases of the tow-out; fair weather is essential for the last 10 km as well as for the installation and grouting of the platform, a 60-70 hour operation.
A satellite navigation system will ensure that the platform is installed within 10 meters of its target contact point.
As soon as the platform skirts have penetrated the ocean floor about 1.5 meters, grouting begins using a mixture of cement and seawater pumped through pipes and valves into the compartment created by the skirts of the platform base. This stabilizing process takes three to five days. Thereafter, the solid ballast, some 400,000 tons of granulated iron ore, is pumped into the GBS, and contractors will install pipeline, hoses, and tie-in spools and other equipment for the offshore loading system.
In July, the Hibernia Platform will be ready for full occupancy in preparation for drilling in August, and will, if all goes according to plan, be pumping oil for at least the next 19 years.
Copyright 1997 Oil & Gas Journal. All Rights Reserved.