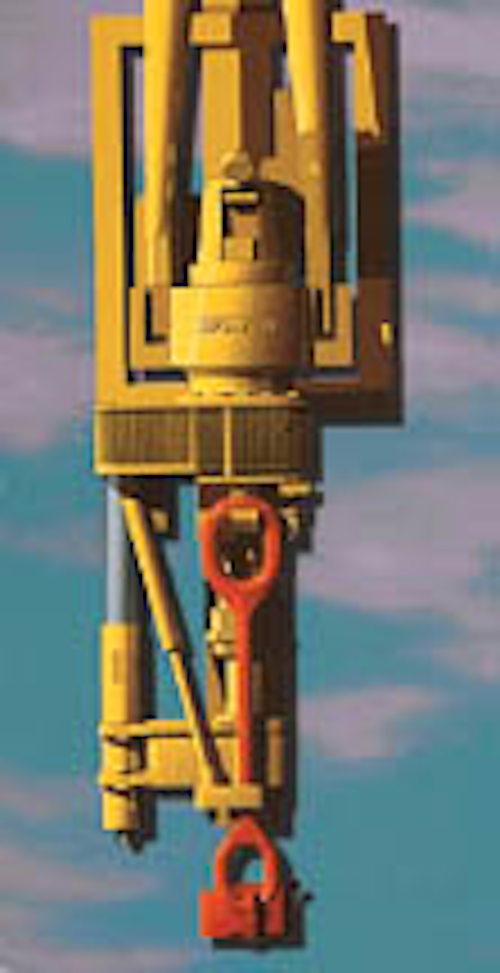 Marshall DeLuca
Houston
Rigsite information
Sperry-Sun Drilling Services has introduced INSITE (Integrated Systems for Information Technology and Engineering), a networked, integrated rigsite information systems that provides the ability to view data in real-time, in a customized format, at the office, on a rig, or in remote locations. The INSITE system allows for multiple workstations to have simultaneous access to all the information contained within its Open Database Connectivity compliant database. INSITE uses standard networking tools provided with Microsoft Windows.
Circle 01 on Reader Service Card.
Top drives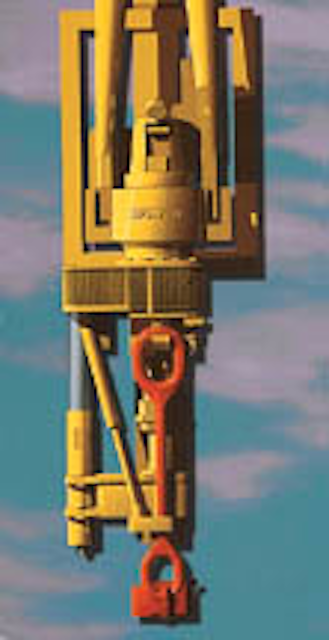 Bowen is introducing three new products from it's line of portable top drive drilling systems designed for smaller size, higher torque, faster rig-up, and safer operation. The TD350P features a 350-ton capacity, 7500 PSI integrated, fully floating wash pipe assembly, and 27,500 ft-lbs maximum drilling torque. The TD250P features a 250-ton capacity, 7500 PSI integrated, fully floating wash pipe assembly, and 21,000 ft lbs. maximum drilling torque. The TD120P features a 120-ton capacity, 5000 PSI integrated, fully floating wash pipe assembly, and 8,100 ft lbs. maximum drilling torque. All three are capable of rotating and pumping continuously while drilling or back-reaming out of hole, and drill with up to 90-ft stands.
Circle 02 on Reader Service Card.
Pipeline recovery tool
HydroTech Systems, a provider of engineered pipeline products, is making available pipeline recovery and dewatering tools for installation onto deepwater pipelines by diverless ROV methods. These tools are used in applications where a pipeline requires recovery to the surface for problems that occur during subsea pipelay operations. The recovery and dewatering tools have proven successful recoveries from water depths up to 5,400 ft.
Circle 03 on Reader Service Card.
Seabed inspection
Submetrix is introducing a new series of sonar systems for seabed inspection and surveying which can achieve bathymetry swath-widths of up to 15 times water depth. The ISIS (Interferometric Seabed Inspection Sonar) operates on the principles of interferometry to produce aspect rates of at least twice those of competitive systems, and also precise high data density rates. The two ISIS 100 models are for use in water depths of 100 meters and 200 meters, and the ISIS 300 is a towfish system capable of surveying down to 400 meters.
Circle 04 on Reader Service Card.
Pipeline tool
BJ Process & Pipeline Services is announcing the commercial introduction of its advanced Magnetic Flux Leakage metal-loss pipeline inspection tools. The new tool is equipped with gas bypass speed control (which allows uninterrupted gas throughput during an inspection), as well as a proven bypass override system that eliminates the need for operator contingencies such as pusher pigs. The tool also features a three-axis (circumferential, axial, radial) Hall effect sensor head, which improves detection and characterization of pipeline defects.
Circle 05 on Reader Service Card.
Technology update
ABB Vetco Gray has published a Technology Update brochure highlighting the company's technological capabilities and innovations. Included in the brochure is information on the Subsea High Integrity Pipeline Protection System, horizontal tree development, VX/VGX seal analysis, wellhead systems, drilling risers, TLP technology, and subsea HP/HT. The brochure also includes many case studies of ABB systems currently in use in such areas as the North Sea fields Balder and Captain. Also included is information on future plans, designs, and projects.
Circle 06 on Reader Service Card.
Inspection systems
B&W is introducing two new inspection systems for the oil and gas industry: the ProSpect 1000 portable drill pipe inspection system, and the ThruSpect 2000 coiled tubing inspection system. The ProSpect is an advanced, computerized EMI inspection system for drill pipe, with complete data acquisition and compact field portability. The ProSpect features transverse flow detection, computerized 'wall loss,' and grade conformity inspections. The ThruSpect is an advanced inspection system designed exclusively for coiled tubing with complete computerized data acquisition. The ThruSpect features wall loss, transverse flaws, longitudinal splits, and ovality/diameter deviation inspections.
Circle 07 on Reader Service Card.
Work boat services
OSCA has released a brochure detailing the company's work boat based marine well stimulation and sand control services for the Gulf of Mexico. The brochure highlights the company's work boat based well completion and workover services including sand control and stimulation aimed at both the emerging deepwater rim of the Gulf of Mexico as well as the shallow shelf area. OSCA refers to this type of service as the 'floating warehouse' concept that delivers to the rig site. The brochure includes an illustration of one of the company's boats including the vessel specifications.
Circle 07 on Reader Service Card.
Packing system
Petroleum Engineering Services has introduced a new downhole tool innovation - HEXPAK. This new packing element system eliminates difficulties and inefficiencies associated with other packers. The HEXPAK features a slim configuration allowing for easier installation and less rig downtime. Once downhole, the product is packed off and mechanically locked in place without inflation. The HEXPAK also features a new locking ratcheted design that results in a full compression seal. Once in place, a constant compression sealing force is energized and maintained eliminating any leakage problems.
Circle 09 on Reader Service Card.
Piling hammer
Premiere has announced that it has developed a purpose-built, high-technology driving machine called the G-3 Impact Hammer. The G-3 is specifically designed for driving pipe in the offshore oil and gas industry. The product was designed to be more efficient, and cost-effective than any hammer utilized in the industry. The hammer features safer, environmentally safe design and operation, and the ability to drive the columns deeper than other existing hammers. The hammer is currently undergoing testing and delivery is set for the first quarter of next year.
Circle 10 on Reader Service Card.
Drill-in-fluid CD
M-I has released an interactive CD describing its new FLO-PRO drill-in-fluid technology. Compatible for both Windows 3.1 and 95 versions, the CD highlights the benefits, features, and applications of the FLO-PRO and FLO-PRO solids-free systems. These systems are designed to optimize drilling, completion, and reservoir production during all phases of pay zone development. The CD employs animation to demonstrate the many advantages of the new systems compared to conventional drill-in fluid systems.
Circle 11 on Reader Service Card.
Maneuvering system
BJ Tubular Services has announced the introduction of the Lead Hand System which was developed specifically to assist in maneuvering hydraulic power tongs to and from the well center line during casing and tubing operations. The system is easy to operate and requires only minimal effort by a single operator during the maneuvering process. The system consists of a hydraulically powered articulating are, hydraulic power supply and a remote control panel. The hydraulic power supply can be a self-contained unit or drawn from the existing rig supply.
Circle 12 on Reader Service Card.
Wireline improvement
An improved quality wireline, the Supa 75, has been launched by Bridon International designed to give outstanding performance in the hostile well conditions often encountered in the industry. The Supa 75 is made from special austentic stainless steel, which is proven to be a superior alternative in harsh environments. The Supa wireline was also designed to provide significant cost savings through increased wear life.
Circle 13 on Reader Service Card.
Cable management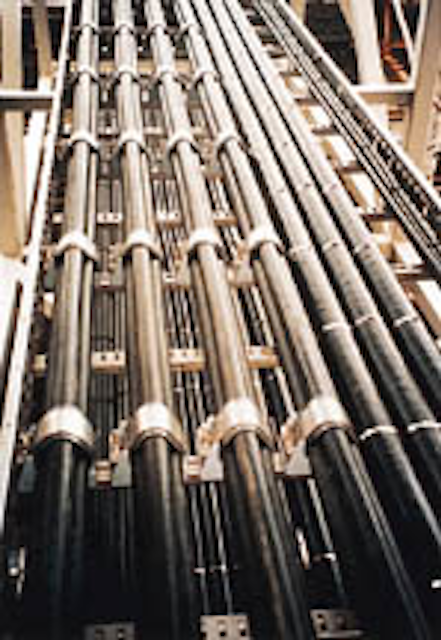 Vari-Cleats, the cable management product manufactured by EDL Cable Supports are being introduced for use with the floating production platforms. Vari-Cleats feature free standing aluminum alloy bases that are easy to pre-install and also feature a compact size that allows for more cables to be run within a particular bulkhead space. The self-seating base of the cleats also allows for simplified installation of cables. The cleats also feature long term corrosion protection and are manufactured out of stainless steel.
Circle 14 on Reader Service Card.
Telecommunications
Shell Offshore Services has released a new brochure highlighting their Gulfnet 6000 telecommunications infrastructure. The Gulfnet 6000 was built to give oil and gas producers reliable telecommunications solutions in the Gulf of Mexico. The Gulfnet is a 6 GHz digital microwave system with 6-DS3 capacity, which delivers voice, data, video, computer networks, and Internet access to the Gulf of Mexico. The system also features nested-ring configuration to prevent against node failure, and has remote diagnostics capability.
Circle 15 on Reader Service Card.
Geoscience tools
Jason Geosystems has released new information on their Geoscience Workbench exploration and production products. The Workbench includes the SeiRIS, EarthModel, VelMod, Wavelets, InverTrace, InverMod, and StatMod systems. The Workbench provides the user with a rich, integrated set of tools spanning the range of seismic and lithology applications - from reconnaissance acoustic impedance inversion for exploration, through detailed seismic lithology/rock property prediction for production. The tools function together smoothly and are tightly integrated with popular interpretation systems in use today.
Circle 16 on Reader Service Card.
Welding protection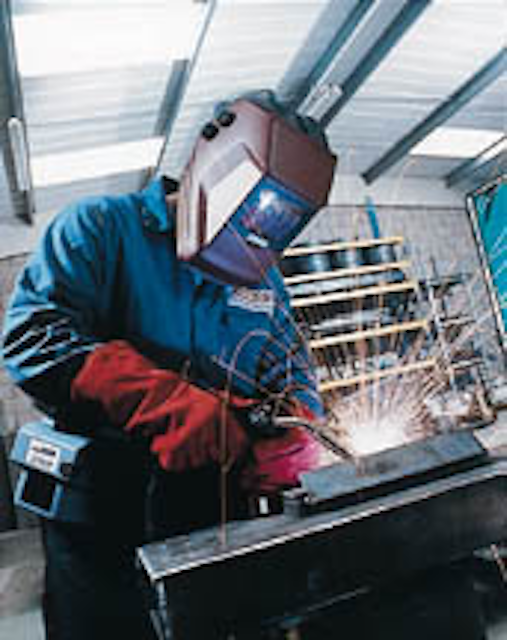 Racal Health and Safety has launched a product that combines the latest welding shield technology with very high levels of respiratory protection. The Dustmaster DM167 features an advanced solar powered welding shield that receives a continuous flow of filtered air from a rugged, lightweight, belt-mounted unit. The Dustmaster offers a respiratory system that fully protects welders against eye and lung damage when welding metals such as aluminum, stainless steel, and other plated or coated steels.
Circle 17 on Reader Service Card.
Pipeline engineering
BPA has published a new brochure outlining its comprehensive pipeline engineering services. The brochure highlights BPA's over 30 years experience specializing in development of pipeline and storage systems, particularly for refined petroleum products and gas. Also detailed is the company's operational services including organizational management, commissioning, integrity management, product movement planning, product quality and accounting, training and, system audit and review.
Circle 18 on Reader Service Card.
Makeup, breakdown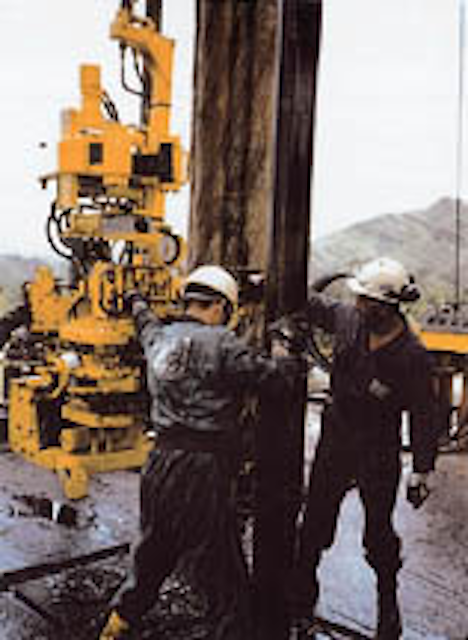 Hawk Industries is introducing the new Hawkjaw makeup and breakdown system for drill pipe. The unit features a self-energized grip system and modular design for low maintenance cost. The unit spins and torques in 15 seconds or less and fits all pipe sizes within working range of tool without additional jaws. The Hawkjaw also features a preset torque regulator to insure proper make up and push button controls for ease of operation.
Circle 19 on Reader Service Card.
Copyright 1997 Oil & Gas Journal. All Rights Reserved.