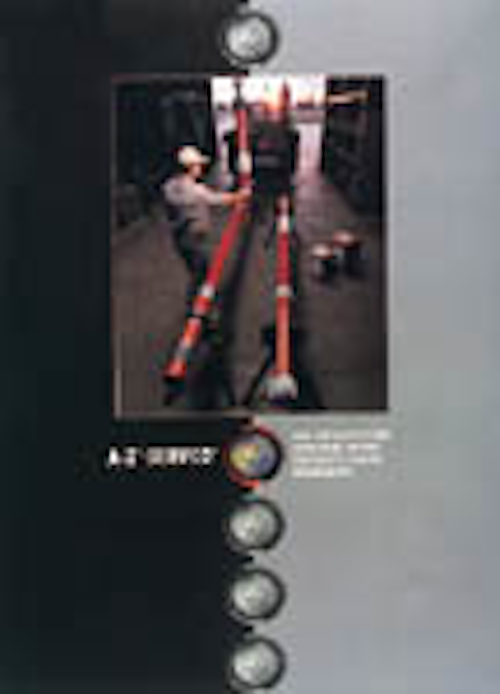 Sidetracking tools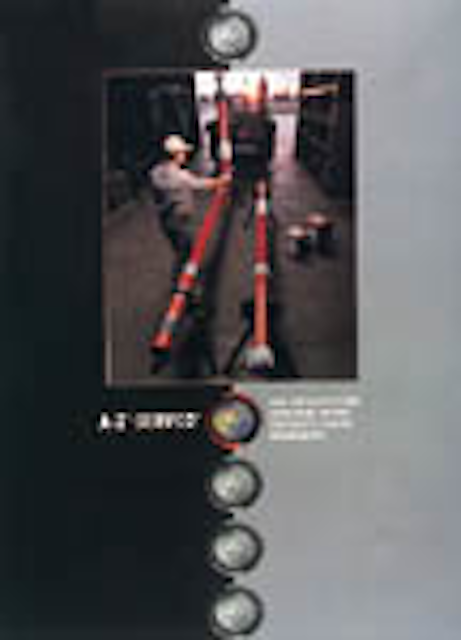 Smith Drilling & Completions has released a new brochure featuring A-Z Servco's complete line of tools and equipment for sidetracking operations. The literature highlights the new Trackmaster - a full-gage, window-milling system that allows the operator to open a sidetrack window in just one trip. Also discussed are the features and benefits of the full range of whipstocks for 5 through 13-3/8-in. casing. Sidetracking auxiliary equipment such as flow switch valves, running tools, and retrieving tools are also detailed in the brochure.
Circle 01 on Reader Service Card.
Software
PGS has released informative brochures on the Tigress, Falcon, and Puma product lines. Tigress is a set of tightly integrated applications spanning all major disciplines including geophysics, reservoir engineering, and mapping, linked to a central open project database. Falcon is a new reservoir simulator designed and written to take full advantage of advanced massively parallel processing computer technology architecture. Puma is a field and well management software tool used for analysis, manipulation, and visualization of recent and historical production data.
Circle 02 on Reader Service Card.
Blowout preventer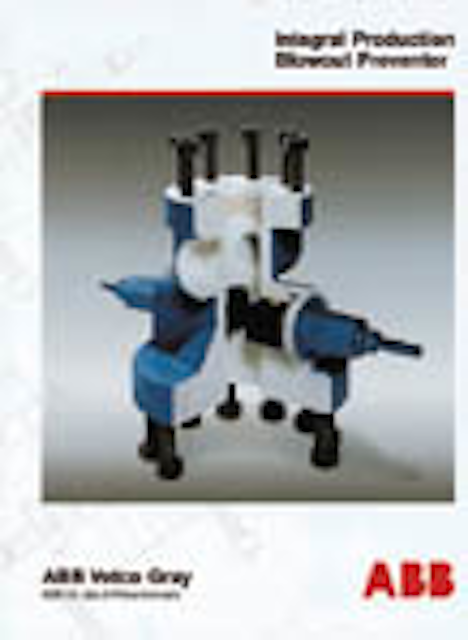 ABB Vetco Gray has released a new brochure on their Integral Production Blowout Preventer. The brochure highlights such preventer features as a stable mounting platform possible for rotary applications, the preventer's compact height, and it's side outlets for 2 in. and 3 in. line pipe. The brochure also lists the operating specifications of the product as well as detailed illustrations of the preventer and end cap assembly.
Circle 03 on Reader Service Card.
Coiled tubing tools
The PSL Group has introduced PSL Tools, a new brand offering a unique and comprehensive range of coiled tubing downhole tools and pressure deployment systems for the upstream oil and gas industry. PSL Tools has been developed to provide short, multi-functional tools which complement the Group's coiled tubing systems. The tools are capable of operating within the restricted space and height of the BOP/Impact Deck enabling intervention operations to take place from this lower deck and the rig floor simultaneously.
Circle 04 on Reader Service Card.
Reservoir simulator
Landmark Graphics has released Parallel-VIP, an oil and gas reservoir simulator for both black oil and compositional simulations. The Parallel-VIP is designed to provide reservoir engineers and geoscientists with the computing horsepower and full-featured, integrated parallel simulations software to stimulate both large and small hydrocarbon reservoirs quickly and accurately.
Circle 05 on Reader Service Card.
Software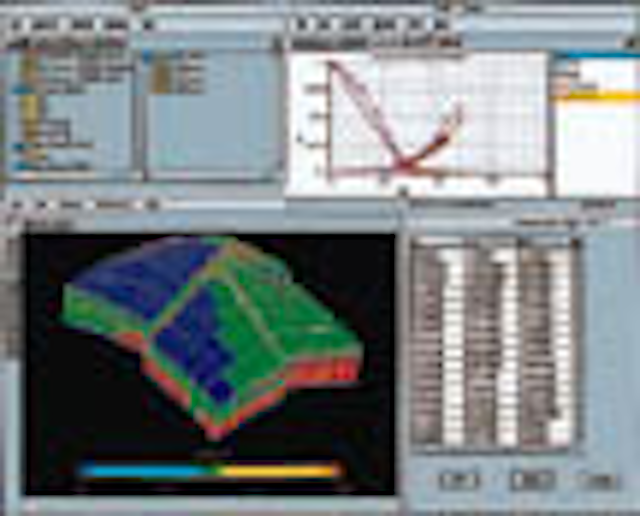 GeoQuest has issued a release on its new software products and applications. The products include: FloGrid simulation grid design and upscaling application; SCAL core-analysis applica tion; Finder 8.0 integrated data management system; GeoWeb web-based browsing and delivery application used in conjunction with the Finder system; Finder Enterprise which links numerous databases in various locations; CemCADE cementing design and evaluation software; CoilCADE coiled tubing design and evaluation software; FracCADE hydraulic fracturing design and evaluation software; and StimCADE matrix stimulation design and evaluation software.
Circle 06 on Reader Service Card.
Pipelaying
Saipem has published a new heavy lift/pipelaying brochure highlighting the company's capabilities. The brochure includes a pipelay capabilities chart that identifies the capabilities of Saipem vessels based on water depth and pipe diameter. Saipem vessels are equipped to operate in ultra deepwater pipelaying in dynamically positioned system, can handle pipe size up to 38 in., high pipe storage capacity, and can operate in all weather laying.
Circle 07 on Reader Service Card.
Body bits
Security DBS has begun producing a new line of steel body bits called FS2000 Series. The new bits have significantly increased blade standoff allowing for greater face volume, better hole cleaning, and more efficient cuttings removal. The FS also incorporates new anti-whirl technology which includes spiral blades, tracking cutters, asymmetric blade layout, Ring Claw cutter technology, and a low-torque gage pad composed of inlay tungsten carbide clad, diamond material.
Circle 08 on Reader Service Card.
Torque control
Smith Drilling & Completions is introducing AccuTorque Electronic Load Cell. The AccuTorque interfaces with a ConTech computerized torque control device that will correct for moment are deflection and apply desired torque to the connection. The AccuTorque is attached to the Tong Arm and cabled to a ConTech computer which is installed at the driller's console. The system offers quick installation at the rig site, and does not interfere with normal rig floor operations.
Circle 09 on Reader Service Card.
Subsea safety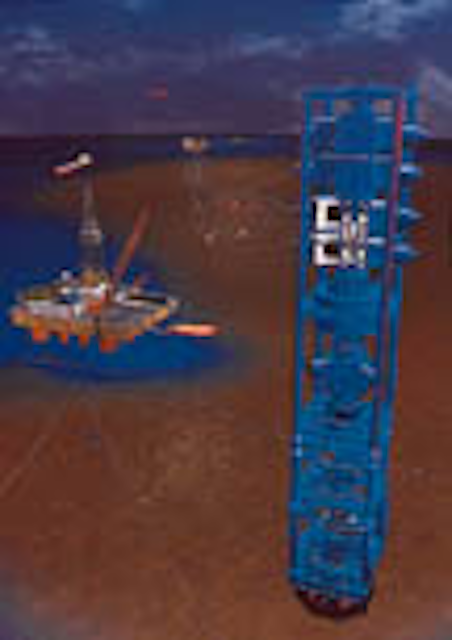 The Expro Group has released literature on three new subsea systems to enhance safety in offshore applications. The 5 in. retainer valve is designed for well testing from semisubmersibles and drillship applications and features increased safety, and riser to string communication. The 5 in. subsea test tree provides a primary safety system to control tubing pressure and rapid disconnect. The 5 in. lubricator is designed for well testing applications and features pump through capability, and bi-directional pressure support.
Circle 10 on Reader Service Card.
Well log processing
CogniSeis has announced the release of WellTie 2.0, a new synthetic seismogram product. Well Tie 2.0 is a system of applications used to establish a relationship between depth and seismic travel time by constructing a synthetic seismogram from well log data and correlating that synthetic to stacked 2D and 3D seismic data. The system features a basemap for data management, spreadsheet-like well and line geometry input, and a log curve display.
Circle 11 on Reader Service Card.
Connections and tubing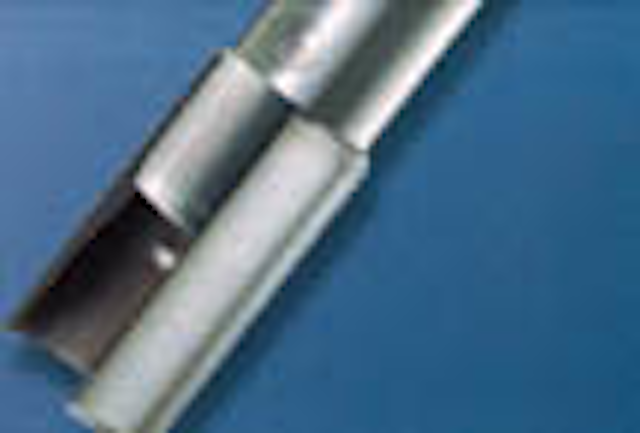 Grant Prideco has issued a brochure detailing the company's Atlas Bradford line of premium connections and premium tubing. The Atlas Bradford line of connections includes the TC-II threaded and coupled tubing and casing connections, RTS-6 and RTS-8 integral joint upset tubing connections, ST-L true flush OD connection, and SPIRALINE helical OD grooved liner. Also detailed is Atlas Bradford premium tubing which is offered unthreaded or threaded, with RTS or SB connections.
Circle 12 on Reader Service Card.
Completion and workover fluid services
M-I has recently published a brochure highlighting the company's new added completion and workover fluid services. The literature explains the proficiency of the completion fluid engineers and completion hardware experts and details the enhanced completion services provided. The services include: completion fluid design, chemical evaluation and testing, displacement services, density monitoring, and filtration units and services.
Circle 13 on Reader Service Card.
Copyright 1997 Oil & Gas Journal. All Rights Reserved.