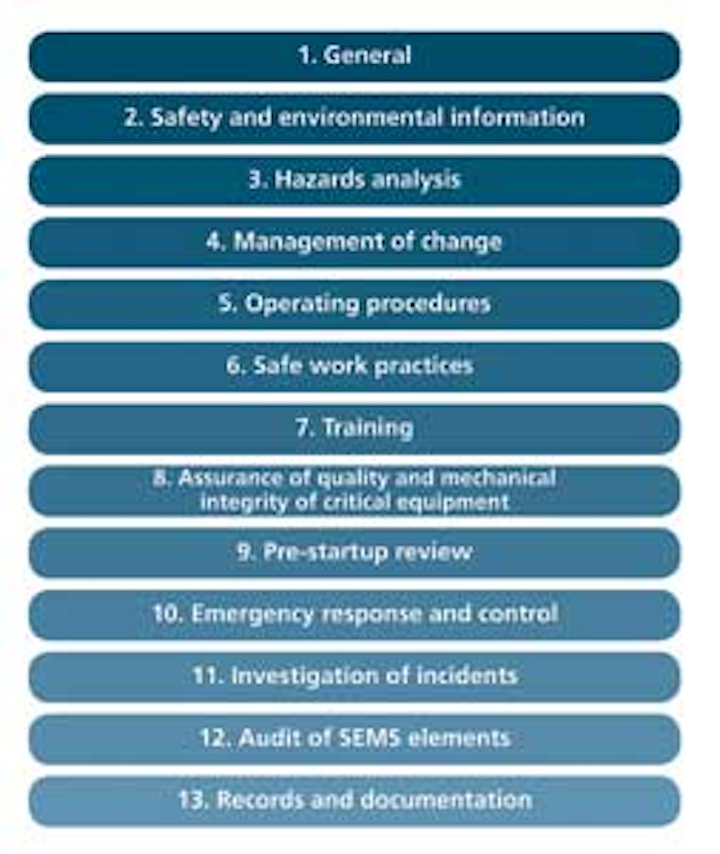 Current rule applies to operators, but contractors must comply as well
Pisces Carmichael
Matt Beltz
Lloyd's Register
Expectations have changed for oil and gas operators in the Gulf of Mexico over the last few years. Regulations from the Bureau of Safety and Environmental Enforcement (BSEE), as well as increased scrutiny from investors and the public, have left companies searching for safer and more environmentally sound methods to extract oil and gas found in deep and ultra-deepwater.
The regulator, BSEE, proposes having a proper Safety and Environmental Management Systems (SEMS) program in place not only fulfills the regulatory requirements, but provides a performance-based approach to mitigate some of the risk inherent to working offshore.
Introduction to SEMS
SEMS is designed to help operators and contractors identify and manage the safety hazards and environmental impacts occurring during the design, construction, start-up, operation, inspection, and maintenance of all new and existing facilities. SEMS applies to all drilling, production, construction, well workover, well completion, well servicing, mobile offshore drilling unit, and Department of Interior pipeline activities.
In 2010, the BSEE released the Workplace Safety Rule, which mandated that all operators working in the outer continental shelf (OCS) develop, implement, and maintain a SEMS program.
SEMS was launched as 30 CFR 250, Subpart S and based upon the previously voluntary 13 element system from API Recommended Practice 75. Earlier this year, BSEE released the SEMS Potential Incident of Noncompliance List (PINC), which highlights BSEE's key enforcement approach for SEMS.
The regulations require formal audits within two years of November 2011, and then every three years thereafter. According to BSEE, an operator's SEMS plan must be formally audited by an independent third party. The plans for these audits must be submitted to BSEE for approval.
When designing current SEMS regulations, BSEE set out to:
Focus attention on influences that human error and poor organization have on incidents
Continuously improve the offshore industry's safety and environmental record
Encourage the use of performance-based operating practices
Collaborate with industry in efforts that promote the public interests of offshore worker safety and environmental protection.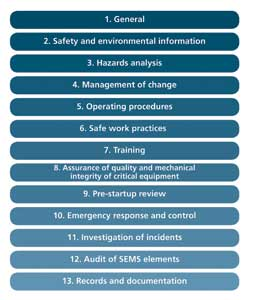 A Safety and Environmental Management Systems program is based on these elements from API RP 75.
Continual improvement requires best practices followed by implementation and evaluation. It is the responsibility of operator management to ensure that goals and performance measures are established for their SEMS program. These goals and performance measures should then be made clear to all personnel working on their OCS facilities.
Specifically, operators must:
Verify that personnel, including contractors, have received proper training and have the skills and knowledge to perform their assigned duties
Conduct design suitability studies when the original mechanical or process design information no longer exists
Ensure a contractor's hazard assessment and JSA documents are revised and updated to reflect changes in their SEMS program
Have a copy of all of the contractor's Safe Work Practices (SWPs) and ensure they cover all SEMS-covered tasks and operations.
A strong safety culture
"It is important to remember that SEMS regulations are a minimum requirement," said Danny Walker, vice president of Compliance, Lloyd's Register. "Operators should strive to set their standards above the minimum safety standards set by BSEE."
An operator's SEMS program should be the basis of a mature and continually improving safety culture. A safety culture cannot improve without management accountability. Therefore, management has responsibility and discretion to maintain and improve the safety culture across the organization.
Operators with a strong safety culture typically benefit from:
Low accident rates
Low turn-over
Few at-risk behaviors
Low absenteeism
High productivity.
SEMS and contractors
While the current SEMS regulations are specific to operators, for an operator to comply its contractors must be aligned with their SEMS plan. To continue providing services to operators in the OCS, contractors must prepare their people and processes to match an operators' SEMS plan, or they risk losing business to SEMS-compliant competitors.
It is also apparent that BSEE may hold contractors accountable to a documented SEMS plan in the future.
At the 2012 Offshore Technology Conference, James Watson, director of BSEE, said: "Safety is the responsibility of everyone at every level at all times."
When asked about contractor accountability specifically, Watson responded: "In the past, the Minerals Management Service chose not to apply the authority at hand to contractors. [BSEE] is going to use all our authorities, all the areas that are available through the legislation that we operate, which does, actually, include contractors. We're going to take a measured approach … and I think the outcome is going to be a better, safer, industry when we apply our authorities, whether it's the operator or the contractors."
Operator requirements
Operators are required to maintain a written record of criteria for selecting a specific contractor. Operators also must maintain documented contractor safety evaluations, and a signed SEMS contractor bridging document must be on file prior to any work. This document spells out an operator's SEMS expectations for the contractor. These expectations must then be communicated to all involved contractor personnel.
Proactive contractors should be prepared to aid the operator in preparing these documents and be equipped to be audited by BSEE, the operator, or an independent third party.
Contractors who have an effective HSE process in place and on file with an operator are best prepared to meet expectations and to help their client meet BSEE requirements.
Challenges for contractors
Contractors are going to face many new challenges as they try to operate within the new SEMS regulations.
With new documentation and training needs, contractors will need to maximize internal resources. Such programs as the Lloyd's Register SEMS webinar series tell contractors look at existing documentation, records, HSE programs, and personnel to leverage these resources instead of starting from a new slate.
Personnel management is another area contractors must attend. Employees and subcontractors must be verified as knowledgeable and competent to perform their tasks. This will affect the hiring process as companies seek qualified candidates that are both competent and understand their personal responsibilities under SEMS.
A contractor's HSE and other training programs must undergo continual maintenance to stay effective. This will take time, resources, and a management commitment to be fully functional and effective.
Contractors also need to be sure personnel continue to maintain their safety culture while executing work for an operator. Each operator and facility may have a different safety culture. Contractors spread among multiple client facilities will have multiple SEMS bridging documents signed and in place. Each operator likely will have slightly different expectations, making it difficult for a contractor's personnel to effectively transition from one operator's facilities to the next while keeping their own company's safety culture constant.
The risk of noncompliance
According to the SEMS Potential Incident of Noncompliance (PINC) list, incidents of noncompliance carry potential fines of $35,000/day as well as having to shut in the offshore facility in question until the problem is fixed.
For several items on the SEMS PINC list, failure to comply results in a warning, but if an operator fails to develop, implement or maintain a SEMS program, or there is an unsafe situation that poses an immediate danger, a facility shut in will occur.
BSEE can also shut in a facility if during a SEMS audit the operator does not provide the necessary documentation for a facility-level hazards analysis.
It should be the goal of everyone working in the OCS to provide a safe and responsible working environment. As SEMS programs are implemented across the industry, operating conditions will continue to improve as risks are mitigated and individual responsibilities heightened.