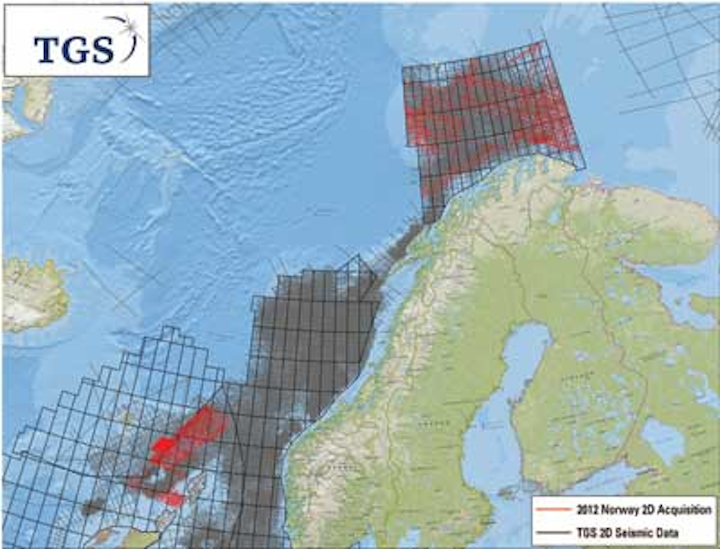 Gene Kliewer • Houston
TGS adds 2D seismic data in the Barents Sea and northern North Sea. North Sea Renaissance 2012 is infill west of Shetlands covering 8,200 km (5,095 mi) using theAkademik Shatskiy. The Norwegian Barents Sea 2012 survey covers 12,000 km (7,456 mi) using the Osprey Explorer.
The Norwegian Petroleum Directorate is scheduled to start acquiring 2D seismic in the southeastern part of the Barents Sea as of this April 26. TheM/V Artemis Atlantic is acquiring 6,000 km (3,728 mi) of seismic data in the southeast Barents Sea for the Norwegian Petroleum Directorate. Last year NPD acquired 2D seismic in the formerly disputed offshore area near the Russian maritime border. The results will assist in determining whether to explore in the region. This summer, NPD expects to acquire a total of 30,000 km (18,641 mi) of seismic in the Barents Sea, off Jan Mayen (between Norway and Iceland), and in the Nordland IV and V areas.
TGS is acquiring a 3D multi-client survey covering 2,400 sq km (927 sq mi) in the Norwegian Barents Sea. The Finnmark Platform 2012 survey is in five blocks in the southwestern Barents Sea, four in quad 7017 and one is in quad 7018. All blocks are proposed by the Ministry of Petroleum and Energy to be included in the 22nd licensing round on the Norwegian continental shelf. Fasttrack data should be available for interpretation ahead of the licensing round. TheM/V Polar Duchess towing 10 x 6,000 m streamer with 75 m separation is acquiring the survey. Data processing will be by TGS and available to clients in 3Q 2012.
Ekofisk survey expected soon
CGGVeritas should have the raw data in hand from a fourth survey on the Ekofisk field in the North Sea as part of the multi-year life-of-field seismic (LoFS) program. The data comes from a four-component fiber-optic permanent reservoir monitoring system with 16,000 Sercel OPTOWAVE ocean-bottom channels.
Quality control and data processing of each repeat survey is done by CGGVeritas' personnel in Tananger, Norway. In addition to the optical sensor network trenched at the seafloor, a fiber-optic connection to the shore allows real-time remote operation.
Nyuni seismic survey launched offshore Tanzania
Aminex PLC has started a 335 km (208 mi) 2D seismic survey in the Nyuni Area Licence, offshore Tanzania. The survey targets the transition zone between the coast and the deepwater section of the block. A combination of ocean-bottom cable and marine seismic source will be used in the shallow water and a land-based seismic source on the emergent reefs and islands. This is the first time OBC technology has been used for a license-wide survey in the transition zone in this part of East Africa. Aminex says conventional shallow-water seismic has proven less effective because of the number of reefs and islands restricting access to seismic vessels towing streamers.
Aminex is also planning a program of more than 500 km (311 mi) of 2D seismic in the deepwater portion of the Nyuni licence in the second half of this year. The combined transition zone and deepwater seismic programs will fulfill the seismic work requirement of the Nyuni Area PSA which extends through October 2013.
Partners in the Nyuni Area PSA are Ndovu Resources Ltd. (Aminex), 70%; RAK Gas Commission, 25%; and Bounty Oil and Gas NL, 5%.
Serica starts 3D survey in Luderitz basin, offshore Namibia
ThePolarcus Nadia 10-streamer seismic vessel should be wrapping up a 3D survey for Serica in Luderitz basin blocks 2512A, 2513A, 2513B, and 2612A offshore Namibia. The survey area totals 4,150 sq km (1,603 sq mi) and has three objectives:
Delineate a four-way dip closed structure which underlies the survey area
Map potential pinch out prospects which are expected to have formed in conjunction with a large channel sand feature crossing the survey area
Demonstrate hydrocarbon potential through the presence of hydrocarbon indicators.
Geology business headlines
CGGVeritas opens Melbourne Processing & Imaging Center: CGGVeritas has opened a new processing and imaging center in Melbourne, Australia. The remit of the new center is to serve clients in eastern Australia and the expanding New Zealand market.
Sercel SeaPro Nav selected by Seabird: SeaPro Nav, Sercel's integrated navigation system for all in-water seismic equipment, has been selected by Seabird Exploration as the master system for two vessels in its marine seismic fleet, the Harrier Explorer and the Aquila Explorer. Graham Knight, department manager Technology, Seabird Exploration, said: "Seabird's deployment of SeaPro Nav on its vessels is a natural progression, further cementing our commitment to the use of Sercel products across our fleet."
Spectrum completes purchase of CGGVeritas library: Spectrum has completed the purchase of the marine 2D multi-client library of CGGVeritas. The combined size of Spectrum's library now exceeds 1.1 million km (683,508 mi) of 2D multi-client seismic data. The new data complements Spectrum's existing library in key areas such as the Gulf of Mexico, South and Central America, the Mediterranean Sea, and northwest Europe. As part of the agreement, CGGVeritas takes a 25% stake in Spectrum and will focus its marine 2D multi-client activity mainly through its shareholding in Spectrum.