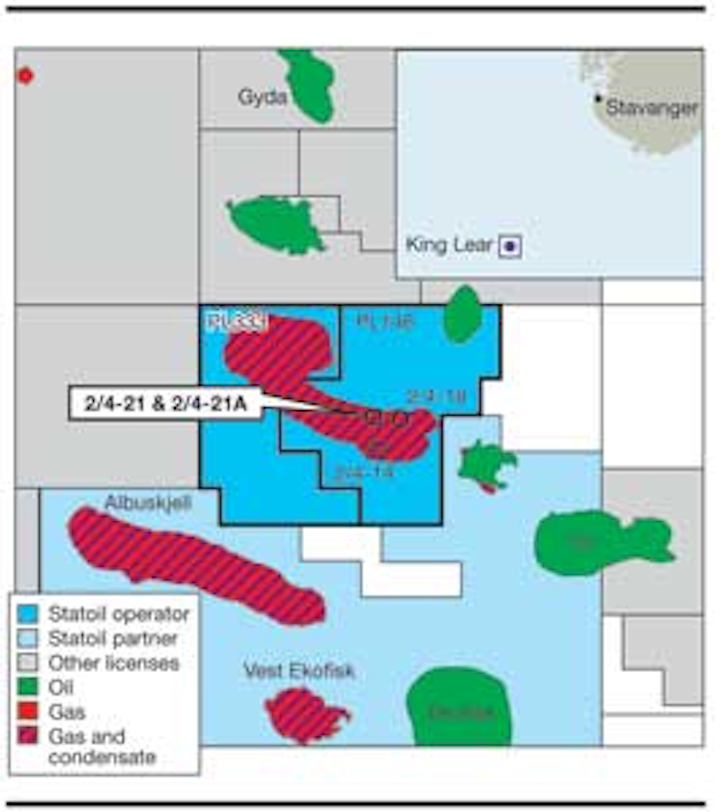 Jeremy Beckman • London
Investment in UK offshore development projects this year should approach £11.5 billion ($17.8 billion), according to the latest Economic Report from Oil & Gas UK. This is an increase of more than 30% compared with the total of £8.5 billion ($13.1 billion) committed to UK offshore fields in 2011.
Various large projects were launched last year, notably west of Shetland, and others are close to moving forward. The feel-good factor is partly due to the measures announced by the UK government in March to stimulate new activity. Oil & Gas UK's chief executive Malcolm Webb said: "Following a period of sustained fiscal uncertainty, the industry is now more confident that the government recognizes the maturity and costliness of the province relative to other investment destinations."
However, production from UK fields dropped unexpectedly by 19% last year, due to lower gas demand and unplanned stoppages related to asset integrity work, averaging about 1.8 MMboe/d. At the same time, production costs rose by a quarter compared with 2010 to $17/boe, while the number of exploration wells drilled was half the level of the previous year, although the success rate was high.
Following a pledge in this year's budget to improve clarity on tax relief for North Sea decommissioning programs, the government has published a consultation, due to run until Oct. 1. This proposes the creation of Decommissioning Relief Deeds, to specify levels of relief that oil companies may receive. It also promises greater certainty on the amount of relief they will be entitled to when faced with liability for decommissioning costs of another party that has defaulted.
The aim is to reduce the level of security required when one party acquires another's assets, or when companies operate fields jointly. That uncertainty has been holding back offshore asset transactions and infrastructure upgrades, but the government hopes the new initiative will persuade companies to free up more capital for investment, in turn increasing or extending production from UK fields.
Chevron, Shell launch field studies
March's tax proposals appear to have had the desired effect, with two of the majors pressing forward with developments that might otherwise have remained stalled. When the Treasury unexpectedly jacked up North Sea petroleum taxes last year, Chevron responded by reporting a decrease in net value in its Lochnagar/Rosebank oil fields west of Shetland. It added that it was in discussions with the Treasury on field allowances to improve the project's economics.
This request has come to pass, and Chevron has initiated front-end engineering and design for the 240-MMboe Rosebank field, 80 mi (49.7 km) northwest of Shetland, close to the median line with the Faroe Islands. The water depth of 1,100 m (3,700 ft) is deeper than any UK development to date, and the location is remote from existing oil pipelines or oil processing plants.
Chevron is working on a scheme involving an FPSO with water injection wells, subsea facilities, and a gas export pipeline. According to analysts BritBoss, both a ship-shape and Sevan cylindrical-shape floater have been under consideration. One of Chevron's partners, OMV, also has a stake in the Hess-operated Cambo discovery, 25 km (15.5 mi) south of Lochnagar, which is close to a development decision. One option could be a tie-in to the Lochnagar facilities.
Shell, which in recent years has been selling off its UK North Sea assets, has provisionally engaged SBM Offshore to lease and operate an FPSO for the Fram field development in the central North Sea, subject to a final investment decision. This was another project apparently imperiled by last year's tax overhaul. The hull will be formed from a converted Aframax tanker, and will incorporate an internal turret mooring system, with the oil offloaded to shuttle tankers and the gas sent to Scotland via the Fulmar pipeline. According to BritBoss, the FPSO will have production capacity for 40,300 b/d of oil and 220 MMcf/d (6.2 MMcm/d) of gas from eight subsea production wells at two separate drill centers.
Dana Petroleum has started detailed engineering for its $1.5-billion Western Isles project that will extract 45 MMbbl of oil from the Harris and Barra fields, 160 km (99 mi) east of the Shetlands. Sevan Marine, which has been working on the FEED for over a year, will work with Dana on the FPSO hosting the nine-well development.
Norway wells open new provinces
Nineteen exploration wells were spudded offshore Norway during the first half of this year, two down on the corresponding period for 2011. According to the Norwegian Petroleum Directorate, the figure might have been higher, but some of the contracted rigs were delayed finishing operations elsewhere.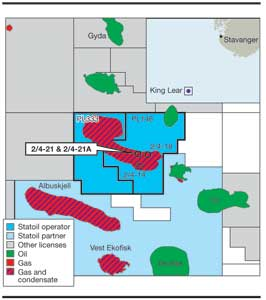 Location of Statoil's King Lear discovery.
By mid-year there had been seven new discoveries across the Norwegian continental shelf. The largest in volume terms, both operated by Statoil, were the Havis oil find in the Barents Sea and more recently, the HP/HT King Lear deep gas/condensate find in the southern Norwegian North Sea, drilled by the jackupMaersk Gallant 20 km (12.4 mi) north of the Ekofisk complex. This well was a fresh look at a structure Saga Petroleum previously attempted to drill in the 1990s before pulling out due to technical issues.
Statoil estimates potential reserves at King Lear in the range of 70-200 MMboe, and says it will evaluate standalone and tieback development options in an area better known as an oil province. Alternatively, it may bring in resources from other gas fields in the area, which could include Tommeliten, for a new gas hub. Partner Total was awarded two blocks nearby under the last APA licensing round and is lining up an inventory of similar exploration prospects.
In the Danish North Sea, Maersk Oil plans to drill an HP/HT well on the Maja license after securing a two-year extension for this and the adjacent Gita concession from the Danish Energy Agency. Maja is close to the Maersk-operated Harald field. The well will be drilled to a TD of about 5,000 m (16,404 ft). Drilling will start following completion of pressure modeling studies. A typical Danish HP/HT well costs about $100 million to drill, the company says.
Study highlights well control failings
Petroleum Safety Authority Norway is urging greater investigation of well control incidents on the Norwegian continental shelf, in response to findings from a new study by technical institute SINTEF. Between 2008 and 2011, the number of well control incidents reported rose from 11 to 28, but during 2003-2010, only 10 out of a total of 146 incidents were investigated. Respondents generally pointed to technology as the main cause, and this was often the case, PSA said. But the percentage of technical measures implemented by the industry remains low, it concluded.