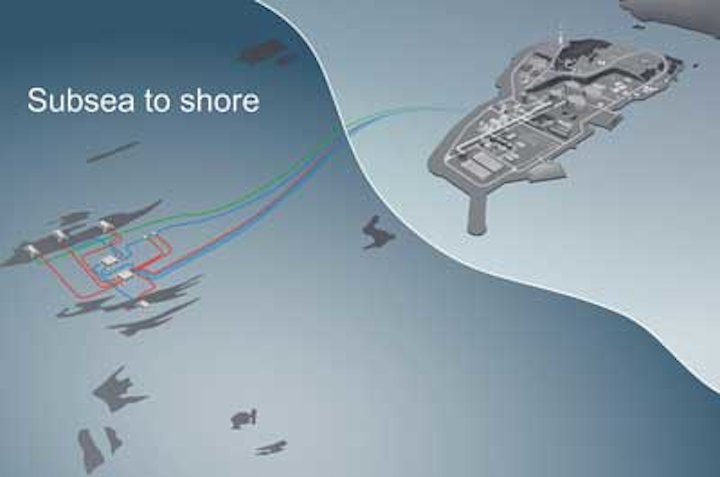 Jeremy Beckman
Editor, Europe
Snøhvit, Norway's most northerly offshore field development, has been onstream for five years. Gas and condensate from the subsea wells are piped to the single-train LNG processing plant on Melkøya Island off the port of Hammerfest. It remains the world's most northern LNG facility, with scope for expansion of offshore production, although competing terminals are emerging elsewhere around Europe.
Recently, the partners opted to postpone a decision on a second LNG train, despite the upsurge in exploration in the Barents Sea that has brought several new gas discoveries. Production from these and further developments in the Snøhvit license could instead head later this decade via Hammerfest through a new long-distance offshore pipeline linked to the trunkline system in the Norwegian Sea. But expansion of the LNG facilities remains a possibility as the partners seek new markets, particularly in the Asia/Pacific region.
Wellstream issues
Snøhvit comprises three offshore gas/condensate fields close together in water depths of 250-340 m (820-1,115 ft). Askeladden was the first to be discovered in 1981, although the phase 1 development has focused on the other two, Snøhvit and Albatross. Nine subsea production wells connected to four seabed templates are controlled remotely from Melkøya.
Commingled production heads directly to the LNG plant via a 143-km (89-mi), 65.5-cm ID multi-phase subsea pipeline, claimed to be the world's longest. This also transports 700,000 metric tons/yr (771,617 tons/yr) of associated CO2 to Melkøya which is stripped out and sent back through another pipeline to a dedicated injector well at the offshore field center for storage in a reservoir below the Snøhvit field. Another parallel line transports MEG for hydrates control. Statoil operates all aspects of the project, in partnership with Petoro, Total, GdF Suez, and RWE Dea.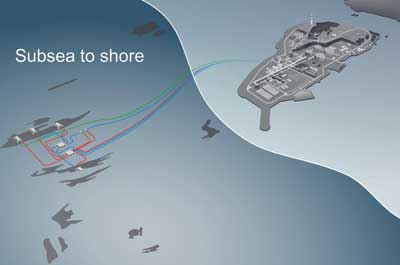 Snøhvit's wells are controlled remotely from the Melkøya LNG plant.
The liquefaction processed, licensed by Linde, is designed to cool methane gas to -163°C (-261°F) under normal atmospheric pressure, reducing the original volume of gas 620 times and thereby minimizing storage requirements. "Along the way," said Oyvind Nilsen, Vice President for the Snøhvit LNG plant, "we first have to strip out the mercury, water, CO2, propane, ethane, and condensate. For this reason, geologists say the Barents Sea is a candy store, although we say that Melkøya is a candy store for the technologies too." The plant's LNG storage tanks can each hold 125,000 cu m of gas, offloaded at the quayside to three dedicated LNG carriers, with separate tanks to store 75,000 cu m (2.65 MMcf) of condensate and 45,000 cu m (1.59 MMcf) of LPG.
In 2002, midway through the development, the estimate of recoverable resources was 193 bcm of gas and 34 MMcm of condensate. "Last year, we upgraded gas reserves by 20 bcm," Nilsen said, "and we also believe emerging new technologies, such as subsea compression, will lift the recovery factor significantly."
"This project opened up the Barents Sea, and is by far Norway's largest industrial development to date, at a cost of NOK 48 billion," Nilsen continued. "It pushed the limit in several areas, not just in liquefaction, but in terms of long-distance multi-phase transport and the CO2 solution. The cooling, performed by large, electrically-driven cooling compressors, is unique too."
"But we had to establish a brand new concern in this area, in a latitude of almost 71 degrees N," Nilsen explained. "During the design phase there were a lot of discussions on concept selection, and there were concerns about the prevailing strong winds and temperatures that can dip to -22°C [-8°F] – we call that harsh conditions."
The partners opted to maximize prefabrication for the LNG plant, which was built in northern Spain in the form of a barge and towed to Melkøya, where it was lowered into a specially excavated site on the island. "There were space and weight challenges," Nilsen said, "and in retrospect, we should maybe have had two barges, as we ended up with a very compact layout with space and weight challenges. But this also provides lessons for floating LNG developments."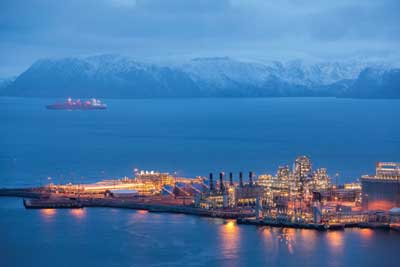 Night time view of Melkøya, with LNG carrier in the distance.
On a limited number of days, the plant must be able to cope with severe conditions such as icing caused by massive snowdrifts and frozen seawater, but sometimes the impact is hard to predict. In January, there was a -20°C temperature drop in less than 24 hours, Nilsen recalled. As a result, one of the valves started to behave abnormally, constraining production.
There have also been shutdowns caused by internal issues. Earlier this year, the entire plant at Melkøya was down for a week due to a breakage in the firewater system, which is made of GRC fiber pipes. Last month, operations had to be halted again due to water ingression in the natural gas dryers and the associated risk of ice formation in the cooling circuit.
"At Melkøya, we have had to push the limits of several items of equipment," Nilsen explained. "For instance, we are operating the world's largest electrically-driven motors [65 MW, supplied by Siemens] and the largest sea water heat exchangers with titanium pipes. We have experienced breakages as a result of temperature-induced fatigue, but this has since been resolved."
"Now it's a question of optimizing the feed gas process," Nilsen elaborated. "We have implemented changes to the software system, which has led to significant improvements in the efficiency and robustness of the plant. We're still not where we would like to be in terms of regularity, but this is still the most energy-efficient LNG facility in the world, with specified power for the liquefaction process of 243 kWhr/t LNG."
CO2 disposal
The CO2 content in Snøhvit's wellstream is 5-6%. Following extraction, this is disposed of via injection directly into the main Snøhvit field, at a subsurface depth of around 2,500 m (8,202 ft). The behavior of the CO2 is monitored using seismic instrumentation – performance so far has generally been in line with predictions, Nilsen said, although at one point pressure development in one of the formations necessitated a light well intervention to put in isolation plugs at several levels. Statoil has selected a new area for a second CO2 injector well which is likely to be drilled in 2016.
Theoretically, Snøhvit could remain at plateau production through to 2040-50, Nilsen said, although this will depend on the scope of future subsea development in the area, and whether the partners commit to construction of a second LNG train on Melkøya.
Currently, Snøhvit's 5 bcm of year of processed LNG comprises 5% of Norway's annual gas exports. Prior to start-up in 2007, the partners acquired a stake in the Cove Point regasification terminal in Maryland with a view to addressing the shortfall in LNG in the US at the time.
Markets have since changed, and the plant is now sending shipments to southern Europe, India, and the Far East, via the Suez Canal. There are also discussions with Russia about opening up a northeast passage over the next few years through the Arctic to Japan and South Korea.
According to Nilsen, this would be a shorter journey than LNG from Qatar to Japan, although at that point there would be 70 bcm/yr of capacity from Australia to compete with. Hence the potential need to optimize or double capacity at Melkøya.
If the proposed Polarpipe project goes ahead, taking gas from Melkøya through a new 1,000-km (621-mi) offshore pipeline connecting to the rich gas Aasgard Transport System in the Norwegian Sea, a dewpoint facility could be installed at Melkøya to strip out condensate prior to gas feedthrough.
Increased throughput could be achieved by expanding the subsea facilities at Snøhvit in up to three further development phases, with the second phase taking in gas from Askeladden. After five years of production "we have a better understanding of the reservoirs, and we know we could recover more via new technology," Nilsen said.
In time, gas from the nearby Tornerose or other discoveries in the region such as Lundin's Skalle could also be directed to Melkøya, along with associated gas from the Goliat oilfield project, which is due onstream in 2013, and where Statoil is a partner.
In the early years of production, Goliat's gas will be reinjected or used for power generation on the FPSO, but the Snøhvit partners are in discussions with Goliat operator Eni, Nilsen says, about processing the gas at Melkøya at a future date.
Another long-term candidate could be Statoil's Skrugard oil discovery to the north, which has limited quantities of associated gas. During the first 10-15 years of production, these would probably be needed for injection to boost oil recovery, Nilsen says, but some gas might then be available for export through a new 100-km pipeline to Melkøya.
Integrated power, controls for Goliat
ABB supplied the integrated power, automation and control systems for the Snøhvit LNG plant and offshore facilities. The company is currently working on another comprehensive program for Goliat, the second field development in the Barents Sea, 85 (53 mi) km northwest of Hammerfest. This will produce oil and gas through a Sevan 1000 circular FPSO in 400 m (1,312 ft) water depth, due to start operations in 2013.
ABB is providing a comprehensive range of electrical, automation, instrumentation and telecommunications equipment and systems. The package includes intelligent operations, with remote diagnostics available from the offshore process plant live to ABB specialists worldwide, allowing them to diagnose and fix problems that may arise. "This is a huge benefit to customers," said Per Erik Holsten, who heads up the company's Process Automation division in Norway. "It changes their whole operating philosophy on offshore installations.
"At Goliat, we will also have an onshore control room. In an extreme situation, the team there could sit onshore and supervise the entire operation. In addition, we will provide an onshore control room to Eni's office in Hammerfest, giving them access to the same data as is available on the platform."
Another highlight of ABB's contract is the world's longest and highest-output AC power cable (123 kV/75MW) to an offshore installation, running 106 km (66 mi) from an onshore substation near Hammerfest to the platform, with integrated fiber optics for communications purposes. The remainder of the FPSO's 100 MW power requirements will come from onboard gas turbines – these and the combined AC electrification system will help reduce Goliat's CO2 emissions by 50% compared with a conventional power supply arrangement, thereby lowering the partners' Norwegian CO2 taxes.