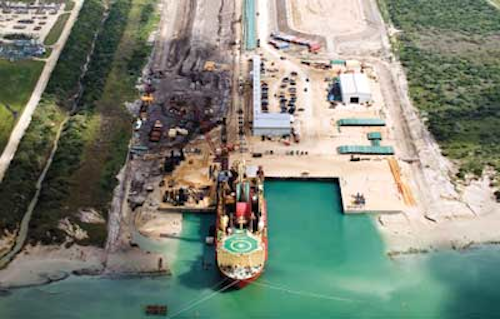 A resurgence in deepwater drilling in the Gulf of Mexico has the region on track to return to normal by year's end, according to a recent report in the Houston Chronicle.
There were 45 rigs stationed in the Gulf in the third week of January, compared with 27 during the same week in 2011, according to the Baker Hughes rotary rig count.
The development is expected to boost profits for oilfield service companies, and the comeback improved year-end financial results for Schlumberger. The company reported a 36% increase in its fourth-quarter profit in January.
"We are quite optimistic on the outlook for the Gulf of Mexico," Schlumberger CEO Paal Kibsgaard was quoted as saying. "We should be at pre-Macondo levels for deepwater drilling rigs by the latter part of 2012." Kibsgaard said he expects a new rig to enter the region each month of this year.
This optimistic outlook was affirmed by the recently released Deloitte oil and gas mergers and acquisitions report, which also concluded that activity is finally picking back up in the Gulf. Jed Shreve, Principal, Deloitte Financial Advisory Services LLP, noted that in mid-December 2011, the Interior Department's Bureau of Ocean Energy Management held its first auction since the Macondo incident, more than 18 months ago – "an indication that activity in the GoM will pick back up," Shreve observed. That sentiment was echoed by Trevear Thomas, principal, Deloitte Consulting LLP, who also noted the beginning of a return to normal activity levels. "After virtually halting after the Macondo incident, deals are now coming in and permits are being approved," Thomas observed.
But not all sources are painting a rosy picture. According to Bloomberg, Royal Dutch Shell has been losing about $1 billion a year from drilling delays in the Gulf since the Macondo accident. Shell's production in the region will be curbed by about 50,000 boe this year, similar to 2011, CFO Simon Henry was quoted to say. The company, which had planned to raise output to 3.5 MMboe/d in 2012, is now warning that production could be lower due to Gulf drilling delays, asset sales, and oil and gas prices in the United States. According to the report, Shell expects to return to planned operations off the Gulf Coast by 2014.
And, according to a recent report in the New Orleans Times-Picayune, smaller to medium-sized contractors and service companies in Louisiana are still reeling from the effects of the moratorium and subsequent pace of permitting. The newspaper cited a study issued by the economic development agency Greater New Orleans Inc.
The study found that that these companies – many of which service the offshore oil and gas industry in the Gulf – are cutting employee salaries, dipping into their cash reserves, and moving business out of the GoM to stay afloat. The study tied these bleak findings to the federal deepwater drilling moratorium.
The study also found that some business owners are continuing to operate even as their companies fail to turn a profit, and as they have to reach into their personal savings to remain in business.
The study calls the affected businesses "hidden victims" of the federal deepwater drilling moratorium because they have remained operational and largely avoided laying off workers, which makes their suffering more likely to go unnoticed.
The study also noted that even though the drilling moratorium has been lifted, permit issuance has been slower than in the years before the spill. In the past three months, two deepwater permits were issued per month on average, according to the Gulf Permit Index, released each month by GNO Inc. That is a 66% decrease from the monthly average in the year before the spill, and a 71% drop from the historical monthly average of seven new permits per month, according to the GNO data. The Times-Picayune report quoted Michael Hecht, president and chief executive officer of GNO Inc., to say that the study findings will be used to lobby the federal government to create more favorable laws regarding permitting for the energy industry.
McDermott, Helix sign spool base services agreement
McDermott International, Inc. says it has signed a 10-year frame agreement with Helix Subsea Construction, Inc. for spool base services in the Gulf of Mexico.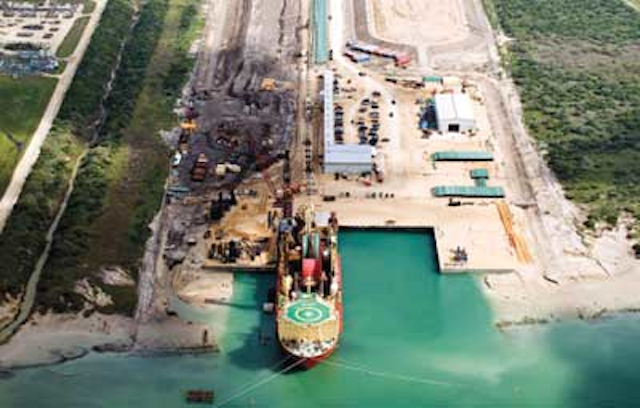 McDermott says it will employ strict welding procedures, advanced welding technology and technical experts to meet or exceed client welding criteria for deepwater subsea pipelines, from the Ingleside-based spool facility. Photo courtesy of Helix Subsea Construction, Inc.
"This agreement allows McDermott, when contracting with Helix, to offer full-service, shore-based pipeline stalking and spooling services from Helix's premier 120-acre Gulf of Mexico spool base at Ingleside, Texas, to pursue deepwater and ultra-deepwater installation projects," explained Stephen M. Johnson, chairman of the board, president and CEO, McDermott.
By combining Helix's established spool base services with McDermott's welding technology to support its newest subsea construction vessels and expanding subsea engineering resources, Johnson said that McDermott can further offer full-service engineering, procurement, construction, and installation for deepwater and ultra-deepwater subsea projects for Gulf of Mexico and Atlantic customers.
Through the cooperation agreement, McDermott will fabricate the required mile-long stalks at Ingleside, and employ its own in-house automatic welding equipment, technology and technicians. The company says that these facilities and personnel will enable it to meet the stringent welding criteria required for deepwater subsea pipelines. The spool base is also designed for fabrication of pipeline end terminations, pipeline end manifolds, subsea manifolds, and jumpers.
McDermott's subsea construction vesselsNorth Ocean 102 ("NO102") and new-build lay vessel North Ocean 105 ("LV105"), due to be completed later this summer, both have reel-lay capabilities. LV105 is designed to lay both flexible and rigid pipe up to 16-in. diameter, with tension and hang-off clamp capacities of 440 tons and 550 tons, respectively. NO102 offers flexible and umbilical installation and is equipped with a 330-ton low squeeze pressure single tensioner and high capacity carousel.
Anadarko contracts ENSCO 8506 for GoM
Anadarko Petroleum Corp. has contracted the newbuildENSCO 8506 ultra-deepwater semisubmersible drilling rig to work in the US Gulf of Mexico for 30 months at a day rate of $530,000, plus adjustments. The rig is scheduled for delivery by Keppel FELS Ltd. in Singapore during 3Q 2012 with the contract to begin in the fourth quarter following sea trials, acceptance testing, and mobilization.
More Offshore Issue Articles
Offshore Articles Archives
View Oil and Gas Articles on PennEnergy.com